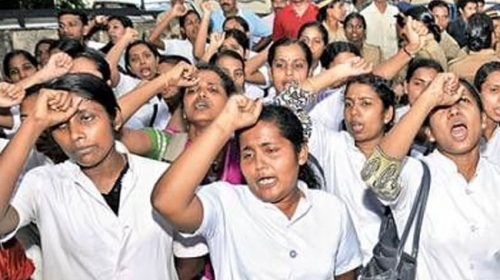 Thiruvananthapuram: Doctors in Kerala today went on a strike to protest the Centre's proposed National Medical Commission Bill, causing immense hardship to those visiting hospitals across the state. While doctors in government and medical college hospitals boycotted out-patient services for one hour in the morning, the strike was being observed from 6 AM to 6 PM in private hospitals.
Medicos, however, have decided to attend emergency cases and those admitted in hospitals. The strike call was given by the Indian Medical Association (IMA). The bill has provisions that would adversely affect the health sector and medical education in the country, the association alleged.
The National Medical Commission Bill to replace the Medical Council of India (MCI) with a new body, to ensure transparency, was introduced in the Lok Sabha on December 29, amid protest from Congress members.
According to the Bill, the commission will have government-nominated chairman and members and board members will be selected by a search committee under the Cabinet Secretary. There will be five elected and 12 ex-officio members in the panel. Introducing the Bill, Health Minister J P Nadda had said it incorporates suggestions made by a standing committee.
The Bill provides for constitution of four autonomous boards for undergraduate and post-graduate education, assessment and accreditation of medical institutions and registration of practitioners under the National Medical Commission.
It is aimed at bringing reform in the medical education sector which has been under scrutiny for corruption and unethical practices, government sources said. It also proposes a common entrance exam and licentiate exams which all medical graduates will have to clear to get practicing licences.
No permission would be needed to add new seats or to start post-graduate courses, it said.
(PTI)