JD(S) state president H D Kumaraswamy on Saturday started his three-day decision battle in Chamundeshwari from where Chief Minister Siddaramaiah is probably going to challenge as the Congress candidate.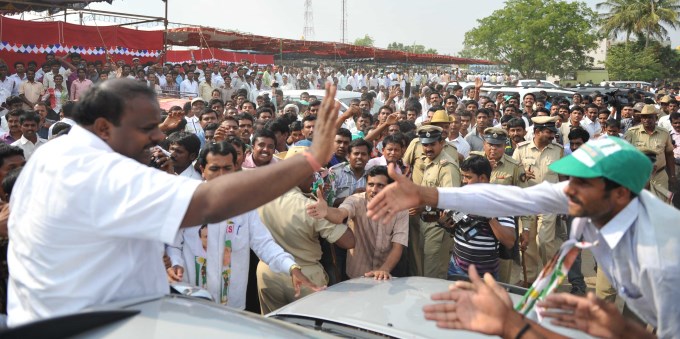 Kumaraswamy, alongside party candidate and sitting MLA G T Devegowda, began the campaign through the villages under the constituency after offering puja at Nanneshwari temple at Hinkal, on the outskirts of Mysuru.
Kumaraswamy took out a roadshow in an special bus intended for the election 'Vikaasa Vahini'. The bus began it's voyage from Hinkal and went through Bogadi Ring Road, Datagalli and reached Kotehundi.
Individuals of Kotehundi gave a warm welcome to Kumaraswamy and took him in a parade in the town. Afterward, he headed towards Daripur, where he tended to a social occasion. Ranjitha and Nisarga, occupants of Bardanapur offered 'aarathi' to the vehicle in the JD(S) was taking out the roadshow. The villagers invited him by performing 'Nandidwaja Kunita'.
The residents of Kotehundi forced Kumaraswamy to visit their village and take out a roadshow. Kumaraswamy landed from the bus and took a minivan to movement on the narrow streets of the town.
Speaking to the voters to help the JD(S), Kumaraswamy stated, "G T Devegowda will be made area in-control minister if the JD(S) is voted to power. The JD(S) is resolved to ensure the welfare of the public, including farmers, members of women self-help groups."