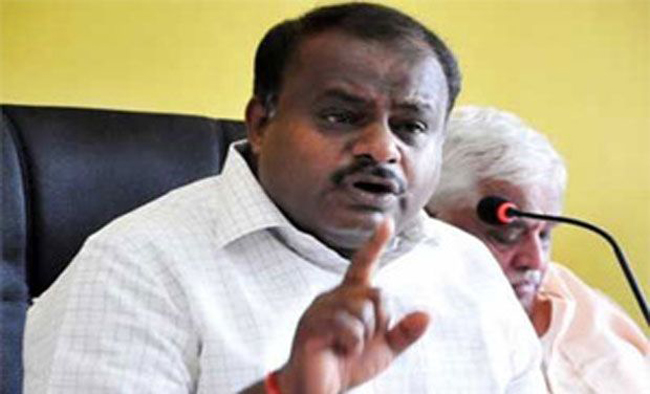 Bengaluru: JDS Karnataka unit president H D Kumaraswamy today sought resignation of Industries Minister R V Deshpande for "illegally" acquiring reserved forest land near here.
He threatened that if Deshpande does not resign in the next ten days, he would file petition before the Green Bench against cabinet ministers including Chief Minister Siddaramaiah.
Kumaraswamy had alleged last week that Deshpande and 49 others had illegally acquired vast tracts of reserved forest land near here.
"Last week, I had released government documents, exposing Deshpande's illegal acquisition of forest land in the city.
The Chief Minister so far has not taken any action in this regard. If he continues to protect the minister I will file a petition before the Green Bench against him, Revenue Minister Srinivasa Prasad, Forest Minister Ramanath Rai and Deshpande," Kumaraswamy told reporters here.
The former chief minister had tabled documents to support his claims of a "land scam." He had claimed that government was proposing to fix the guideline value of land at Rs 22,000 per sq feet and once that was done the value of the "scam" would be more than Rs 14,000 crore.
Kumaraswamy had alleged that these people, including Deshpande, had "illegally" acquired more than 177.28 acres in Jakkur-Allasandra plantation village, which was declared Reserved Forest in 1940 by erstwhile Mysore Government.
Replying to a query, Kumaraswamy said: "Siddaramaiah, government and BJP are silent over the issue … they are silent because I suspect they also must have illegally acquired the reserved forest land."
Kumaraswamy said the scam was brought to the notice of the government by chief conservator of forests by writing a letter to the government, seeking an inquiry.
The Chief Minister, after forming the government, had promised strict action against land grabbers, but so far no action had been taken, he said.
"Whose interest or whom are the Chief Minister protecting – the land-grabbers or poor people, who are the rightful beneficiaries of government land to build houses. The Chief Minister should respond immediately," Kumaraswamy said.
Deshpande had denied the charge linking him last week and argued that it was not possible for anybody to purchase reserved forest land.
"Is it possible to purchase land declared as reserved forest? It is not possible. I request Kumaraswamy to review his allegations against me," he had said.
(PTI)