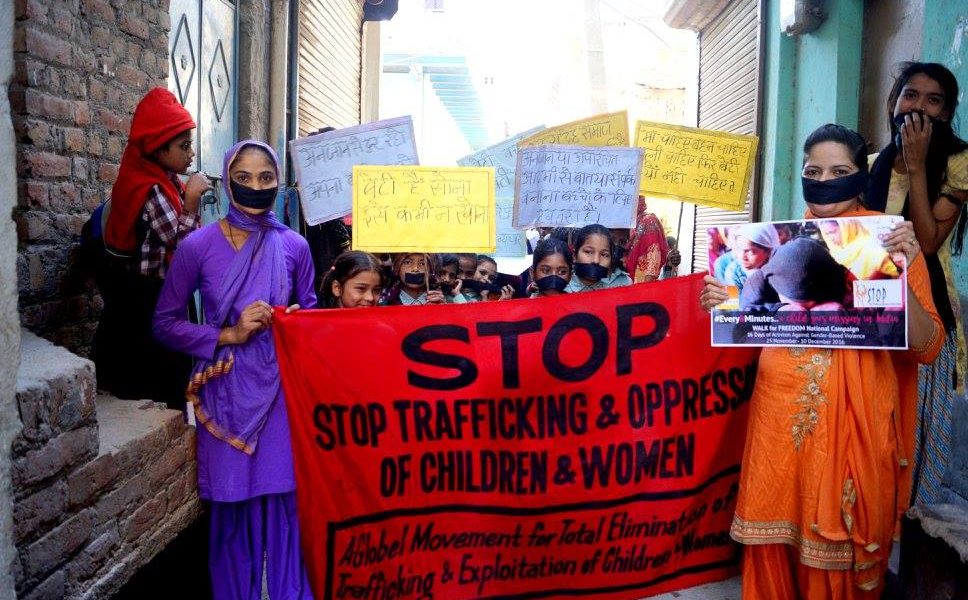 The old framework of Social Welfare Legislation is given a go by and the people of India do not want this draconian law which criminalizes communities. The government is escaping from its responsibility by handing over the implementation of such important issues to the Police Department and is criminalizing the activities of the poor and marginalised by this ill-drafted Trafficking Bill," said Prof Babu Mathew, legal expert and activist, at the Public Meeting which opposed the Anti-Trafficking Bill in its present form here on Wednesday.
Over 250 members from over 16 groups of NGOs, workers unions, and legal experts criticized the Trafficking Bill, which ironically, was introduced in the Parliament on the same evening by the Minister for Women and Child Development Maneka Gandhi even as the Public Meeting is in progress in the city.
Rehab centers and protection homes run by private parties have curtailed the liberty of the victims and this crime has been happening across the country. It is a violation of the victims' fundamental right. If this Bill becomes a Law, it will be draconian, anti-people and is meant to protect the vested interests. It is another kind of Swach Bharat where you want to clean up those poor and marginalized communities who are an eyesore to the society and push them under the carpet,'' remarked BT Venkatesh, an eminent lawyer, on behalf of Reach Law, a co-organiser of the event.
Imprisonment for trafficking leading to AIDS or begging or injecting of hormones, will ultimately lead to criminalisation of trans-identities and it is not just about sex workers and Transgenders, time has come for all workers to unite and fight," said Nisha Gulur, Transgender leader and President of National Network of Sex Workers, India (NNSW) echoing the words of Babu Mathew who gave a clarion call for all workers to unite.
"Victims whether it is bonded labour or those into begging, will now be criminalized and this legislation will override the Bonded Labour Act, which is a much better Act and is serving the purpose,'' said Kiran Kamal of Jeevika.
"The Bill miserably fails to address the legal and real-time challenges that arise in addressing trafficking in persons and securing the rights and dignity of trafficked victims. Furthermore, trade unions and workers' rights groups and many other stakeholders, who will be affected by the new legislation, have not been consulted while drafting the Bill," said Rajesh Umadevi, Executive Director, Sangama. "This bIll continues to conflate trafficking and sex work by its silence. No law should harm the citizens of its own country,'' said Aarthi Pai, lawyer, and social activist.
"Moving people away from their workplaces in the name of rehabilitation is curtailing their freedom of movement and association and it is a gross violation of our fundamental rights. The promise of a 'victim-centric' law falls flat as all that trafficked victims get is 'detention' in protection homes – a practice that has been severely criticised by international Human Rights experts and community groups," said Bharathi, secretary, Karnataka Sex Workers Union.
Karnataka Garment Factory Workers Union (KOOGU), Sangama, Reach Law, CIEDS Collective, Karnataka Sex Workers Union (KSWU), Uttara Karnataka Mahila Ookutta (UKMO), National Network of Sex Workers (NNSW), Garment and Textile Workers Union (GATWU), South India Federation of Trade Unions and Jeevika (a group fighting against bonded labour) and Fedina. Lakshmi of Garment Workers Union, Bharathi of KSWU, Madhu Bhushan of CIEDS and others spoke.
All the 16 groups passed a resolution to demand the Parliament to:
1. Refer the Bill to a Standing Committee and conduct comprehensive consultations with all stakeholders including the affected communities.