Sixth round of United Nations-backed negotiations resumes in Swiss city but hopes for a breakthrough remain dim.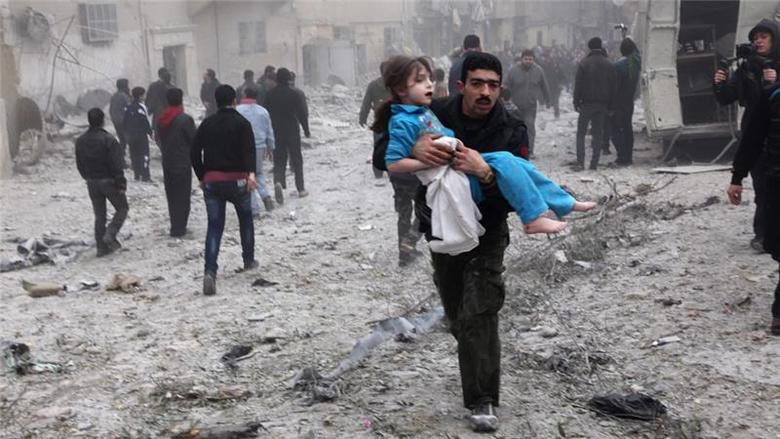 by Al Jazeera
A new round of Syria talks got off on Tuesday in Geneva amid low expectations, the latest United Nations push to resolve the country's long-running conflict.
Five previous rounds of United Nations-backed negotiations have failed to produce concrete results and hopes for a major breakthrough remain dim.
Syrian President Bashar al-Assad has strengthened his position on the ground, with the rebels reeling from a major setback in the capital Damascus.
Assad has also recently called the Geneva process "null", telling a Belarusian TV network that it had become "merely a meeting for the media".
Assad's comments, coupled with uncertainty over the United States' position on Syria, had made "diplomats highly skeptical over the [impact of the talks] in Geneva", said Al Jazeera's Mohammed Jamjoom, reporting from the Swiss city.
"In fact, it is the most amount of skepticism that I have heard from diplomats involved in this process," he said.
'Four baskets'
The UN negotiations are focused on finding a political solution and will concentrate on four separate areas, or "baskets" of issues: governance, a new constitution, elections and combating "terrorism" in the war-ravaged country.
It is the first meeting after the so-called "de-escalation zones" were agreed to by Turkey, Russia and Iran at a separate diplomatic track in Kazakhstan's capital, Astana, earlier this month.
Staffan de Mistura, the UN envoy to Syria, dismissed suggestions that the Astana negotiations were overshadowing the Geneva talks.
"We're working in tandem," he told reporters on Monday.
Bashar al-Jaafari, the head of the Syrian government delegation was holding an initial meeting with de Mistura at the UN on Tuesday.
The main opposition High Negotiations Committee (HNC), led by Nasr al-Hariri and Mohammad Sabra, was due to meet the UN envoy later in the day.
Worries
De Mistura, who has lasted as Syria envoy far longer than his two predecessors, has consistently tried to resist pessimism.
The alternative to talks is "no discussion (and) no hope", he said.
The envoy said he wanted to drill down on several issues in hopes of generating solid proposals, but one issue – Assad's fate – remains a major roadblock.
The HNC has insisted the president's ouster must be part of any political transition, a demand unacceptable to the Syrian government.
"Diplomats worry that if de Mistura is not able to come away with something significant from this round of talks, then the whole Geneva process could collapse all together," Jamjoom said.