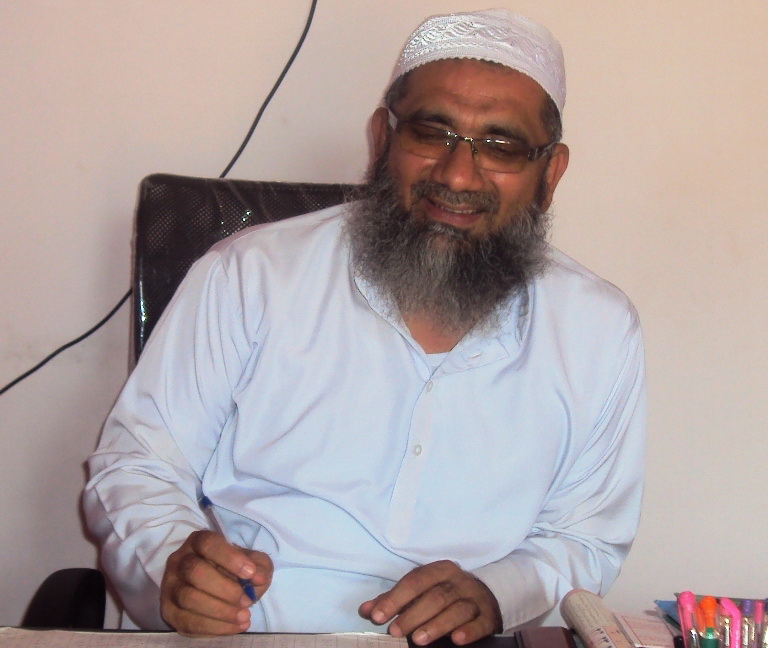 Bhatkal: Maulana Abdul Bari Nadwi, renowned Islamic scholar of Bhatkal and the principal of Jamia Islamia passed away on Wednesday at around 4:30 PM in a Mangalore hospital. He was 54 and bed-ridden since last few days.
Maulana's body was brought to his residence in Bhatkal the same night at 9:30 PM. Thousands gathered in the vicinity of the house and waited late into the night to get a glimpse of the deceased.
Maulana's funeral will be held at the Jamia Masjid at 10.00 am on Thursday, 18th February. He has been an imam and Khateeb in the same masjid for more than 32 years. People from across the town used to flock to the masjid to listen to his sermons on Fridays.
Maulana was an accomplished orator and a very well renowned scholar, respected by one and all in and outside Bhatkal. His demise has put the entire town in grief and mourning. His passing away has shocked everyone even though he was ill for some time. Muslims of Bhatkal shut down their business on hearing the news of the sad demise as a mark of condolence.
It is said that Maulana joined Jamia Islamia Bhatkal, the biggest Islamic school of the Shaafi sect in South India in 1983. Under his leadership, Jamia Islamia became one of the best Islamic institutions in the country. Maulana was deeply revered by all including the youth of Bhatkal, who considered him a highly resourceful and sharp teacher.
Holiday was declared in all Muslim educational institutions in Bhatkal and shops and business establishments have been shut down until the last rites are performed.
Social organisation of Bhatkal, Majlise Islah Wa Tanzeem, Educational institutions Anjuman Hami-e-Muslimeen and Jamia Islamia along with Bhatkal NRI's Organisation based in gulf countries have expressed deep grief over his demise.
(Sahilonline)