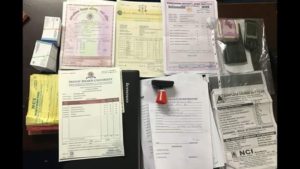 Bengaluru, home to some of the best educational institutions in the country, is fast becoming a hub for dubious firms offering fake degree certificates. The city police's most recent catch was last week, when an MBA graduate was arrested for selling 300 fake certificates of about four universities. Police believe that he has sold them to his customers for a price ranging from Rs 50,000 to Rs 1 lakh.
Arjun (30), hailing from Andhra Pradesh, came to Bengaluru four years ago in search of employment. When he reportedly failed to find one, he, along with a few others, started an academy called Good Guide Educational Academy in Koramangala promising to help students pursue correspondence courses. "We found documents and fake marks cards of about 300 students. There might be more and we are probing," said Deputy Commissioner of Police M B Boralingaiah.
The modus operandi used by him was to find students who have had a gap of three to four years after PUC or have done only one year of degree course. One such person to whom Arjun had promised to give a degree marks card from Periyar University approached the police after which the cops raided the office to find many marks sheets and birth, degree, and PG certificates with names of candidates written on them. There were many blank certificates too.
Many such scamsters
Police feel this is become a big scam and needs to be tackled soon. There are many people who have managed to get jobs in private firms with such fake certificates. It is only when the background verification is done by the companies that their fraud is revealed and many have lost jobs after that.
A senior police officer told TNIE that such rackets are spread across the country and more than 150 agents, who allegedly have close links with some of the universities whose fake mark sheets gets distributed, are involved in this. However, most of these scamsters do their "dealings" online. In 2017, the Central Crime Branch police raided an education consulting firm on MG Road and arrested a post-graduate who sold 2,000 fake marks cards.
Police then, with the help of a cyber forensic consultancy firm, and after the arrest of two such scamsters, skimmed through 39,600 emails which were recovered from them. "They had used email to contact clients and to distribute the fake documents. We went through each of those digital documents so as to identify the people who paid to get their degrees," a senior officer who had conducted the raid said.
"While this is an old problem, over the last year there has been a spike in people venturing into this racket. These raids are just the tip of the iceberg," the officer added. The employers, who conduct background checks, should always inform the police when they find something fishy, said a police officer.
Going by the raids in the recent past, as many as 40,000 people are working in and around the city with the fake degree certificates. Police rarely get formal complaints, and often take suo motu action.
PTI