By : Parmesh S Jain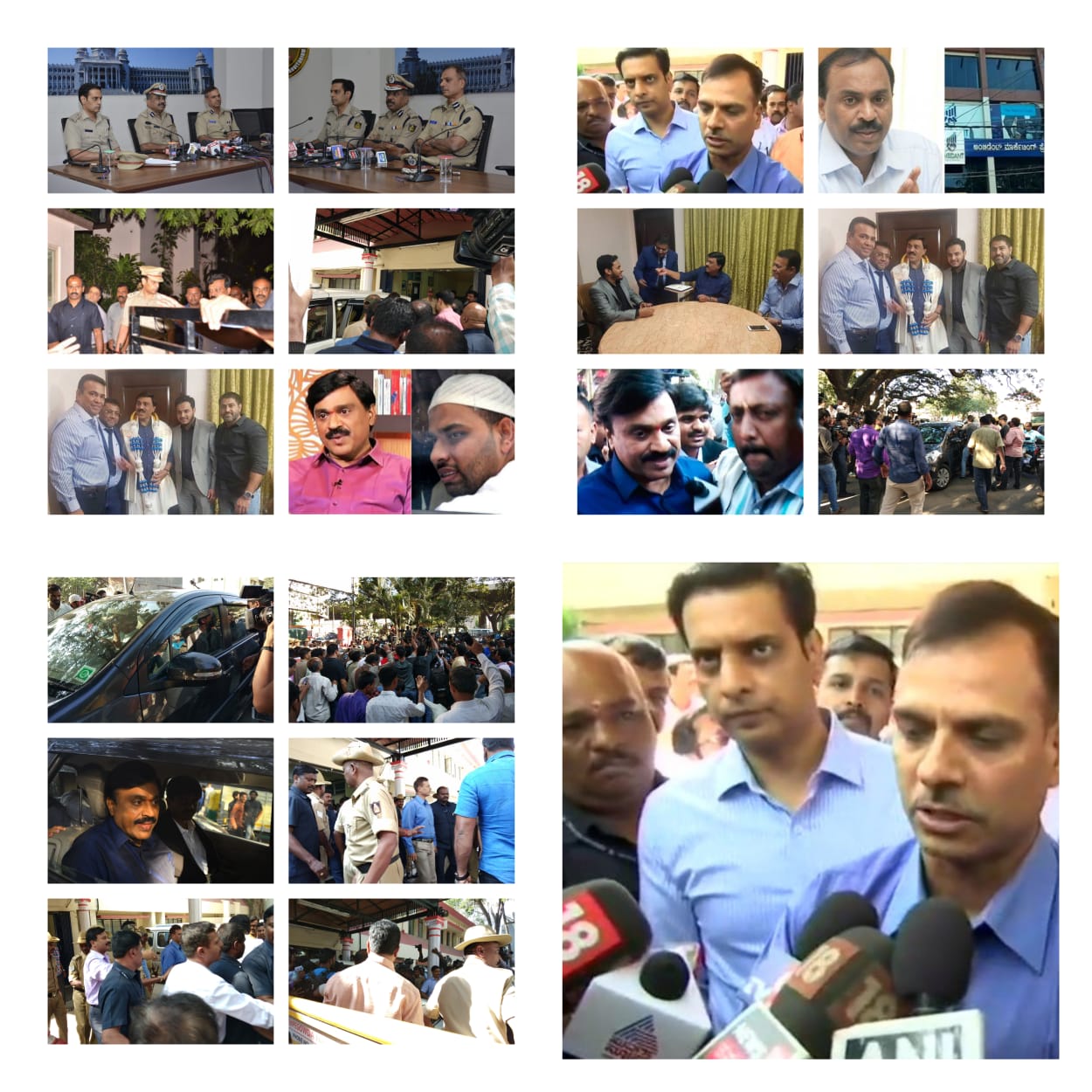 Gali Janardhan Reddy sent to judicial custody in bribery case: Former BJP leader mining baron Gali Janardhan Reddy was held on Sunday afternoon,November 11,by the Central Crime Branch in connection with an alleged ponzi scam.His arrest comes after Reddy appeared at the Central Crime Branch office for questioning.
Mining baron and former Karnataka minister Gali Janardhan Reddy was arrested on Sunday after marathon questioning by ACP CCB,Venkatesh Prasanna in the presence of Addl CP Crime,Alok Kumar,and DCP Crime,Girish S, in an alleged Rs 18 crore bribery case.
Addl CP Crime,Alok Kumar said,Gali Janardhan Reddy has been arrested today in the morning at 10am, in connection with Ambidant Marketing pvt Ltd alleged bribery case.
Janardhan Reddy is accused of taking a Rs 20-Crore bribe to bail Syed Ahmed Fareed, accused in a Ponzi scheme case, out from the Enforcement Directorate investigation.
The CCB sleuths said that they have arrested Reddy, who had allegedly struck a Rs 20-crore deal with Syed Ahmed Fareed of Ambident Marketing Pvt Ltd.A company accused of involvement in the ponzi scheme to bail him out from the Enforcement Directorate investigation.
After remaining elusive for three days, former Karnataka minister and mining baron G Janardhana Reddy on Saturday appeared before the CCB police in connection with an alleged ponzi scam, and denied the allegations and said it is all political conspiracy against him.
Earlier on Saturday Reddy, who was a minister in the erstwhile Bharatiya Janata Party (BJP) government in Karnataka, said he never panicked as neither his name figured in the first information report (FIR) nor was any notice served on him.
Local police were asked to take precautionary measures and with 1 KSRP platoon was deployed to maintain law and order situation outside of the CCB office.
Traffic was disrupted on the busy Cottonpet main road for sometime while Gali Janardhan Reddy appeared before the CCB sleuths Chickpet traffic inspector Sankan Gowda,Cottonpet police inspector Kumaraswamy with his other sub-inspectors and staff was too deployed till late midnight 2am.
Two cameraman and reporters were fell down on the road while following Gali Janardhan Reddy on the Cottonpet main road in a busy traffic the car was stopped suddenly as the driver applied a sudden break in which the reporters and cameraman who were covering his movements were fell down but due to alert reporters picked them up and some suffered Minor injuries.
The intense grilling which began Friday afternoon lasted till around 2 am and continued this morning and Reddy had to sleep in the CCB office, police said.
Before being produced in the court, Reddy was subjected to a medical examination.
Janardhan Reddy, has been remanded to judicial custody by 1st ACMM magistrate, V.Jagadish in the Ambident Ponzi scam case for 14 days.He was shifted to Parappana Agrahara Central Jail in Bengaluru.The Bengaluru 1st ACMM Judge rejected Reddy's bail plea.The judge Jagadish rejected plea for bail filed by Reddy's lawyer Chandrashekhar. He asked Reddy to file for bail in the open court. Meanwhile, City Crime Branch police decided not to seek Reddy's custody.The lawyer will file for bail plea tomorrow November 12 in the city civil court. This is Reddy's third stay in Parappana Agrahara jail.Reddy will be given facilities of hot water and cot inside the jail. He will be put in the quarantine cell.Reddy's lawyer will apply for bail in the city civil court tomorrow.
Sources said that Fareed diary has revealed more shocking details to CCB cops in the diary totally 23 names of ministers of Coalition government,Some police officers with some senior journalist names also has been disclosed in the diary and Fareed also revealed the shocking details to CCB cops.
Many victims who invested in the Ambident company came forward to the CCB office as soon as they saw the news about Fareed is being grilled by CCB sleuths one of the victim by name Ziaulla Baig a tailor from Goripalya said he has been cheated by the Ambident company to the tune of Rs.3 lakhs as he has invested in the Ambidant company by signing an MOU Mutual understanding agreement to pay monthly Rs.9000 as commission or profits but he claims that till today from past 7 months I have dint received any amount from him and when he go to ask for his principal amount he gives reason everytime and he even said this fraud culprit along with his son has cheated us and invested the money in Bitcoin to the tune of 500 Crore and as Bitcoin market came down he has lost all his money and with his false promise today I am suffering by pledging my ancestral home and to save it I need to pay interest but as it is struck here i am not able to pay it he added.
Another victim she said she has invested Rs.30 lakhs in the firm by name Ambident company and his owner his Fareed the old lady who runs a orphanage was crying outside the CCB office after she was also got cheated from this fraud she said the multi Crore fraudsters is given bail and here they are blaming Janardhan Reddy in this case he has nothing to do with this case and she said she has even met senior officials seeking help but the senior official dint cooperated with them she added.
Addl CP Crime,Alok Kumar in the presence of DCP Crime,Girish.S,said that after the marathon questioning by us to the former Minister Gali Janardhan Reddy to get more details regarding the alleged Rs.20 Crore rupees deal case we need to arrest him and we have decided and declared him arrested today in the morning at 10am.Has Gali Janardhan Reddy has taken a bribe of Rs.20 Crores from the Ambident company owner Fareed to getting a case closed apparently in the name of Enforcement Directorate ED,it was not in the particular name so there was a criminal conspiracy in this regard and for that he has been charged and we are going to produce him before the court and after that we will try to recover the Amount what the Rs.20 Crore is there amount we will recover and disburse the amount with the permission of court to the investors.He further said we have taken the decision on the basis of credible evidence and witnesses statement and all other materials like legal scrutiny of all the evidences we have done and on that basis we have come to the conclusion that it requires his arrest and so that's why we will first take him to Victoria hospital for medical check up and then we are going to produce him before Honourable magistrate house and we are going to recover the money and disburse the money to the investors of Ambident company he added.
Gali Janardhan Reddy's lawyer R.P. Chandrashekar told media persons that,after we appeared before the CCB office in the view of the notice that they have served upon us as to our client Gali Janardhan Reddy day before yesterday asking him to come today but we have appeared on our own illusion we would be co-operating to this investigation team completely.As we have faith in the judiciary when we have not done any mistake and we have Co-operated to the investigating officer to the fullest extent from the past 24 hours we are fully co-operated and in spite of our cooperation also the investigating officer is of the opinion that there are some links which he still wants to establish at the time of investigation he has found it necessary to arrest him,but our basis all the while for 24 hours when we was under investigation we had told the investigating officer that we have nothing to do with this kind of affairs of the Ambident private limited company and Ambident private private limited company entities absolutely different from what the allegations they are attributing to us.The allegations concerning the allegations and the affairs of the Ambident private limited company are totally two different sects we do not fall in that sects and that we have been telling the investigating officer and further we have told that this arrest also so far as we are concerned there is no material or basis to arrest Gali Janardhan Reddy.And while Janardhan reddy last words spoken by him while he was entering the jeep because it came it is a surprise to him he told me that "He has been a fighter he is a born fighter he would fight this things in the court of law.When asked by reporters that it is ok then why did you file the writ petition that too two writ petitions that you are saying their no connection with the Janardhan Reddy with this case another side you filed a 2 writ petition that investigating officers should be changed and this case should be squashed.Chandrashekar replied by telling yes reporters said but now you are telling a different story,Chandrashekar replies by saying no no we are not telling any different story for your kind information do not try to twist and turn facts the facts the facts are as simple as that writ petition and 482 are pending before the High court they have to come for consideration as and when they come for consideration we would be urging those points but when they came writ petition for consideration those points will be urging in the court of law and before the court the writ petition and 482 is in the meanwhile the notice served upon to us so this cannot be connected to WP or the 482.Ali Khan has not been arrested for the simple reason we have Karan him out on interim bail orders still exists and is still valid.This is a fight which we will continue and truth will come and still it is valid hence.This is a fight which we will continue and truth will come out this fight we will continue in the court of law and sooner the truth will come out on our part we are only telling that we are absolutely not connected to this allegations of Rs.20 Crore and to the affairs of Ambidant company he added.
What is the case?
A company named Ambident promised people 40% returns on their investments. When people fell into this trap and never received any returns, based on complaint Enforcement Directorate intervened. The owner of the company was identified as Fareed.
Lured by the promise, thousands of people invested their money in the company, which initially paid good returns, attracting more and more investors.
However, as it failed to pay the promised returns later, cases were registered against it and during January- February ED had also raided it.
Meanwhile, Fareed had allegedly met Reddy through Khan requesting for help in bailing him out of ED the case, and Rs 20 crore was demanded in the form of gold through a jeweller known to them in Ballari, according to police.
Further into the investigation a transaction of Rs 18 crore was traced. This transaction was traced to Ramesh Kothari, owner of Ambika Jewellers. It was further traced to a man named Ramesh who said that money was given to Janardhana Reddy's personal assistant Ali in the form of gold bars.
Reddy was charged under Sections 420 (cheating),120B (criminal conspiracy), 201 (causing disappearance of evidence of offence) and offences under the Prevention of Money Laundering Act,and with various other IPC sections.
Reddy, a powerful minister during the previous BJP rule, had been arrested by the CBI in 2011 over alleged multi-crore illegal mining scam and granted bail three years later.