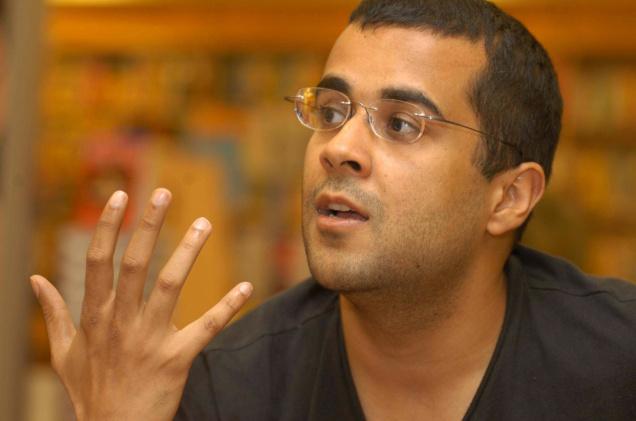 Mumbai: Best selling Indian author Chetan Bhagat, who was once known for his pro-Modi stance, has now kicked up a fresh controversy by dubbing Hindutva activists "sexually frustrated" men.
Bhagat's latest article takes a dig at right-wing trolls, popularly known on social media as 'bhakts'. The article tries to dissect the mind of this particular category of people and the author unabashedly calls them "Frustrated and Complex Ridden Male" who speak poor English and claim to Modi loyalists.
Bhagat states that while they may not be following all the policies that the PM endorses (like the Swachh Bharat Abhiyaan) but are always quick to defend Modi in times when the leader chooses to keep quiet. "They are extremely protective of Prime Minister Narendra Modi. They also like old Hindu kings and conspiracy theories about how Hindus were shortchanged in the past – they often swap such stories online," writes Bhagat.
Referring to the recent attack on two women on Twitter by the 'Bhakts' during the 'Selfie With Daughter' campaign, the author calls these people "insecure" and state that they are not so much pro-Hindus but claim to be nationalists.
"They are generally not good at talking to women. As a result they are unlikely to know how to behave with them or woo them. They do desire women, but can't get them. In other words, if I may say so, they are sexually frustrated with no way of getting it.
There is an over-riding sense of shame about being Hindu, Hindi speaking and/ or Indian. Deep down they know that Hindi-speaking Hindus are among India's poorest. They also know that India is a third world country with third rate infrastructure and few achievements on the world stage in science, sports, defence or creativity," Bhagat further writes in his blog.
Bhagat, though, cleverly tries to not blame BJP. He writes, "Note that BJP never invited these true bhakts to worship them. In fact the PM had to tell them off, as even he seems to have had enough of their hyper-aggressive bhakti." And then goes on advise the ruling party by saying "BJP must distance itself from this unrestrained testosterone. What seems like support starts to look unsavoury pretty soon and cements the hard line image of the party."