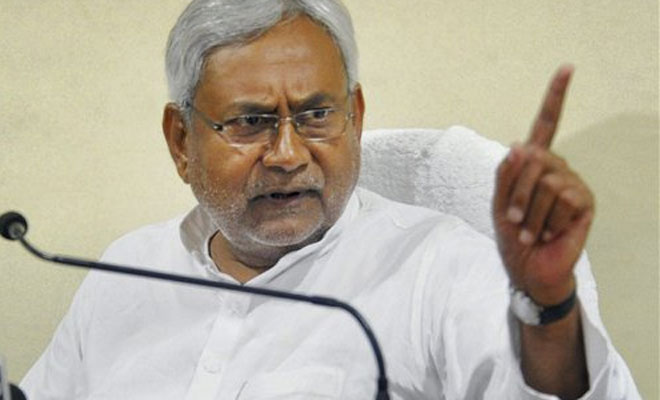 Patna: Four days after promulgation of partial prohibition in Bihar on April one, the Nitish Kumar government today decided to impose a total ban on alcohol in towns and cities.
The decision to ban sale and consumption of India Made Foreign Liquor (IMFL) in municipal and town council areas with immediate effect was taken at a cabinet meeting, the chief minister told reporters here.
The Nitish Kumar government had banned sale and consumption of country and spiced liquor in rural areas from April 1 this year, but had allowed sale of foreign liquor in towns and cities.
"But, the tremendous response of people particularly women and children against liquor in Patna and other towns in a short period of four days only convinced us that a conducive environment against alcohol has been created in the state and that's why we decided to go for total ban on liquor after four days only," he said.
On 'toddy' which has created controversy in recent days following intervention of RJD President Lalu Prasad against its stoppage in view of interest of people associated with the trade, Kumar said the state cabinet decided to strictly impose the 1991 guidelines which allows consumption of "Neera" (drink from palm trees before sunrise) but disallows consumption of 'toddy' (after sunrise when the palm tree liquid gets fermented and gains alcoholic properties).
The 1991 guidelines prohibits sale and consumption of 'Neera' within 50 metre of places like hospital, education institutions, religious places among others in towns and 100 metres radius in rural areas, he added. The chief minister said "Neera" would be allowed, while 'toddy' drink would be barred.
The chief minister said that no license would be granted for sale and consumption of alcohol in places like hotels, club and bars in towns and cities too with immediate effect.
He, however, said Army cantonment areas would be out of it as they regulate sale and consumption of alochol in their own way.
Asked about fate of liquor manufacturing companies and factories existing in the state after total ban order today, the CM said they could continue manufacture but can not trade in it within the state.
"Besides, they have to abide by rules like having digital lock system and GPS monitoring equipment in vehicles transporting the liquor manufactured in outlets in Bihar to places outside the state for sale," Kumar said.
In reply to a question as to what would be done with nearly 36,000 litres of foreign liquor lying with Bihar State Beverages Corporation Limited (BSBCL) which they had to supply to limited outlets in towns and cities under its strict supervision, the CM said the Excise department would prepare an action plan for disposal of residual IMFL.
"It (residual IMFL) should be destroyed as its not a good thing to keep in archive," Kumar said speaking his mind on the stock of foreign brands lying with the corporation.
The CM said a high level committee headed by Development Commissioner and which would have Principal Secretaries of departments like Industries, Forest and Environment, Excise, Cooperative and COMFED would dwell on the issue how to make trade out of toddy trees more beneficial to people associated with it as was done in Tamil Nadu, which has maximum number of palm trees.
The committee would work in close association with Agriculture University of Tamil Nadu and ICAR (Indian Council of Agriculture Research) to prepare a scheme for toddy trees products which would be put into action from next year, he said.
The CM said many beneficial products like preparing mat and tokri (basket) out of toddy tree products could be developed to help people associated with the trade to continue their livelihood with even better profits.
"Survey has brought to light that more than Rs 6,000 annually could be generated from a toddy tree by this means which is far more than earned through sale of fermented toddy drink," Kumar said.
He said that the state government would provide technical and financial assistance in making the trade out of toddy trees more beneficial to those linked with it.
"Like collection and marketing of milk through COMFED (Bihar State Milk Co-Operative Federation Ltd.), Neera (toddy liquid before fermentation) trade would also be developed in an institutionalised manner," Kumar said.
Asked about sale and consumption of liquor gaining in border areas with neighbouring states, the CM without naming any state said they would soon face similar protests from their people against liquor.
"Those states thinking of gaining revenue from liqour sale due to prohibition in Bihar are in delusion as very soon they would face a strong protest against alcohol there from people like in Bihar," Kumar said.
Media reports have highlighted mushrooming of liquor outlets in areas of Jharkhand bordering with Bihar. The reports have claimed that liquor trade was up in bordering areas in Uttar Pradesh and Nepal after prohibition in Bihar.
"Bihar government had written several letters to Chief Ministers of neighbouring states to cooperate with us in implementation of prohibition. State police chief as well as senior officials of Excise department had also made a strong plea to them for assistance," Kumar said.
The CM expressed happiness over tremendous response from people to the decision.
Around 4,933 people including those associated with illegal manufacture of liquor and also consumers, have been put behind bars so far in the intense campaign after promulgation of ban on liquor, he said.
About 1.17 crore promise papers have been submitted by students of schools in Bihar taking oath from their parents against alcohol, he added.
More than 8,400 nukkad nataks and 7 lakh slogans have been written in different parts of Bihar as campaign in favour of prohibitioon, he added.
"A foundation of social change has been laid in Bihar through ban on liquor," Kumar said.
(Agencies)