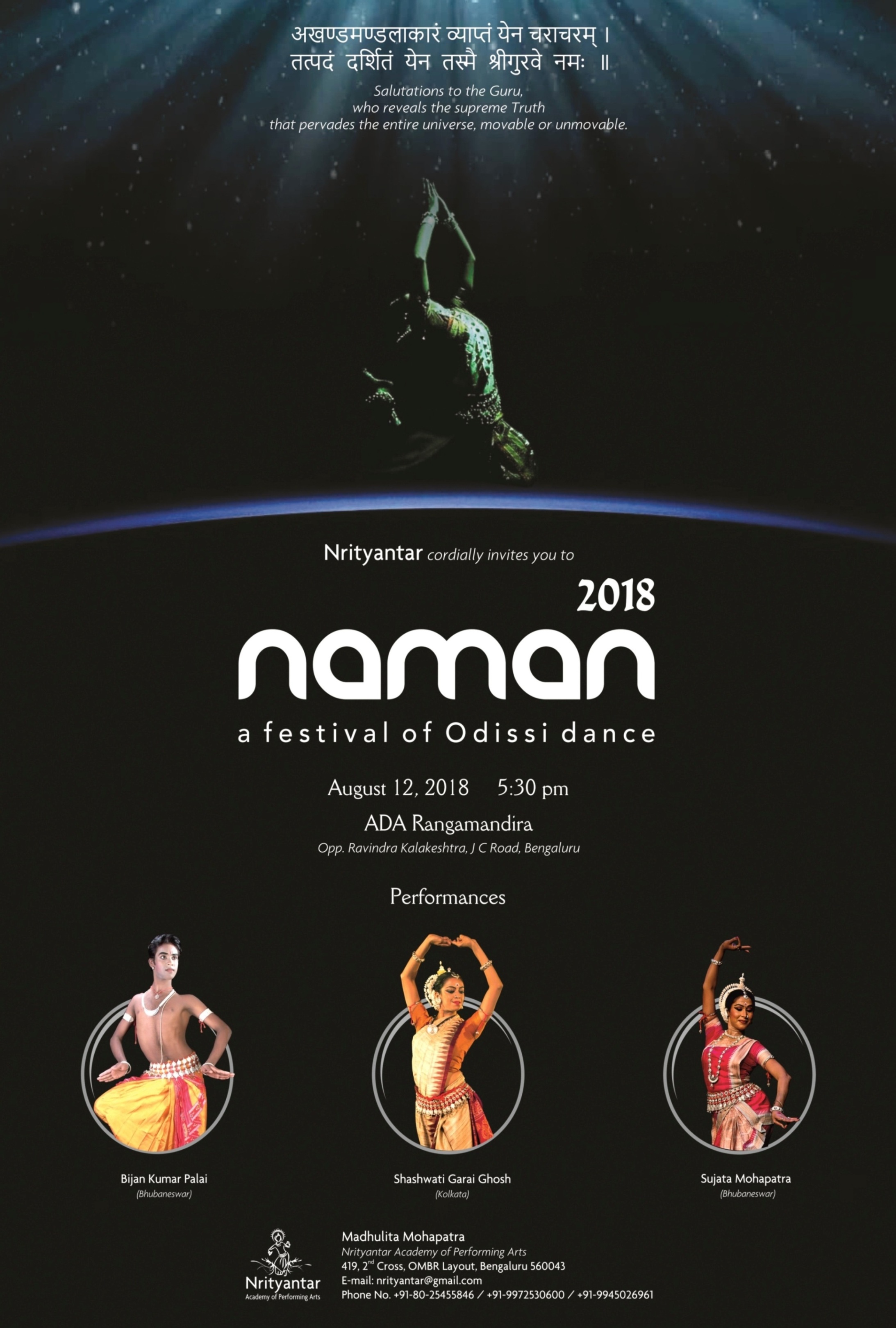 Bangalore's very own Odissi dance festival, NAMAN, is back with its 9th edition. City-based premier Odissi institution, Nrityantar will present its 9th Odissi dance festival, NAMAN 2018 on Sunday, August 12, 2018, at ADA Rangamandira, J C Road, Bengaluru.
Being acclaimed as one of the most awaited of all art events in Bengaluru, NAMAN offers a sumptuous array of finest Odissi dance performances to city's ardent art lovers. It is a humble initiative to bring together and showcase varied styles & schools of Odissi dance. Inaugurated by the iconic Odissi guru, Guru Gangadhar Pradhan in the year 2010, the festival has now grown as one of the most sought-after Odissi dance events in the country. 'Naman', literally meaning 'salutation', is a tribute to the Guru, the visible embodiment of God. The festival pays rich tributes to the great gurus of Odissi dance for their invaluable contributions in the growth & popularisation of this extremely elegant art form. It is an event where audiences not only get the opportunity to experience the beauty, richness & nuances of different styles & schools of Odissi dance by its finest exponents, they also enjoy and appreciate contributions & works of the great gurus & pioneers. With fully packed & over-flowing hall, the festival has been very well received & attended by audiences in its previous editions, and has featured many stalwarts from the Odissi world like Guru Sangeeta Dash, Guru Aruna Mohanty, Guru Sharmila Biswas, Guru Bijayini Satapathy, Guru Madhavi Mudgal, Guru Surupa Sen, among others. With the exciting line-up of artists, the festival promises to enthrall everyone again.
Odissi dance is an epitome of fluid grace, lyrical beauty, sculptural sensuality and deep spirituality with curvaceous movements, sculptured poses, and impeccable rhythm. Over the centuries, the living tradition of Odissi has been perpetuated by the Maharis (devadasis from Odisha) and the Gotipuas (young boy dancers dressed as girls). The lyrics of the Geeta Govinda written by poet Jayadev form an integral part of abhinaya in Odissi. Complemented by soulful music, this dance of lyrical beauty cast a spell on spectators. Young talented, Bijan Kumar Palai hailing from Bhubaneswar, is a promising male Odissi dancer. He will mesmerize viewers with the vigour, energy & vibrance of his pulsating dance. Shashwati Garai Ghosh, a gifted Odissi dancer from Kolkata, is a recipient of Ustad Bismillah Khan Yuva Puruskar from the Central Sangeet Natak Akademi. She will enchant everyone with the clarity & precision of her dance. Recently honoured with the prestigious Central Sangeet Natak Akademi award, celebrated Odissi exponent, Sujata Mohapatra, is rightly considered the diva of Odissi dance today. An epitome of perfection, poise & grace, she is sure to spellbind viewers with the beauty & elegance of her art.
The performances will start sharp at 5:30 pm with Bijan Kumar Palai, followed by Shashwati Garai Ghosh and Sujata Mohapatra. Senior gurus, dancers and dignitaries for the art world will grace the event with their distinguished presence.
The event is a must-see for all art-lovers across the city.