Security tight at funeral of Qawwali singer Amjad Sabri, who was killed by Taliban gunmen in Karachi on Wednesday.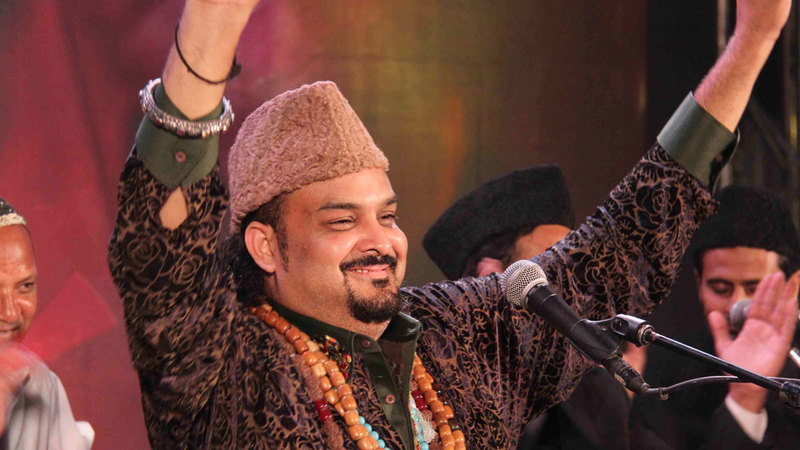 by Al Jazeera
Thousands of people have attended the funeral of slain Pakistani Qawwali singer Amjad Sabri in Karachi, amid a major security operation.
Large crowds gathered for the procession and funeral service on Thursday, which was led by the spiritual heir of Sufi saint Baba Farid, Pakistani media reported.
Al Jazeera's Alia Chughtai, reporting from Karachi, said the area of Liaquatabad Road where the funeral was held was under lockdown by security forces.
"The police services have cleared out the roads for the funeral procession and everything in the area is under lockdown," Chughtai reported.
Sabri was killed on Wednesday while driving in his car in the city's Liaqatabad area. A motorcycle pulled up alongside the vehicle and the attackers opened fire.
The 45-year-old singer is survived by his wife and five children. Sabri's brother, who was also in the vehicle, was wounded.
"Two riders used 30-bore pistols to shoot Sabri five times. The bullet to the head took the qawwal's life. The attackers took the Hassan Square route to escape," Inspector General Mushtaq Mehar told Pakistan's English language newspaper Dawn.
"It was a targeted killing and an act of terrorism," Muqaddas Haider, a senior police officer told AFP news agency, without naming possible suspects.
Sabri's body was laid to rest next to his father Ghulam Farid Sabri in Paposh Nagar graveyard, in the compound of Pir Herat Shah Warsi's shrine.
The killing of the singer was met with shock and condemnation. Neighbours congregated outside the singer's home to offer condolences to his relatives, while TV channels broadcast recordings of his music in tribute.
Nawaz Sharif, Pakistan's prime minister, was among those condemning the killing and ordered an investigation.
A splinter faction of the Pakistani Taliban has claimed responsibility for the raid, saying Sabri's qawwalis were blasphemous.
Fakhre Alam, the Chairman of the Sindh Board of Film Censors, claimed on Twitter that Sabri had earlier submitted an application for security, but the home department refused to follow up on it.
Asghari Begum, Amjad Sabri's mother told Al Jazeera, that about six months ago three unknown assailants came to their residence and had burst open the front door. Amjad was not present, and they had left.
Sabri and his late father, Ghulam Farid Sabri, were well-known qawwali singers – a style of music rooted in Sufism, or Islamic mysticism – that is popular across South Asia with roots tracing back to the 13th century.
Sufi mosques and shrines have come under attack in recent years, including the 2010 bombing of the Data Darbar shrine in Lahore that killed more than 40 people.