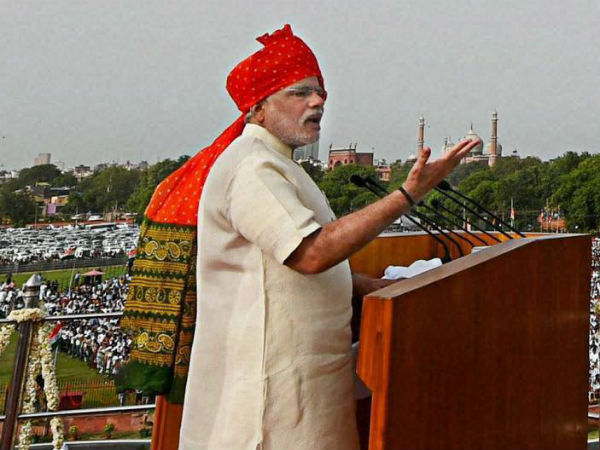 Prime Minister Narendra Modi on Wednesday continued with his tradition of wearing turbans at the Independence Day celebrations and sported a saffron headgear during his address to the nation from the historic the Red Fort.
PM Modi had worn an orange and green coloured Jodhpuri bandhej safa for his maiden Independence Day speech as Prime Minister in 2014.
He continued the tradition by wearing a turban with red and green stripes with a long safa in 2015 while he wore a red-pink-yellow coloured Rajasthani safa in 2016.
Last year, the Prime Minister had chosen an off-white and yellow-red turban with a long trail.
On the occasion on country's 72nd Independence Day, Prime Minister Narendra Modi addressed the nation from the ramparts of the historic Red Fort in the national capital during which he reiterated his government's unwavering commitment to the take the nation to the newer heights.
The PM, who spoke on a wide range of issues and made several key announcements, delivered nearly 82-minute long speech. This was the Prime Minister's third longest speech in the last five years.
The PM also went to Raj Ghat and paid homage to the 'Father of Nation' Mahatma Gandhi.
The PM earlier greeted the nation as it celebrated its 72nd Independence Day on Wednesday.