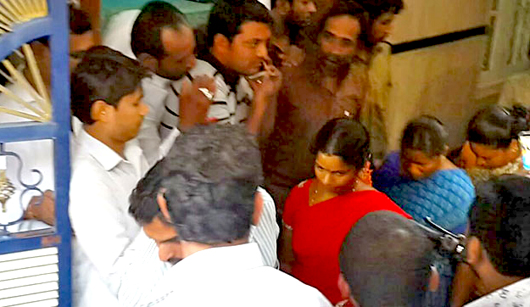 Bengaluru: In an alarming incident, five members of women's wing of Bharatiya Janata Party were caught while trying to steal voter ID cards after they visited house posing as census officials in the city.
The development comes amidst ongoing preparations by political parties for impending BBMP elections. All the five BJP activists were taken into custody by the police on Wednesday.
The residents of Siddapura (ward number 144) have lodged complaint against the women accusing them of trying to con them into parting with their voting cards. However, the accused maintained they were only campaigning for the civic polls scheduled for August 22.
"Five women came into my house around 5pm and told me they were from the census department. They asked me to show them my voting card. When I showed them the card, they said it was no longer valid and tried to take it away," Shamsunissa (62) told media persons.
There was some tension in the area after hundreds surrounded the women workers, but police escorted them to the safety of a jeep. Shamsunissa said that just when she was questioning the women, dozens of men from her locality barged into the house shouting "chor-chor" (thief).
"The men asked the women for their ID cards and there was confusion. After a few minutes, the women started crying and confessed that they were BJP workers," she said.
Tabrez Suhail (32), one of the men who barged into Shamsunissa's house, was quoted as saying by a newspaper: "We were following these women for around an hour. They would go to the Muslim houses where the women were alone and ask for their voter cards claiming they were census officials. We knew that no census is being conducted right now and got suspicious."
The BJP women took down names and phone numbers in cases where people refused to part with their voter cards, he alleged.
However, a senior official of the Siddapura police station said on condition of anonymity that no voter cards were recovered from the women. He said a case has been registered against the women and that sectoral magistrate has been asked to monitor the elections.
R Khaleemullah, from the Association for Protection of Civil Rights (APCR), who visited the spot, said, "Names of Muslims, other minorities and SCs had gone missing from the electoral rolls during the last Assembly and Lok Sabha polls as well."
Many groups had alleged then that the BJP was paying people to part with their voters cards. "This is the first time we have caught them red handed," he said.
(Agencies)