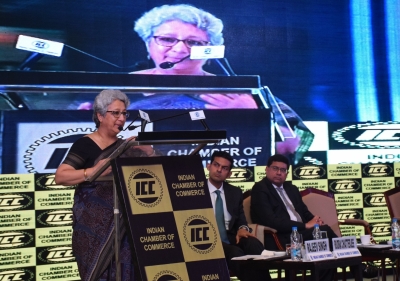 India faces the possibility of losing in the trade disputes with the US on its challenge to export subsidies, but the government is working on schemes to make them WTO compliant, an official said here on Thursday.
"We have a whole lot of challenges in World Trade Organization (WTO)… we respond strongly (but) there is a real possibility that we will lose this dispute because India has crossed the income threshold to be able to give direct export linked subsidies," Union Commerce and Industry Secretary Rita Teaotia said while responding to a query on the US challenging India's export subsidies in the WTO.
"What we are now trying to do is WTO compliant," she said at an event organized by the Indian Chamber of Commerce.
Teaotia said that anything which entails a refund of the statutory levy is legitimate for the purpose of exports in trade rules while incentive given only for exports is not legitimate.
"Right now, we have an expert group studying to see what the WTO compliant supports are and what the global practices are in a transparent way. This exercise is almost complete. In fact, we are having the first round of presentation next week.
"Hopefully, we would have a draft set of schemes for the discussion in a month or so," she said.
The Centre is looking to support for regulatory compliance, Teaotia said.
Incentives on service exports, duty free import of inputs, refund on statutory levies are legitimate for the purpose of exports, she said, adding that refund of uncovered taxes under GST regime are some of the supports that will likely to continue under the revised schemes.
She also said that the government was looking to at an integrated multimodal logistics legislation which covers all stakeholders.
Flagging off the issues related to tea blending, she said some factories or aggregators mix teas in such a way that purity of crop tends to fail and due to this, market share falls in the international markets.
Teaotia also pointed out the auction platforms of tea in India "has not had kind of acceptability that it should have had" and it is the reason for which, 100 per cent tea does not come to auction.
She said Tea Board's new Vice Chairman has one of the first responsibilities to look at the acceptability of auctions platforms and how these platforms can be revamped in such that everybody buys into it.
She requested the industry to find out ways to make platforms better because the platforms are for the industry to serve its purpose.
"This was the discussion that we had this morning. There will be interactions next week with the groups of the industry to find out what people want to see on the platforms," Teaotia added.