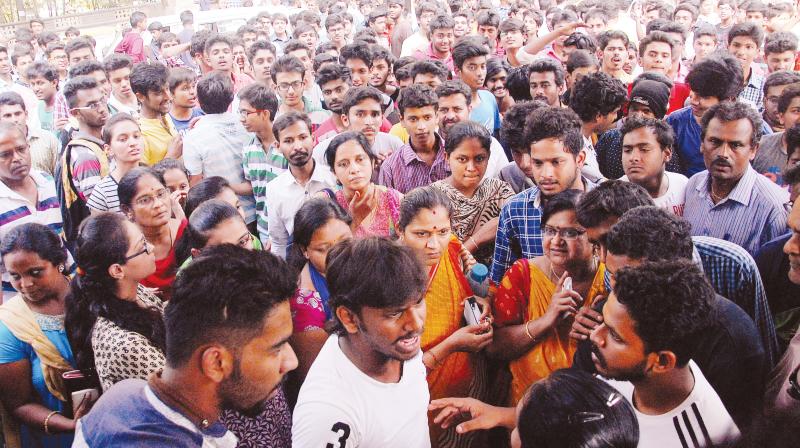 Bengaluru: The rescheduled Pre-University Chemistry examination will see about 2,19,000 students writing the exam on March 29.
Kimmane Ratnakar, Primary and Secondary Education Minister said that because of a handful corrupt officials in the education department, 2,19,000 student will have a re-examination. He also said that as many as 36 of the 37 questions were leaked.
Ratnakar requested the Legislative Council of having the home department conduct a parallel enquiry into the issue.
Scores of parents and students protested at the PU Board office in Malleswaram and confronted Board Director Pallavi Akurathi. Few of the protesters asked not to hold re-exam while others asked for the re-exam. The protesters were asking the culprits to be punished.
Malleswaram police had to intervene and disperse the crowd as there were some tense moments.
On the out-of-syllabus questions in the II PU mathematics paper, the decision to award grace marks will be taken today, said Law Minister T.B. Jayachandra, along with Primary and Secondary Education Minister Kimmane Ratnakar. More than 15 marks questions had come out of syllabus in the paper.
(Agencies)