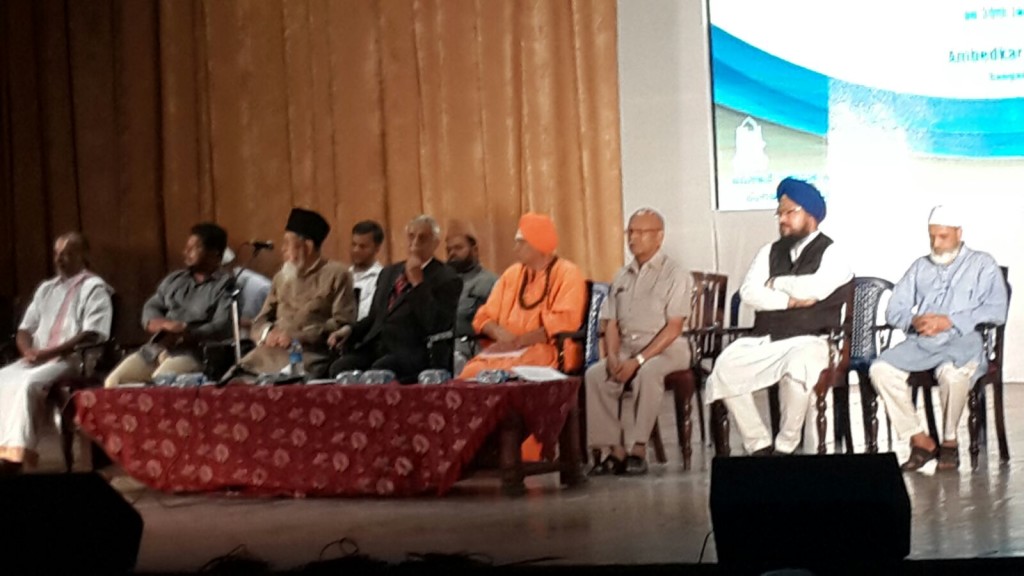 An inter-religious conference on the theme 'Prophet Muhammad – Pinnacle of Humanity' was conducted on 30th January 2016 at Dr. Ambedkar Bhavan, Bangalore, from 7:00 pm to 9:00 pm.
The program began with the recitation of the Quran followed by the welcome address given by Dr. Saad Mohammad Belgami, President JIH Bangalore Metro who welcomed all the delegates and participants.
The key note address delivered by Moulana Syed Jalaluddin Umri (National President, Jamaat-e-Islami Hind). He said that Prophet Muhammad (peace be upon him) had come with the same message with which the previous prophets had come and he (peace be upon him) invited people to worship only one God who is the only creator of this universe and He who made everyone equal, more honourable is the one who fears God most. Prophet Mohammad preached rights and duties of every relationship and demonstrated it through his own behaviour and conduct.
The programme was followed by a talk by Sri Sri Shivanubhava Shivarudra Swamiji from Belimatha Mahasamsthana, Bangalore. He urged the audience to face every problem with firmness and always remember that God is with us and He will help us in every difficulty.
Later, Justice M. N. Venkatachaliah (Former Chief Justice of India) said that the world is looking at India as to how we will conduct ourselves as one human family and in order to be successful in this task we need the teachings of Prophet Muhammad (pbuh).
Later, Nadoja Sri Hampa Nagarajaiah (Renowned Litterateur) also addressed the gathering. The programme was followed by a talk by Giani Baldev Singh (Head Priest, Gurudwara Ulsoor, Bangalore). He said that God fearing people would worry about humanity and if we forget the teachings of the messengers then we would be deteriorated in life.
The program concluded on a positive note with a final talk by Mohammed Kunhi (Manager, Shanti Prakashana, Mangalore). More than a thousand people participated in the conference.