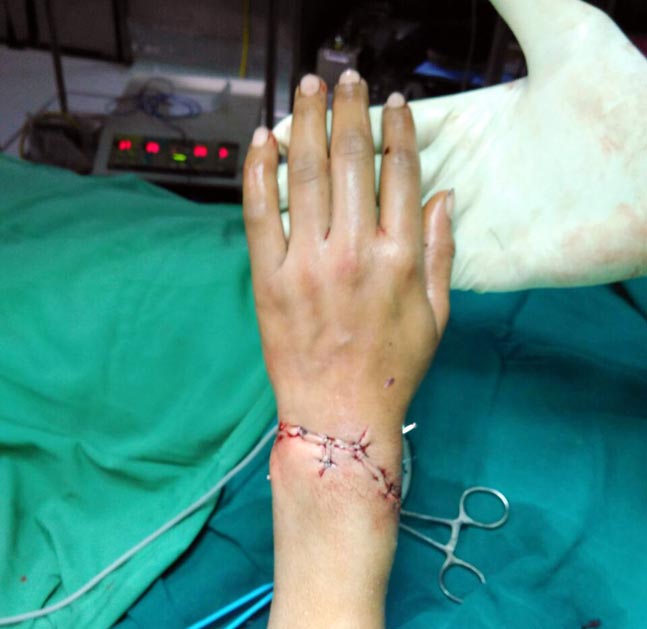 Bengaluru: In a gruesome incident, three members of a sand mafia chopped off the hand of a housewife after they allegedly mistook her for the wife of their rival at Herohalli, Tavarekere, on the outskirts of the city.
The victim, Mangala Gowri (38), is now undergoing treatment at a private hospital. Though the police have surgically joined her severed left hand, which was chopped off, the victim needs to wait for a week to ascertain whether she can regain movement.
The incident has shocked the IT Capital of the nation because the rowdies dared to barge into the house of the victim and slashed her family members with swords.
Around 8 p.m. on Thursday, three persons involved in sand mining barged into a house, and on spotting Mrs Gowri, attacked her. While the men were in search of Nanje Gowda, who runs a sand-mining business, they mistook Mangala – who owns the house – as his wife and chopped her left hand, said Tavarekere Police.
The assailants — Krishna of Kunigal, Sandeep of Bhattarahalli and Kumar, who run a sand-transportation business — had an argument with Nanje Gowda over a consignment which wasn't delivered on Wednesday.
The three had earlier on Thursday come to threaten Nanje Gowda, who lives in a rented house. However, they met the house owner Raghavendra who asked them to go away.
Later in the evening, armed with knives and machetes, they entered the house where they spotted Ms. Gowri who was oblivious to the threats, said the police.
Taverekere police registered a case of attempt to murder and a search is on to find the accused.
(Agencies)