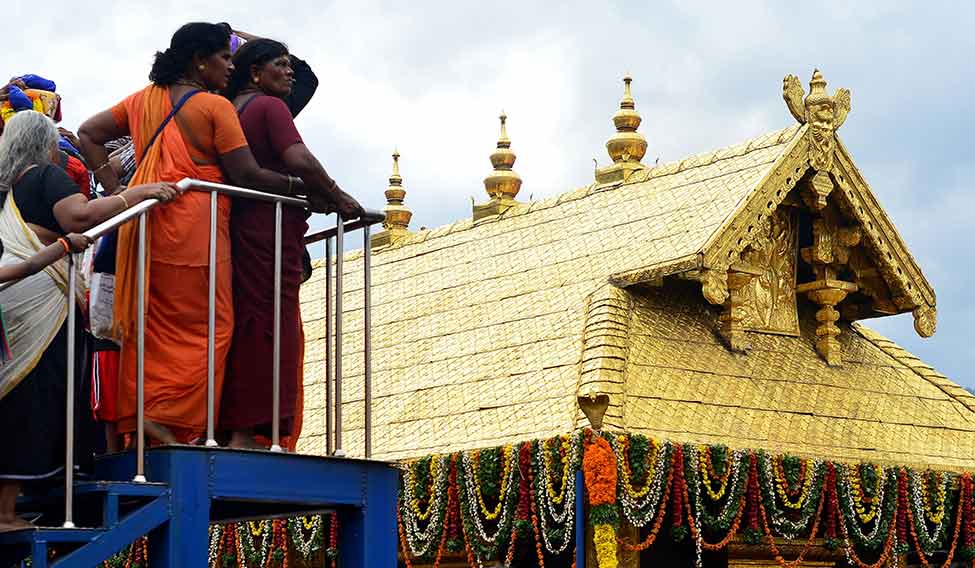 The Supreme Court on Wednesday said that a woman's right to pray is equal to that of a man as enshrined in the Constitution and forming a law cannot negate that. The apex court was hearing a batch of petitions challenging the ban on entry of women in Kerala's Sabarimala temple on grounds of biological factors.
"On what basis you (temple authorities) deny the entry. It is against the Constitutional mandate. Once you open it for the public, anybody can go," Chief Justice Dipak Misra said.
He said that if the temple has allowed men to enter, then it must allow women to enter too. "There is no concept of a private temple. If there is a temple then it is a public place and everyone is allowed to go there. If men can go there then women can also go," he said during the hearing.
The CJI also opposed the Kerala government's assertion that ceremonial rules pertaining to temples and method of worship are set by the temple and are protected under the right to worship, saying that a "temple cannot claim denominational rights."
"Your right to worship as a woman at par with a man is not dependent on a legislation. It's there in the Constitution. It's there in article 25(1). Law facilitates equal right of worship by everyone," he said.
Justice DY Chandrachud, who was part of the five-judge constitutional bench that was hearing the case, further said, "Every woman is also the creation of God and why should there be discrimination against them in employment or worship."
The Supreme Court had in October last year formed the constitution bench to hear the case and it will decide four significant questions, primary among which is whether the ban amounts to discrimination against women.
The constitution bench also includes Justices Rohinton Fali Nariman, AM Khanwilkar and Indu Malhotra.
The petitioner – the Indian Young Lawyers Association – has challenged the 800-year-old practice of prohibiting the entry of women into the famed Lord Ayyappan Temple.
The PIL has sought direction to the Kerala government, the Travancore Devaswom Board, Chief Thanthri (priest) of Sabarimala Temple and the District Magistrate of Pathanamthitta to ensure entry of female devotees between the age group of 10-50.
Appearing for the petitioner, counsel Ravi Prakash Gupta told the court the restrictions on the entry of women in Sabarimala temple is not the essence of their religious affairs as discrimination on the entry of women in the temple is "neither a ritual nor a ceremony associated with Hindu religion".
Gupta said: "Mere sight of a woman does not affect anybody's celibacy, if one has take oath of it, otherwise such oath has no meaning."