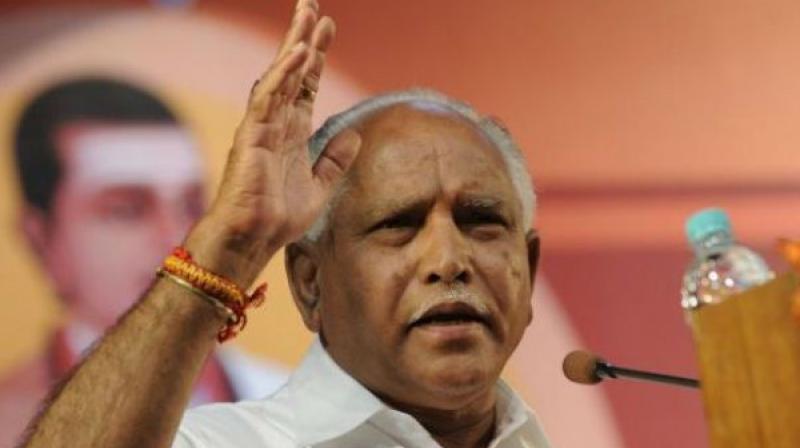 Amid discontent among some of the ruling coalition members in Karnataka, state BJP President BS Yeddyurappa today claimed several leaders from both Congress and JDS were ready to join his party.
Addressing the BJP state executive meet in Bengaluru, the leader of opposition in the assembly also termed the JDS-Congress partnership an "unholy coalition" and the budget scheduled to be presented by it on July 5 as a "minority budget".
He asked his party men to work towards ensuring the BJP wins 25 of the state's 28 Lok Sabha seats in the 2019 national elections.
"Several Congress and JDS leaders are ready to join the BJP in the current political situation. I appeal to leaders to work towards strengthening the party by bringing in honest and capable people without thinking that new inductees would affect their own chances," he said.
"Those who are ready to come to the BJP, we have to go to them personally, to their houses and talk to them and bring them to the party fold and strengthen the party for Lok Sabha polls," he said.
Earlier too, when there was widespread dissatisfaction in both Congress and JDS following the cabinet expansion, Mr Yeddyurappa had claimed that several "disgruntled" leaders from the ruling coalition were eager to join his party.
Mr Yeddyurappa's recent Ahmedabad trip to meet party national president Amit Shah had fuelled speculation that several dissatisfied Congress MLAs were in touch with him and ready to switch over, which might again try its hand to form a government in the state.
However, he himself had sought to end the speculation, saying he had gone to invite Mr Shah for today's state unit executive meeting.
Mr Yeddyurappa had resigned as chief minister without facing a vote of confidence in the assembly last month as the BJP lacked the numbers for a majority.
The BJP today held its first state executive meeting after the assembly elections in the state in May this year.
It was attended by party General Secretary Muralidhar Rao, Union Ministers Ananth Kumar, Ramesh Jigajinagi, and former Chief Minister Jagadish Shettar, among others.
Explaining the circumstances under which he had to resign as Chief Minister that led to the formation of Congress-JDS coalition government, Mr Yeddyurappa said although legislators from different political parties were ready to join BJP, "because of paucity of time, we had to face the setback".
He accused Chief Minister HD Kumaraswamy of making "false" promises in the JDS manifesto.
Listing out pre-poll promises of the JDS, including the farm loan waiver among others, he called on BJP leaders and workers to go to people with Congress and JDS manifestos and inform them that both parties have not walked the talk.
Terming the the budget to be presented on July 5 as "budget of 37 MLAs" and "minority budget", Mr Yeddyurappa pointed out that the Congress Legislature Party Leader and former chief minister Siddaramaiah has opposed the budget.
"There is confusion between Congress and JDS, so the budget they will present will not have any sanctity," he claimed.
He said, "This is the budget with the support of just 37 (JDS) MLAs. There is no Congress support to it…there is no sanctity to it. Let's wait and watch what stand the Congress takes in the assembly," he added.
Discordant voices have emerged from the Congress and the JDS on a host of issues, including presentation of the budget, as Siddaramaiah, who held finance portfolio in the previous government, had recently said there was no need for a fresh budget and insisted that a supplementary budget would suffice.
Speaking about differences between the Congress and JDS, Mr Yeddyurappa told his partymen that the two parties were fighting among themselves and their government was likely to fall.
"…(Hence) let us not take sides. There are no signs of this unholy coalition government continuing. So as a responsible opposition both inside and outside the assembly, we will have to continue our fight for the cause of people," he said.
He also termed as "irresponsible" Mr Kumaraswamy's statement that he was not at the mercy of people of Karnataka, but of the Congress party.
Noting that BJP and its workers had worked with confidence of winning 130-135 seats in the May 12 assembly elections, Mr Yeddyurappa said, "Even when there was pro-BJP wave across the state, because of our own mistakes, we could not win 130-135 seats. This is a painful matter."