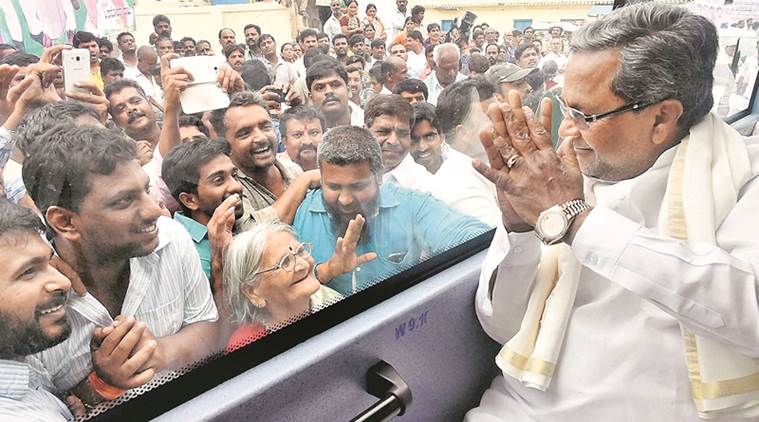 Sources have claimed that the Congress high command has decided to face the next year's crucial Lok Sabha election under the leadership of former chief minister of the state, Siddaramaiah.
As per information gathered, All India Congress Committee president, Rahul Gandhi, asked Siddaramaiah to take over leadership even for Lok Sabha election, when the latter met him during his visit to New Delhi in the role of leader of Congress legislature party in Karnataka.
It is said that Rahul wanted the understanding currently reached with the JD(S) to be continued for Lok Sabha election. He wants the party to set a target of 20 Lok Sabha seats from Karnataka. Sources say that the high command has conveyed information about facing Lok Sabha election under Siddaramaiah's leadership to all the state level party leaders including Karnataka Pradesh Congress Committee president, Dinesh Gundu Rao.
Rahul Gandhi had reposed complete confidence in the leadership skills of Siddaramaiah during the assembly election too and entrusted the responsibility of assembly election to him. He is convinced that Siddaramaiah happens to be the most capable leader for the party to face election among the ones currently available in Karnataka. Reportedly, in-charge of state Congress affairs, KC Venugopal, too put his weight behind Siddaramaiah's leadership.
The national leadership of Congress was willing to field Siddaramaiah either from Mysuru or Koppal Lok Sabha constituency next year, and Rahul had taken up this matter with the former chief minister. But Siddaramaiah told the leaders that he has decided not to fight any election henceforth. However, he promised to undertake leadership, tour the entire state extensively, and make all-out efforts to win maximum seats for the party during the Lok Sabha election.
The Congress high command does not seem to have been perturbed by the feedback given by certain leaders here that the party could not perform to its potential here because of Siddaramaiah, holding him entirely responsible for the party's poor showing. The party high command has shown scant regard to this assessment and has already rewarded him with the post of the chairman of the coordination committee of the coalition government.