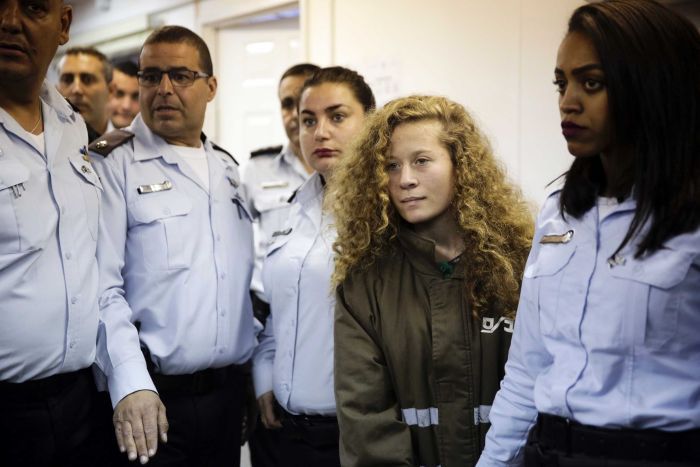 Singapore authorities have banned Radiance of Resistance, a U.S.-made documentary about the Palestinian-Israel conflict depicted through the eyes of two Palestinian girls, 16-year old Ahed Tamimi and another young female activist. The film was scheduled to be screened on Thursday at the Singapore Palestinian Film Festival being held at independent cinema The Projector, agencies have reported.
The island nation's film certification body, Info-communications Media Development Authority (IMDA) gave the film a Not Allowed for All Ratings (NAR) classification, meaning it is not cleard for showing in any circumstances in Singapore. The IMDA said that the film had a "skewed narrative" and could "cause disharmony among races and religions in Singapore."
NAR ratings are considered quite rare, and three were issued in November. "Radiance" was directed by Jesse Roberts and has played on the international festival circuit since 2016. The Festival spokesmen said that the NAR decision came too late to make an appeal or to find alternative programming. It cancelled the screening, and refunded.
Singapore's censors objected to three titles in the government-backed showcase Singapore International Film Festival. They included Barbet Schroeder's The Venerable W, Singaporean director Chew Tzr Chuan 's Shadows of Fiendish Ancestress and Occasionally Parajanov on Durian Cialis, and the Nameless Boy, by Indonesian director Diego Batara Mahameru. The three had been announced in the festival's lineup, but had to be removed before screenings took place.
The film was screened at several festivals in 207 and won Best Documentary at the Respect Human Rights Film Festival in Belfast, but got into further limelight with the arrest of Ms Tamimi, featured in the film. Thanks to her arrest, she became a symbol of Palestinian resistance to Israeli military occupation in the West Bank. She was charged with aggravated assault and is to be tried in an Israeli military court. The law prescribed jail for up to 10 years if the assailant is an adult, but the 16-year old Tamimi being a minor such a sentence is unlikely.
By and large, Singapore's media and film monitoring is tight, and more so when they touch on race and religion. But blanket ban is not that common. Adela Foo, the organizer of the Singapore Palestinian Festival, called the ban "understandable" with obvious avoidance of sensitivities.
As for the Palestinian problem, the Singapore government position on the Middle East is in favour of a two-state solution. Singapore has a sizeable Muslim minority and is surrounded by Muslim-majority countries such as Malaysia and Indonesia, and the prevailing attitude to the Palestinian cause is of overall sympathy. All the same Singapore maintains friendly diplomatic ad military ties with Israel. In the most recent voting on the Palestinian issue in the UN, Singapore voted against the US decision to recognize Jerusalem as the capital of Israel.
(Agencies)