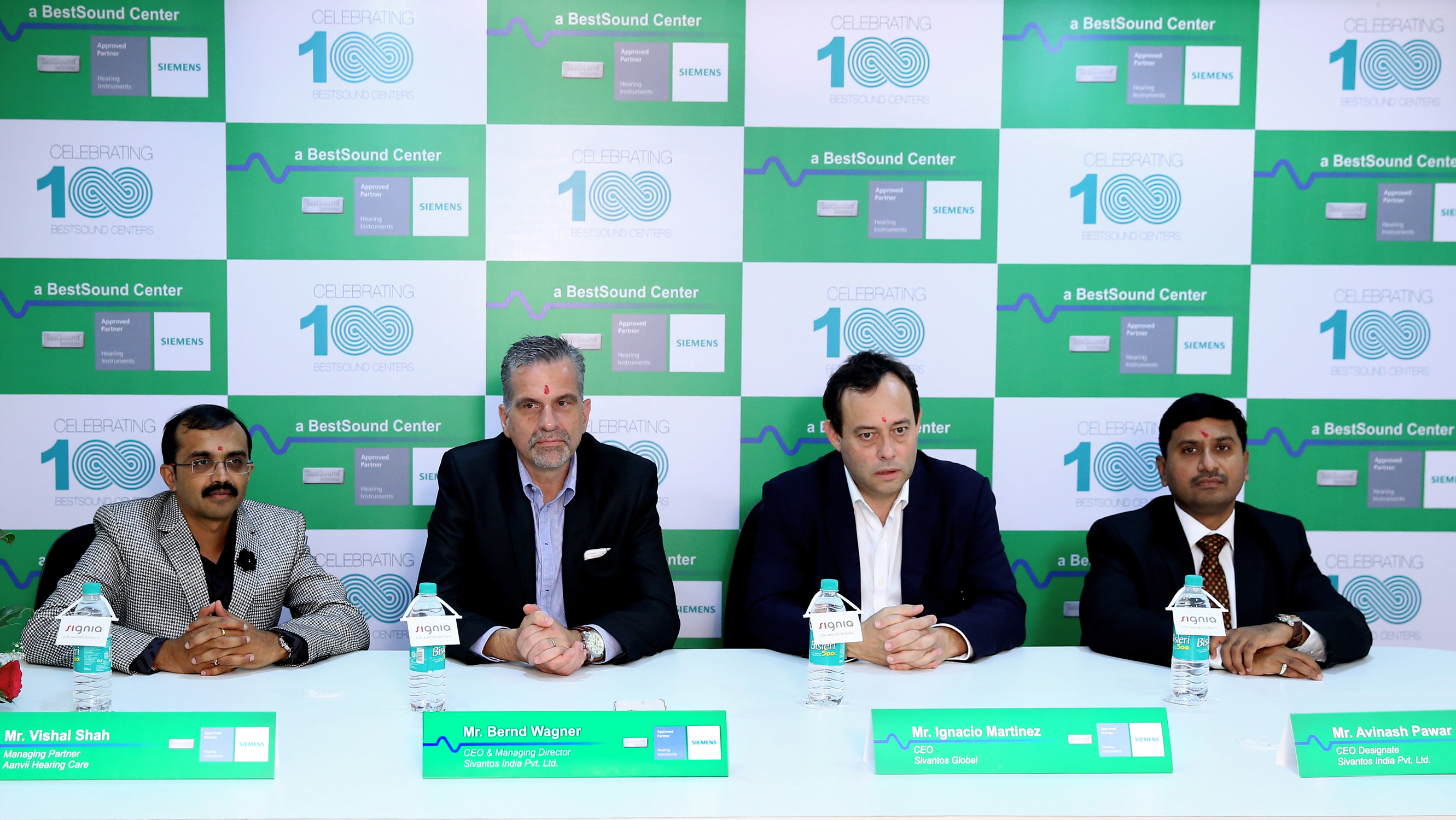 Bengaluru: Sivantos India Pvt. Ltd., Formerly Siemens Hearing Instruments Pvt. Ltd,a leading hearing care company, today announced the milestone of opening of the 100th BestSound Center by Aanvii Hearing Care in Koramangala, Bengaluru. The concept store was a revolutionizing step in bringing hearing solutions closer to the Indian needs and lifestyle. The German company responsible for 1 in 4 hearing aids sold worldwide thus adopted a leadership role in not just bringing precision in hearing care solutions, by enhancing the technology knowhow in India, but keenly bridging the awareness and accessibility of most advanced products to Indians. Sivantos India with its 54% market share has been leading the industry with many such innovations.
Speaking at the launch of the 100th BestSound Center Mr. Ignacio Martinez, Global CEO, Sivantos Group, said "Sivantos worldwide strives to deliver technology advancement in hearing care by providing latest innovations and solutions. Our concept stores were a strategic decision to meet the Indian consumer plagued with hearing impairments troubled with both low awareness levels and accessibility issues. The BestSound Center are a direct answer to the need for quality hearing care in India and was introduced as a strategic measure to improve the standards of hearing instrument dispensing too. The stores thus conceived have evolved to be a one stop shop for world class hearing solution in India. This has been a great contributing factor in revolutionizing the hearing aid business in India for us and paved way for new advanced technology solution like 3D printers for custom hearing instrumentswhich has been introduced for the first time in India by us".
Sivantos Group is the manufacturer of hearing instruments under the Siemens brand, which is among the top 50 brands in the world and has universal recognition with young and old alike. The core strength of the company lies in being able to provide a better "quality of life" with advanced "technology solutions" based on innovations in "audiology" and a "trust" in partnership with local entrepreneurs for dispensing the same with BestSound Centers.
Mr. Bernd Wagner, CEO & Managing Director, Sivantos India Pvt. Ltd. further added that "The 100th BestSound Center is a testimony of our trust in the concept and marks the organic evolution of this concept as a high quality hearing solutions under one roof; to us it's an inspiring landmark that defines the future of hearing solution dispensing in India. We plan to add 100+ more in less than half the time we took to reach our first 100. We are sure it will add to our online marketing efforts too. Our aim is to become the largest retail network for hearing care in India before the end of 2018."
The BestSound Center Concept was introduced in 2012 to provide a global outlook with a local touch to hearing care in India. The BestSound Center Concept provides an opportunity for business partners in the hearing health care industry to partner with Sivantos India Pvt. Ltd. in establishing a network of independently owned and operated exclusive hearing care outlets. Conceived to be the modern day hearing care center, the BestSound Center concept is tailored to help Sivantos India Pvt. Ltd. business partners deliver core values and professional services to the end-user while focusing on providingworld class customer care to its users. The domain hear.com, which is now owned by the Sivantos group, creates additional trust among end-users and attracts younger customers.
Mr. Vishal Shah, Managing Partner, Aanvii Hearing Care adds "The BestSound Centers work in dispelling the stigma attached to a use of hearing aid. They are aesthetically designed to be inviting and loaded on information to win consumer trust and confidence. State-of-the-art technology products with world class customer care backed by online reach is a winning combination for the youth to test and try the hearing solutions much earlier now. The general average to imbibing a hearing solution across hearing impaired is expected to be 10 to 15 years in India. With such concept stores the gap is sure to be bridged and surely life will sound brilliant."