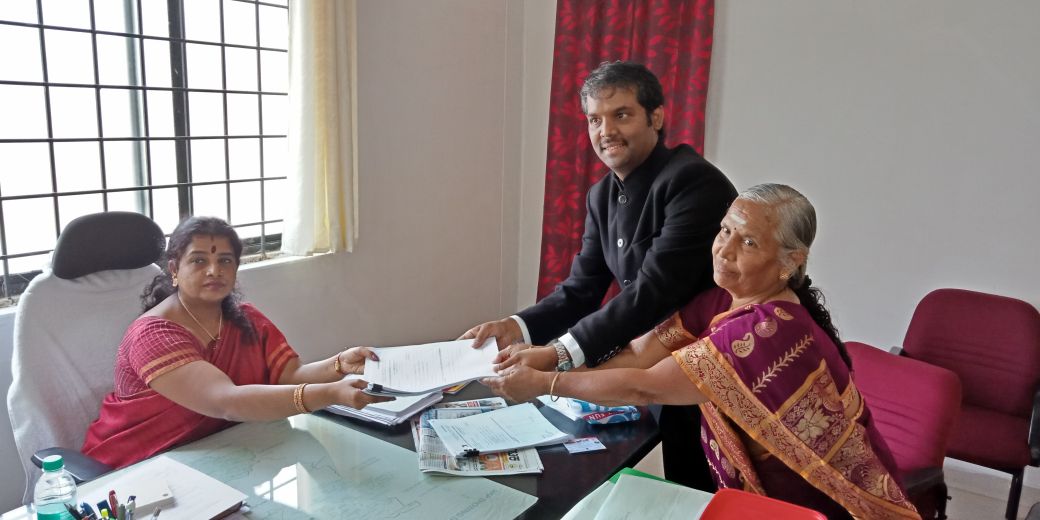 P
Ramesh Chander, the Swaraj India MLA candidate from Mahadevapura, one of the top-three highest-revenue generating constituencies in the State, filed his nomination at the KR Puram taluk office by paying the required deposit of Rs.5000 with the donations he received from the people during his innovative `Ondhu Votu, ondhe notu' campaign.
"Usually, we check only the papers, today we had to count the money too," quipped the Mahadevapura Constituency returning officer, Shylaja Priyadashini, who was pleased to see a candidate without any fanfare. "I had to ask for the security because nowadays, political candidates come with a lot of people and sometimes it becomes defficult to control them," she added.
After filing the nomination, the techie, vowed to continue the mission to usher in probity, transparency and accountability in electoral politics in Karnataka. "People have no choice till now. The choice they had is to chose between the devil and the deep sea, between communalism and corruption. Swaraj India is here to provide a clean and honest alternative. And we promise to be with you through out. Not just once in five years. We strongly believe that every problem can be solved when people participate and fight unitedly," he exhorted to the small but impressive cadre on Monday.
Ramesh chander is one of the 11 candidates announced by Swaraj India, who undertook `One vote, one note' campaign, a people-connect policy of the Swaraj India party, where the candidate and his team approach people for donations along with the vote, asking for just one note. It can be a one ruppe note or any other higher denomination. "The idea is we will be as an individual and as a Party, indebted to the people and be responsible once elected. We are also against money power playing a role and we advocate not to sell the vote," said Yogendra Yadav, in a congratulatory message to Ramesh Chander. He also inauguarated the Mahadevapura Swaraj India office earlier this month.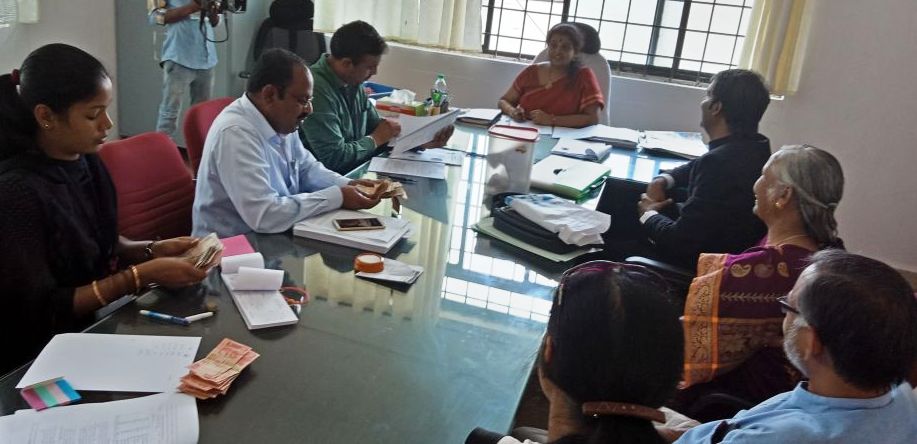 In Doddanekundi, I was touched by the gesture of a push-cart vegetable vendour, after talking to her and explaining about how clean politics is important to provide an alternative choice for voters, we asked for her vote and one note as donation.The lady picked up a handful of notes from her Collection Box and generously donated without even seeing how much she gave," said Ramesh, who added that such instances made his resolve stronger.
"With over 4,7 lakh voters, Mahadevapura is a crucial constituency as it generates municipal taxes and revenue from IT industry and is the heart and soul of the 'Silicon Valley of India'. It has many world's top R&D establishments, IT Parks but the improvement in terms of infrastructure and facilities like roads and water is negligible," says KP Singh, Swaraj India's national committee member, who lives in the same area and was part of the team that visited Bellandur, Doddanekundi, Marathahalli and Garudacharpalya recently.
"People's small contributions would set a new culture and enable the public spirit of citizens to identify with clean politics. Not just people in the IT sector, common people, small-time business people, migrants and slum-dwellers are all looking for a change," added Ramesh, who visited many of the localities in the ward and raised Rs.1001 on the first day. Ramesh Chander, himself a techie and the CEO of Rixyncs, authored a book titled `Three Pillars of Customer Relationship'. He also had a meeting with Bangalore Apartment Federation and Whiltefield Raising, two people's organisations among other resident groups including those who are trying to save the Bellandur lake.
He graduated from NIT Suratkal and did his MBA from Adam Smith University USA. He believes in transparency and all the expenses will be up on the Ketto.org site, where he is also seeking donations.