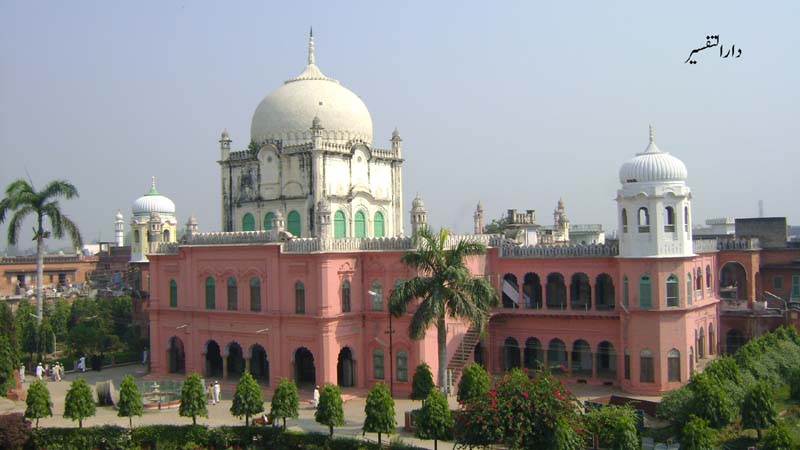 Deoband: Leading Islamic seminary Darul Uloom Deoband on Friday issued a fatwa asking Muslim community members not to chant 'Bharat Mata ki Jai' as treating any country in this world as a 'goddess' is un-Islamic.
The fatwa was issued on March 19 but became viral on social media on Thursday evening. It says that Islam does not allow Idol worship therefore Muslims should restrain themself from chanting ' Bharat Mata Ki Jai'.
"We love the country, but we believe only in one God," Darul Uloom said when it was asked to respond to the ongoing debate on chanting or not chanting "Bharat Mata Ki Jai"
"Scholars of Darul Ifta had issued fatwa in response to queries of people who sent letters along with portrait of Bharat Mata", said Ashraf Usmani, spokesperson of the seminary.
He clarified that that idol worship is not permissible in Islam hence in light of the teachings of holy Quran and Hadees followers of Islam can't say Bharat Mata Ki Jai, which has been portrayed as a 'goddess' carrying a trident in one hand and clad in saffron clothes.
It's worth mentioning here that Darul Uloom Deoband had recently issued a decree asking Muslims to hoist national flag on their houses and establishments on Independence Day.
It had also appealed to them to celebrate the occasion with great spirit of patriotism.
Ashraf Usmani said that "in the struggle for India's freedom, the Ulemas (Islamic religious leaders) of Darul Uloom have played prominent roles".
The call for 'Complete Independence' was "given by Darul Uloom", which later turned into the 'Purna Swaraj' movement, he said.
"From Hussain Ahmad Madani to Maulvi Ahmadulla Shah, there is a long series of those freedom fighters who laid their lives for the independence of the mother land," Usmani said.
"Darul Uloom has asked Muslims across the country to hoist the national flag on their houses and other establishments on Independence Day and also to celebrate this day with great spirit of patriotism," he said.
Reacting to the appeal, a spiritual leader of the seminary, Maulana Arshad Qasmi said, "We have advised all madrassas across the country specially to hoist the Tricolour and celebrate Independence Day and teach students about Indian freedom struggle and the country's original spirit of unity in diversity."
(Agencies)