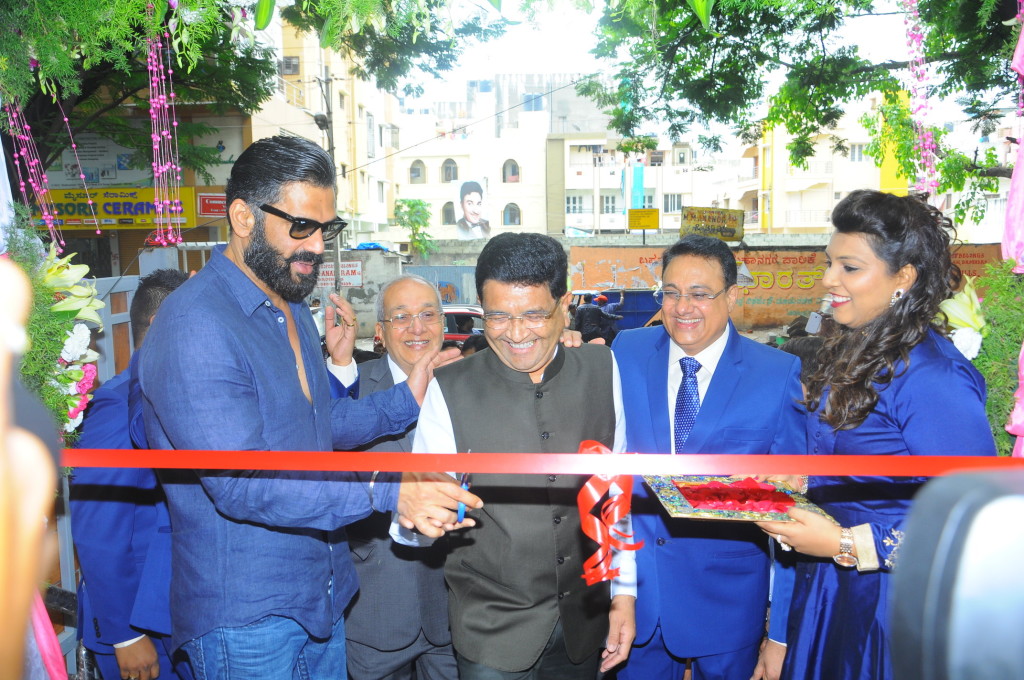 Bengaluru: No matter you build, Gala group has the interior decorative products for you. Trendy and affordable, Gala Square launched at #125, RV road, VV Puram, near lalbagh west gate on Sunday, 29th may 2016. Bollywood celebrity Suniel Shetty and Chairman, Euro Group of Companies, Shri Nenshi L Shah inaugurated the new campus as chief guest and guest of honour.
About Gala Group
What started off in 1998 as a dream, has now manifested into a reality. 18 years ago, Shri Kiran Gala dreamt of a house that can help people build their homes. Sharing his passion, were his two brothers Mukesh & Manish Gala and together, they start with one product. Brick by brick, Gala group is now a vast vessel, with over 16 smart and quali-fied entrepreneurs, spreading over 3 acres and 65,000 square feet of display area. Selling is an art but the ability to weave a families home requires a keen understanding of business and relationships. Displaying over 1,50,000 articles, this family run business has transcended boundaries of normality and aimed for the skies. Gala square is an extension that ascends to achieve the same vision.
On 29th May, Gala group succeeds in reaching another milestone. Launching a four story empire on RV Road (Near Lalbagh west gate) that would display the finest fin-ished products from across the globe, Gala Square is not an expensive affair but a luxu-rious display of quality.
Many can dream but to bring to life a success story takes a well oiled machine with the right balance of ambition, hardwork, people and passion. On every square inch at Gala square, you can experience the love for interior decoration embedded in their products, service and display and they are talking about more than a handful. Starting from Veneer, Gala group has now marked their territory in every necessity like laminates, plywood, wooden flooring, wallpapers, Corian, Designer doors, stone cladding, stone highlighters, architectural hardware, door locks, curtains, upholstery, carpets, aluminium composite and decorative lights and fans. Not only this, Gala group has succeeded in
working with many international brands like Hafele, Blum, Kohler, Grohe, Kaindl, Yale and MCM Spain.
It has taken Gala Group 18 years of hardship to cater Indian home makers with a single destination empire, a one stop solution for every interior need. It guarantees a customer no reason to step outside and wander around the busy streets. From impeccable as-sistance to quality service, Gala Group has mastered the art of providing interior decor and Gala Square is expected to be a reflection of the many years in learning.
As a pursuit to perfection and holistic development, this family run business can soon be expected to compete in the big leagues. Rest assured, with their intention for progress, Bangalore can soon expect to have houses and commercial projects in hospi-tality, software and corporate sectors own the finest articles from across the globe.