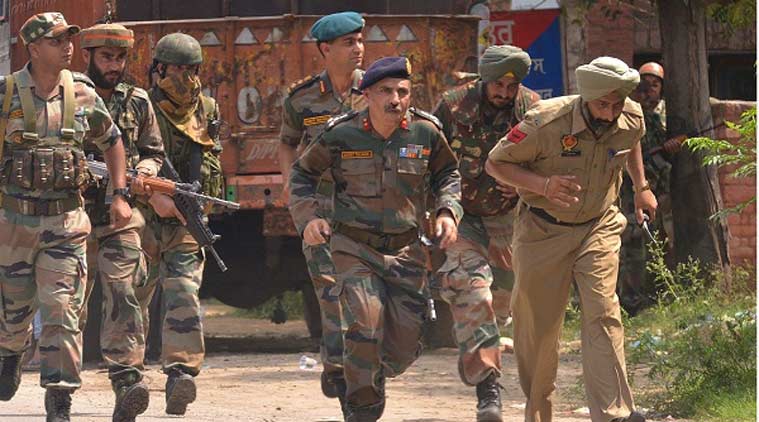 Gurdaspur: In the first major terror strike in Punjab in eight years, heavily-armed militants in army uniform today sprayed bullets on a moving bus and stormed a police station, killing six persons, including an SP, and injuring eight others in Gurdaspur bordering Pakistan.
One militant was killed and another seriously injured in the gunbattle with security forces that stretched for over 10 hours as the terrorists, who went of a rampage at around 5 AM, were holed up in a vacant building adjacent to Dinanagar police station.
The terrorists have killed six persons– three civilians and three policemen including Superintendent of Police (Detective), Baljit Singh, a Punjab provincial service officer, police said.
Official sources said it was too early to say which terrorist outfit had carried out the strike, but finger of suspicion is on Pakistan-based Lashkar-e-Taiba as the modus operandi of the militants was similar to the attacks in Jammu region in recent past.
According to Punjab Police IG (Counter Intelligence) Gaurav Yadav, SP Baljit Singh succumbed to bullet injuries sustained in the gunbattle.
Police said out of the eight injured brought to civil hospital at Gurdaspur, seven seriously injured were referred to Amritsar. They all were aged between 15-54 years.
One militant was killed and another seriously injured in the operation, Deputy Commissioner, Gurdaspur, Abhinav Trikha, said.
According to police, the attackers first targeted a roadside eatery and took off in a white Maruti 800 with Punjab registration number. They shot dead a roadside vendor near Dinanagar bypass.
They opened fire on passengers of a moving Punjab roadways bus before targeting a community health centre adjacent to Dinanagar police station.
The gunmen barged into the Dinanagar police station and opened indiscriminate fire. The militants also targeted another part of the complex where the families of police personnel reside and hurled grenades.
An alert has been sounded along the international border in Punjab and Jammu as the terrorists are suspected to have infiltrated from there, the sources said.
Union Home Minister Rajnath Singh spoke to Punjab Chief Minister Parkash Singh Badal and National Security Advisor Ajit Doval about the situation.
Singh said he will make a statement on the issue tomorrow in Parliament, where members today sought a detailed government response.
On October 14, 2007, seven persons were killed and more than 30 were injured when a powerful explosion took place at the cinema hall in Ludhiana, the last major terror attack in the state which had grappled with Sikh militancy for several years from 1980s.
Security agencies have heightened vigil across the contry especially Punjab and neighbouring states as well a Union Territory of Chandigarh in the wake of the attack which came just three weeks ahead of Independence Day.
In a related development, five live bombs were found on Amritsar-Pathankot railway track and the train services on the route have been suspended.
Dina Nagar town, which is close to Pakistan, falls in Gurdaspur district. It is sandwiched between Gurdaspur town on one side and Pathankot on the other and lies about 260 km from capital Chandigarh.
Officials said schools, colleges and other institutions have been shut today in the town in view of the incident.
Local resident Kamaljeet Singh Matharu, who said that the assailants had snatched his car after firing at him, said they were dressed in army uniform and were heavily armed.
Matharu received gunshot injuries and is admitted to hospital.
Three of the dead were identified as Ghulam Rasool, Asha Rani and Amarjeet Singh.
Ishwar Chandra Sharma, IG, Border Zone, said the gunmen attacked a Punjab roadways bus and then entered the police station complex.
"We have engaged them in an adjoining building which is an abandoned building and a barrack," he said.
Minister of State for Home Kiren Rijiju said there is no hostage situation.
According to Civil hospital authorities at Gurdaspur, SP Baljit Singh was brought dead to the hospital.
Fear gripped the town this morning and people largely remained indoors.
"People are in a state of shock and terrified here after they came to know about the attack," said Jatinder Kumar, whose house is just 500 metre away from the Dina Nagar police station.
"We could clearly listen to the sound of firing going on at police station between and security personnel and (suspected) militants," Jatinder, who is an employee of Punjab Health department, said.
Strongly condemning the terror strike, Chief Minister Parkash Singh Badal said that terrorism was a national problem.
"Terrorism is a national problem, it is not a state problem. It has to be tackled by national policies," Badal said and demanded that the border be sealed.
(Agencies)