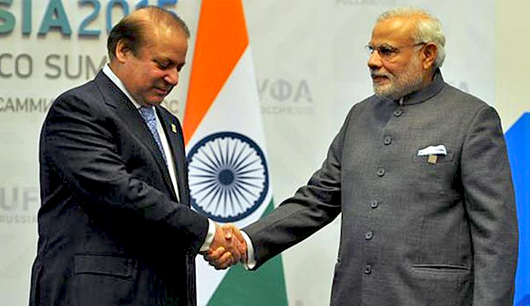 Ufa: India and Pakistan on Friday decided to revive the stalled dialogue process and find ways to expedite trial of the Mumbai attack case as Prime Ministers Narendra Modi and Nawaz Sharif agreed to cooperate to eliminate terrorism from South Asia.
Mr. Modi and Mr. Sharif met for nearly one hour in Ufa on the sidelines of the Shanghai Cooperation Organisation (SCO) Summit and discussed entire gamut of issues between the two countries.
Foreign Secretaries S. Jaishankar and Aizaz Ahmad Chaudhry held a joint press meet where they read out a joint statement on the outcome of the meeting between the two leaders.
National Security Adviser Ajit Doval and his Pakistani counterpart Sartaj Aziz will meet in New Delhi to discuss all issues connected to terrorism, said the joint statement.
"Both sides agreed to discuss ways and means to expedite the Mumbai atack trial, including additional information like providing voice samples," the statement said.
Mr. Modi accepted Mr. Sharif's invitation to visit Pakistan for the SAARC Summit in 2016.
"They agreed that India and Pakistan have a collective responsibility to ensure peace and promote development. To do so, they are prepared to discuss all outstanding issues," the statement said.
Fishermen to be released
Both sides also agreed to hold early meetings of DG BSF and DG Pakistan Rangers followed by that of Director Generals of Military Operations (DGMOs).
It was decided to release fishermen in each other's custody, along with their boats, within a period of 15 days.
A mechanism for facilitating religious tourism will also be worked out, as per the five-point "steps" to be taken by the two sides.
The two leaders warmly shook hands and posed for the shutterbugs before settling down for the talks.
(PTI)