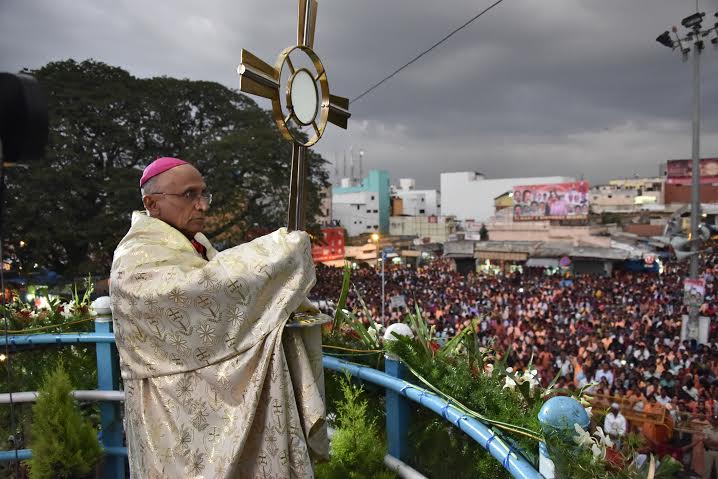 Bengaluru: Even as the clouds seemed to threaten rain, devotees stood their guns (umbrellas of-course) ready to face an impending spell of rain. Thousands of devotees gathered in the lanes and by-lanes of the 'congested' Shivajinagar that bustles with business activity.
The century old 160 feet tall St. Mary's Basilica that is nestled amidst a historic Mosque and Hindu temple has been home for devotion for people of all religious faiths. Prelate Archbishop Bernard Moras in his message to devotees in the presence of Chief Guest KJ George (Home Minister of Karnataka) appealed to devotees "we must work for an ambience of peace and harmony between peoples of all religions". Quoting the papal encyclical of Pope Francis 'Laudio Si' he made a clarion call that the "common good" must take utmost place. He called upon devotees of Mother Mary to become catalysts of change where 'peace and harmony should prevail over violence and hatred'.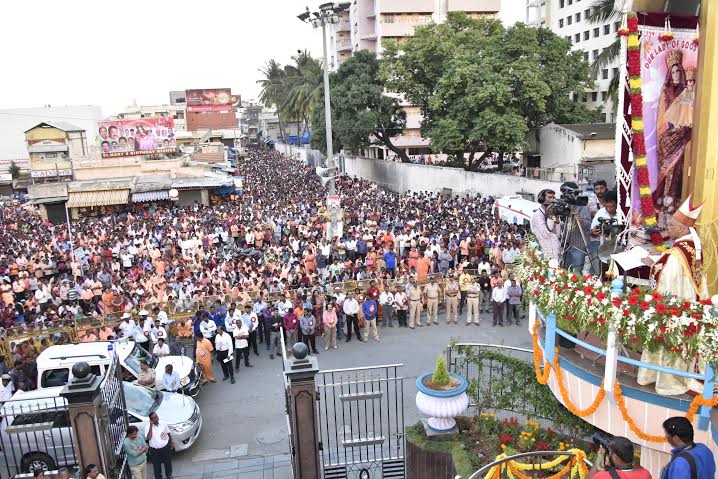 As the Prelate waved to the multitude, he said 'my concern is for Justice. Let God's people feel that God cares'. On the sidelines he said " This is the year of the family and also the year dedicated to Consecrated Life'. ' families in peril need extra prayers. "During the novena let us pray that love, forgiveness and understanding prevails over hatred, revenge among families. The Archbishop persistently pressed for peace both, within Christian families and people of other religions.
Home Minister KJ George said " As home Minister, God has placed a heavy responsibility upon me to promote Peace. With the Help0of Mother Mary, and all your prayers, I will continue my job of ensuring peace in this State".
The Arch bishops' greeting of waving hands at the people sparked a euphoria with people throwing rose petals towards the flag-post of Mother Mary and waving back at the Archbishop and the over hundred priests at the flag-post. Many devotees were seen in tears with hands lifted up towards the flag-post.
Top Police officers attended the celebrations.
The feast will be celebrated septemeber 8th concluding with a grand car procession.