Tony Abbott to step aside as prime minister after losing leadership challenge to Malcolm Turnbull.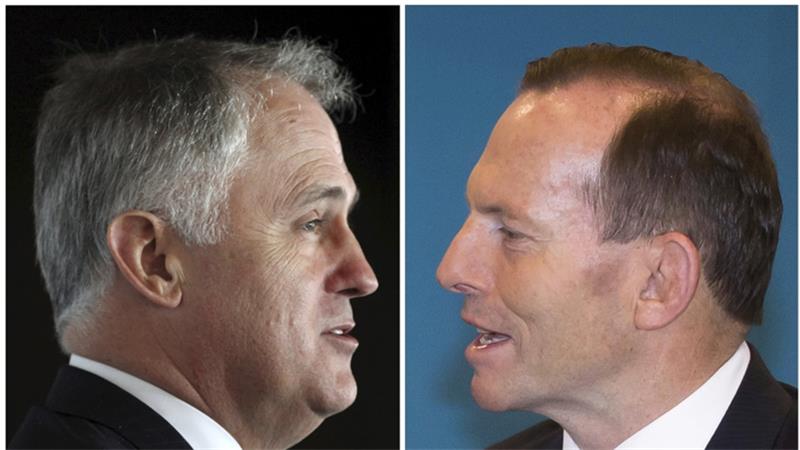 by Al Jazeera
Australia is to get a new Prime Minister, Malcolm Turnbull, after embattled leader Tony Abbott lost a challenge for the leadership of the Liberal Party, the senior partner in the ruling conservative coalition.
The former communications minister, Malcolm Turnbull, is to become Australia's 29th prime minister after defeating Abbott in party room spill with 54 votes to 44.
Turnbull is expected to be sworn in as prime minister by Australia's governor-general Peter Cosgrove on Tuesday.
Turnbull on Monday said he informed Abbott he would challenge him for the leadership after losing confidence in his management of the economy.
"The prime minister has not been capable of providing the economic leadership our nation needs. He has not been capable of providing the economic confidence that business needs," Turnbull told reporters in Canberra.
Volatile
The leadership vote continues an extraordinarily volatile period in Australian federal politics, especially as the Liberals were elected in 2013 as a stable alternative to the then Labor government.
Labor came to power under Kevin Rudd at the 2007 elections, only to dump him in the face of poor opinion polling for his deputy Julia Gillard in 2010, months ahead of elections.
The bitterly divided and chaotic government then dumped Gillard for Rudd just months before the 2013 election.
Before Rudd was elected in 2007, John Howard was in power for almost 12 years.
The government has trailed the opposition in a range of opinion polls since April last year.