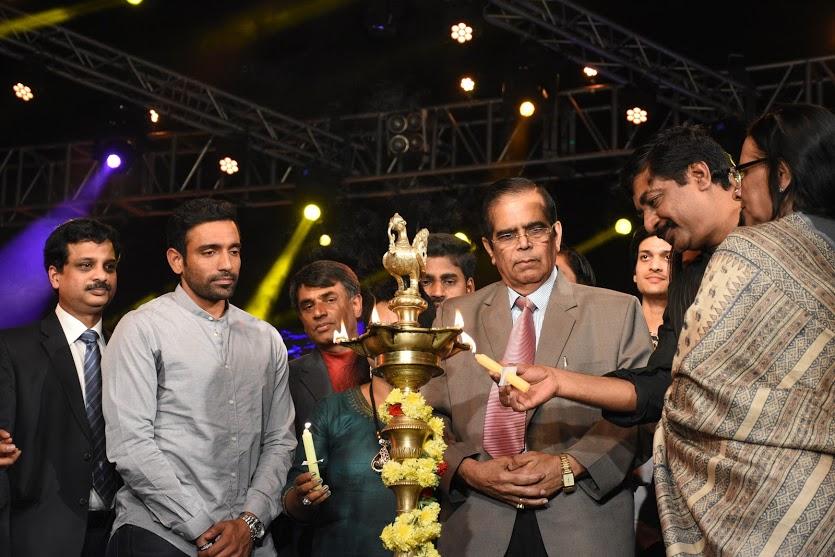 Bengaluru: Utsav 2016 voted Bangalore's most popular Inter-collegiate fest organized by BMS College of Engineering drew to a close after three days of fun, excitement, challenging competitions and some nail biting adventure. Utsav 2016 held from 01-03 April, 2016 was the 29th edition of this hugely popular fest with all the competitions being held at the BMS campus. While BMSCE is celebrating its 70th year of existence, this 29th edition of UTSAV adds yet another cap to BMSCE's list of achievements. More than 50,000 students from across colleges all around South India participated in Utsav 2016.
"The Legend Returns", the name given to this year's UTSAV was a Celebration of Faith. As it has a specialized theme every year, Utsav 2016 had its theme as Mythology, which included four mythologies namely Indian, Egyptian, Chinese and Greek. The campus was adorned with some of the renowned mythological characters and every nook and corner had a piece of art or a painting effectively made out of waste cardboards and banners of previous year's UTSAV thus emphasizing on the eco-friendly nature of Utsav.
Sharing his views, Dr. Mallikharjuna Babu, Principal of BMSCE shared, "UTSAV creates opportunities for the students to showcase their talent to the world. The entire event is completely organized by BMSCE students with minimal support from the management and the faculty. Students themselves act as organizers, volunteers, coordinators, fund raisers and even as event managers and also take care of security issues."
UTSAV 2016 was inauguration amidst much fanfare in the presence of various popular celebrities from the Kannada film industry including actors Sriimurali and Amulya, Cricketer Robin Uthappa, Playback Singer Pallavi Arun, film director Yogaraj Bhat, and Ventriloquist Indushree. The inauguration was a fusion of inspiring speeches, fascinating performances and colourful events.
Indushree kept the audience in splits with her power packed and hilarious ventriloquism performance. Robin Uthappa while sharing his thoughts with the students said "These are the golden days of your life; I have never enjoyed my college life because I was busy with cricket all the time. So enjoy being here. This is where you learn love, helping each other and learn moralities." Ashok Gopinath, Chairman and Managing Director, Accenture, India, speaking at the inauguration his speech shared "Accenture India now is comprised of 1,50,000 employees PAN India, which will achieve steady growth in the future. I will continue partnering with BMSCE in recruiting future engineers to be a part of Accenture."
Dr. Mallikharjuna Babu further shared, "As we want more students from other colleges to participate, we call for minimal participation from our students and there is a level playing field. This year we had more than 50,000 footfalls over the three days of the fest including students from nearby cities." Various colleges in and around Bengaluru were invited to participate in the event. UTSAV's schedule was filled with multiple innovative and captivating competitions.
Day 2 of the fest comprised of various technical and adventure related competitions. One of the most popular events was "Battle of Bands," a music battle between the finest college bands. There was, Face on Fire, face painting competition in which Giridhar H.D from ESIC Medical College and Abhishek Yadav from PGIMSR College, Bengaluru won the first prize. In the mad ads event under the name of "Laughing Buddha," Arjun & Team from RVCE College swept the first prize. Then there was the evergreen "Fashion show" which captured the attention of the students. Fashion show had the highest participation, which also had 10 first prize winners (Gagan, Shikha, Arpita, Kareen, Shruti, Sushma, Derlin, Aakash Nayeem and Arbaaz) all from VOGUE. Harini, from Amrutha College won the title for the "InkyWinky" writer, a contest for creative writing.
On the third and final day of the fest, Whiplash, a widely popular music show by numerous bands and musicians captivated the students. Artistic programs like Nishaada, Indian group music, Mahabharatha (Short Movies) and Kurukshetra, the street play turned the stage into a theatre. Divya & Team from NMIT College bagged the prizes for their outstanding performance in Kurukshetra. Sai Krishna V.K, Sagar Kathrisal and Nikhil A Inamdar from R.V College won the title for the Business and technology quiz. High energy prevailed on the battlegrounds of these combat ships.
Winning or losing didn't' matter to most participants. As one of the participants in the Whiplash event aptly shared, "Defeat shouldn't stop you, while success shouldn't make you too proud. Winning and losing are part of any game." To conclude BMSCE's UTSAV 2016 was a total feast to the eyes, blessing to the ears and a great place to learn teamwork.