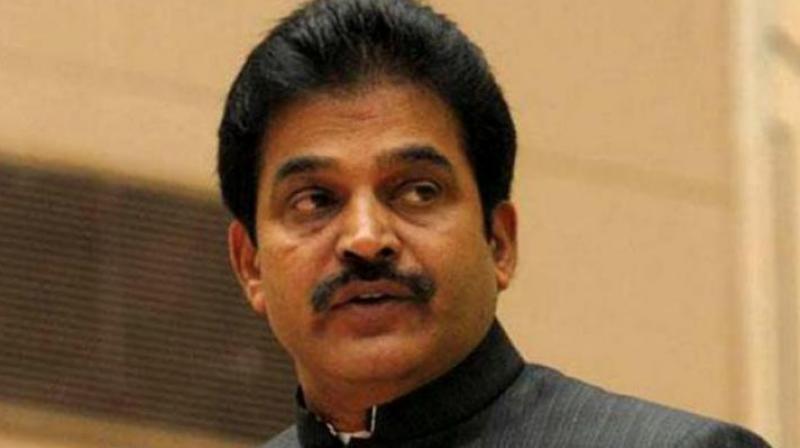 There are indications that national leadership of Congress party which is unhappy at the failure of in-charge of Congress party affairs in Karnataka, K C Venugopal, to regulate Congress MLAs during the formation of the coalition government in Karnataka, is thinking of replacing him.
Congress after failing to muster a majority in the state, had entered into an alliance with JD(S) to form a government here. KC Venugopal, who is the Karnataka in-charge of Congress affairs, failed to exercise control over the party legislators, the party leadership feels, going by the fact that protests were held in favor of certain MLAs, the pressure was mounted, and threats were posted. Therefore, national president of the party, Rahul Gandhi, is contemplating to post another leader in his place, highly placed sources in the party said.
Meanwhile, speculation is rife that leader of the opposition in Rajya Sabha, Ghulam Nabi Azad would replace Venugopal, as party leaders in the state strongly feel that Azad would be the best choice to tackle JD(S) supremo H D Deve Gowda and the other politicians in his family.
Besides, given the fact that Azad along with senior leader Ashok Gehlot and Venugopal played a major role in the formation of Congress-JD(S) post-poll alliance, his nomination as in-charge of party affairs in Karnataka would make all the more sense, Congress sources said, adding that though Venugopal was part of the team, it was Azad and Gehlot who worked overtime to ensure that the Congress-JD(S) alliance formed the government.
According to a report by Deccan Chronicle, a senior leader in the party has said that Venugopal was not being removed for any lapses but only because the party needs a senior leader when the party has a coalition partner like the veteran Deve Gowda. "Deve Gowda is not a simple leader who can be tackled easily by anyone. The party needs a strong senior leader like Azad who knows Karnataka politics well and has a good rapport with every known Congress leader in the state,"
It is also speculated that in the days to come, Deve Gowda himself may enter the coalition scene and create a headache for the Congress. Presently, only Deve Gowda's two sons – chief minister H D Kumaraswamy and PWD minister H D Revanna are part of the government. "The party will have to start talks with Deve Gowda over the formation of a possible pre-poll alliance in Lok Sabha polls and many other crucial issues may crop up from now on, and that is why, Azad would be a better bet," the source said.
Congress wants to register impressive performance in the next year's Lok Sabha election. It does not want to leave any stone unturned in its effort to come back to power at the center. Therefore, it is thinking of posting Ghulam Nabi Azad who would be able to handle legislators in Karnataka more effectively, sources added.