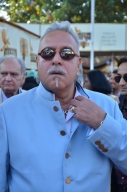 Fugitive business tycoon Vijay Mallya today dismissed the statement made by an Enforcement Directorate official claiming that he is attempting a "plea bargain". The official had said that Vijay Mallya's recent offer, to pay all his dues if his seized assets were freed, is not an option.
Refuting the Enforcement Directorate official, Mr Mallya tweeted, "Media reports quote an ED official stating that I am attempting a plea bargain. Would respectfully suggest that the official read the ED charge sheet first."
According to the Economic Times, the ED official had dismissed Mr Mallya's offer calling it "an attempt at plea bargaining and a bid to bolster his case against extradition to India from Britain."
In his tweet this morning, Mr Mallya also wrote "I would invite the ED to advance the same plea bargain theory in Court in front of whom I have placed my assets."
Media reports quote an ED official stating that I am attempting a plea bargain. Would respectfully suggest that the official read the ED charge sheet first. I would invite the ED to advance the same plea bargain theory in Court in front of whom I have placed my assets.
According to the report, Mr Mallya, in an e-mail to the Economic Times, claimed that some of the assets that had been seized by the investigating agency predated the establishment of his now-defunct company Kingfisher Airlines.
"The ED allegations and attachment of assets are solely based on funds loaned to Kingfisher Airlines by PSU banks…The assets attached were acquired well before Kingfisher Airlines even started and cannot be considered proceeds of crime to legally justify the attachments," Mr Mallya stated in his e-mail.
To this, the Enforcement Directorate official said, "All the assets of an accused are seized in such cases, regardless of their provenance." He went on to say that the notion of plea bargaining – a deal made by the accused in exchange for concessions by the prosecution – did not apply.
According to the report, the ED official said, "Vijay Mallya is offering a plea bargain, which will not work in our country, by trying to say he intends to repay banks and that he should be allowed to sell his assets…As an absconder, he can no longer dictate terms in India, and the assets are no longer in his name to sell."
Mr Mallya had released a statement recently that he had sought approvals from a court in Karnataka to sell assets worth Rs. 13,900 crore to repay creditors including banks. He also released a letter to PM Modi in an attempt "to put things in the right perspective."
The official claimed that the Enforcement Directorate had not received any copy of the affidavit filed by Mr Mallya before the Karnataka High Court last week, contrary to the businessman's claims.
Less than a week ago, Mr Mallya broke his silence over the controversy surrounding him of defaulting on bank loans to the tune of Rs. 9,000 crores. The fugitive liquor baron, in a series of tweets, claimed that he had been falsely framed as the "poster boy of Bank default and a lightning rod of public anger".
He also reiterated that he is making every effort, in good faith to settle dues with the banks, "but if politically-motivated factors interfere, there is nothing he can do."