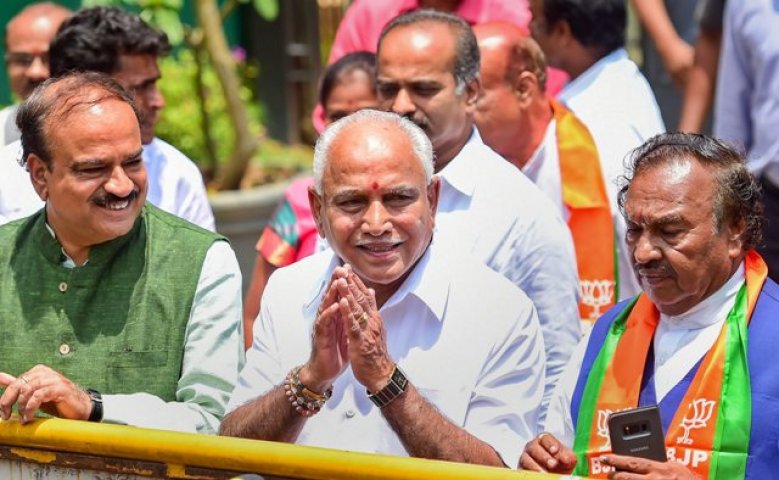 BS Yeddyurappa in his maiden press conference soon after taking the oath of office and secrecy as Chief Minister appealed upon the newly elected Janata Dal Secular and Congress legislators to vote in accordance to their conscience during the crucial vote of confidence.
He also allayed fears about proving majority on the floor of the house and expressed full confidence in establishing the same soon much before the deadline of 15 days given to him by the Governor.However he refused to add further on queries as to how he would prove the majority in the absence of required numbers to his party.
BS Yeddyurappa recalled the 1969 elections to the post of the country's President when the then Prime Minister Indira Gandhi had called upon her own party men to vote as per their conscience.He felt the need of the hour is to vote on similar lines in the overall interest of development of the state.
The new chief minister also announced in his first media interaction that he is committed to adhering to the assurances he had made before coming to power.The chief secretary has been instructed to revert on the details about the quantum of money that needs to be waived off as per his declaration made before the polls.
BS Yeddyurappa had announced waiver of farmers loans to the extent of Rs. one lakh availed from nationalized banks,crop loans borrowed by cooperative societies and loans to the extent of Rs. one lakh borrowed by the weavers of the state.
He claimed that the people of the state have given a mandate to the BJP and not the JDS and Congress.Yet both the JDS and Congress have formed an unholy alliance just to be in power,he charged.
The chief minister for the third time also thanked the people of the state for returning the party in such big numbers.He also thanked the party workers,Prime Minister Narendra Modi and BJP national president Amith Shah for their efforts in bringing the party back to power.
Hindusthan Samachar/Manohar Yadavatti