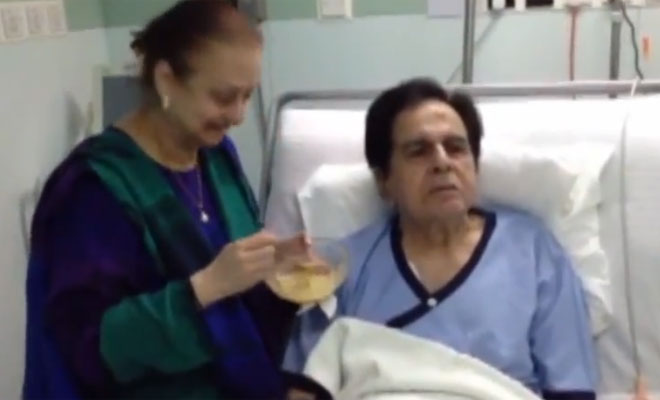 "Dilip Sahab's condition is stable since the time of admission….. hasn't deteriorated but is slightly better. Multiple investigations have been conducted, and we have roped in the concerned consultants. We have taken a consensual decision as regards to the investigations and the modality of treatment. Some specialised tests are still left, which we are doing. We will keep a close watch on him for the next 48 hours or so," averred, Jalil Parkar, outside Lilavati Hospital, where Dilip Kumar has been recently been admitted.
Dr. Jalil Parkar also stated that the 93 year old actor had infection in his lungs, fever and had experienced a few bouts of vomiting, but was conscious and was having food. Dilip Kumar was suffering from pneumonia as well but his breathing condition has improved. "We can't say he's out of danger right now, we have to see for at least two more days, right now there is no need for an ICU for him, we have kept him in close observation. We can't say about discharge, we'll decide after 72 hours of observation," he added.
Incidentally speaking Dilip Kumar was admitted to the hospital late on Friday, and his wife Saira Banu had earlier announced that his condition is stable and he is recovering well. Saira took to the actor's official Twitter account to quash reports that Dilip Kumar is in ICU. She also issued a statement which read: "Dilip Sahab was admitted to Lilavati Hospital for treatment of high fever & chest infection on 15th April night. He was advised intravenous administration of antibiotics for speedy recovery.
"Oral drugs would not act as fast as the IV injections, the doctors advised. Hence it became necessary to shift him to a hospital. He is recovering well and is stable by the grace of God and the care of the doctors treating him. He is in a room and in the hospital and not in the ICU as spread by rumours." added Saira Banu
Born in Peshawar, now in Pakistan, Dilip Kumar, whose real name is Yusuf Khan, entered the Indian film industry in the black & white era and became a name to be reckoned with in 1950's & 1960s.
Apart from films like Aan, Daag, Madhumati, Paigham, Leader, Ram Aur Shyam et al, his cinematic gems range from the tragic story of Devdas, the historical love saga Mughal – E – Azam to the dacoit drama Ganga Jamuna. After working for about 6 decades, he stepped away from the arc lights in 1998. His last movie was Qila. Dilip Kumar was honoured with Padma Vibhushan, India's 2nd highest civilian honour, in 2015. There is so much to write about the legendary thespian & tragedy king Dilip Kumar that even reams & reams of papier mache would be in suffice.