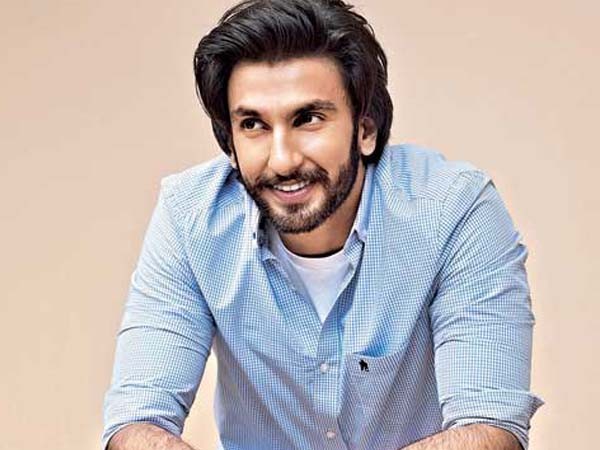 Amruta Khanvilkar has always been very transparent about her life on social media platforms, her love towards Ranveer Singh is no longer a secret. Recently, Amruta Khanvilkar was invited for the event called Magnetic Maharashtra, apparently, Ranveer Singh was also invited for the same event. When Amruta Khanvilkar got to know about this, she went on the social media and shared her excitement with all her fans. during this event Ranveer Singh himself went to her vanity van which is a very generous gesture showed by this superstar and shared some delightful moment with her. They both danced on his recent popular track "Khalibali" and she posted that video on her all social media platforms, which went viral on social media. Later on she posted a video where she is showing gratitude towards this Bollywood star for making her dream come true by dancing along with her and sharing a screen on the Instagram stories. Amruta Khanvilkar recently sizzled the stage by her performance at the finale of dance reality show viz. Dance India Dance Season 6. She's soon gonna be seen in Hindi movie Raazi directed by Meghna Gulzar which is all set to be released on 11th May, 2018.
UNITED COLORS OF BENETTON KICKS OFF THE 25TH ANNIVERSARY CELEBRATIONS WITH SPRING -SUMMER'18 PREVIEW
United Colors of Benetton celebrated an evening full of fashion, glamour & merriment to mark a quarter century of its heritage & values in India. The high – on – fashion evening was held at Benetton's iconic Linking Road Store, graced by Sonam Kapoor's presence. Sundeep Chugh, CEO & MD, Benetton India said "For the past 25 years creativity & social relevance has been central to our culture and we have consistently strived to do business in a way our associates, partners & customers can be proud of." The highlight of the evening was the presence of youth fashion icon – Sonam Kapoor, who said "I am elated to be a part of this milestone for Benetton in India. Benetton is a brand which has always been so close to my heart. I remember my wardrobe spilling over with Benetton tees & dresses, from my shopping days with mum! It is a brand that a generation has grown up wearing and connects with, not only within the realm of fashion, but for its path – breaking socially relevant campaigns over the years. "The event was also marked by the launch of United Colors of Benetton's Spring Summer'18 collection characterized by color palettes of summer, shades of Bordeaux reds & oxide yellows.
'SURGICAL STRIKE' 1ST LOOK DEDICATED TO INDIAN ARMY
Bollywood's much awaited Patriotic movie Surgical Strike's 1st look hit the internet. The official poster of the movie Surgical Strike is out on production house' social media account. The film, co – produced by Vijay Valbhani & Sonu Jain, directed by Suzad Iqbal Khan Under the banner of Crystal Movies. The film feature's Deepraj Rana, Mir Sarvar, Lakha Lakhwinder Singh, Jimmy Sharma, Sanjay Singh, Amit Pathak & Vedita Pratap Singh as army officers. The movie is dedicated to the Indian Soldiers & to their family. The poster is captioned as, "Our Country, Our Nation, Our People". The poster depicted the hardships faced by soldiers at the time of the Surgical Strike. The movie shows what price our freedom fighters paid for the safety of our country. From the poster, it is clear that actors are playing a true patriotic & Patriotism doesn't always mean fighting for your country against others. There are so many social evils within our society which we need to get rid of but we don't. These include issues like Corruption & Crime which are like termites, ruining the country from Inside. Surgical Strike will highlight all the small issues related to the mission. The movie is all set to hit the theatrical release in 2018. It's indeed a smart move from the makers to reveal the poster with a patriotic theme. Surgical Strike, which is a film based on 2016 Uri terror attack, Last to last year, a terror attack at an army base in Jammu & Kashmir's Uri killed 17 soldiers. The Indian Army retaliated with surgical strikes 11 days later.
FIRST STEP ENTERTAINMENT CAPITAL ANNOUNCES "WRITER'S LOUNGE" IN MUMBAI
A good story is essential to make a film and, hence, writers are critical in the film making process. To consistently create some good stories, writers need a workspace that allows them to sit, think & pen down their thoughts. The lack of such a space in Mumbai was noticed by Swati Semwal, Creative Head of First Step Entertainment Capital (FSEC). Being a writer herself of many notable short films, she has created the FIRST –EVER – FREE co – working space called Writer's Lounge. It is an inviting space that is located at the epicentre of Television & Films, Versova, Andheri West, Mumbai. Writer's Lounge does not levy any charges for using its space. Its aim is to fill a lacuna that exists due to space constraints in the city. It is available for writers of all ages, associated with Screenwriters Association (SWA), to come, sit & write. "Writer's Lounge will ensure that all serious writers, who are members of the Screenwriters Association in India, are given a comfortable place & a peaceful environment to write their stories. It allows like – minded people to work under a common roof"; says National Award Winner, Juhi Chaturvedi. Writer's Lounge is a community workspace that's more than just a few desks, fast internet & free coffee. First Step Entertainment Capital's vision is to support small budget Indie Cinema, and give creative people all they need to make their "First Break" into films, be it in terms of a beautiful space like Writer's Lounge to write their stories and in giving them all the facilities to make their stories a reality, as a short film, feature film or documentary and can also give them a platform to showcase their short films. Writer's Lounge is located at Z A Tower, Yari Road, Versova, Andheri West, Mumbai.
SUNNY DEOL TO SHOOT WITH ALANKRITA SAHAI FOR AN AD FILM
Alankrita Sahai seems to be on a roll as very rarely do you see a debutant landing an ad for herself just at the release of her film (Love Per Square Feet by Ronnie Screwvala). It was Love Per Square Feet that got the makers to lock Alankrita Sahai as the commercial needed a girl with girl next door look who is cute and has some spark & charisma. As Alankrita Sahai just fits the bill perfectly she was signed for the ad. On touching base with Alankrita Sahai she stated, "It's overwhelming to have got to share space with Sunny sir and we have just had a great time shooting the commercial. He is very down to earth & sophisticated, loved shooting with him.
FROM COLLEGE THEATRES TO FILMS, SWARA HAS COME A LONG WAY!
Swara Bhaskar, who stepped into the world of films as an outsider, beating several odds has now carved a niche for herself. She is known to be an actor who has time & again proved her mettle. With a belief in choosing roles that make an impact, Swara Bhaskar has surely delivered roles that speak volumes about her as an actor. Swara Bhaskar has a special for her fans who hold dreams of shining bright in life, "When I was doing street theatre in Delhi, I never thought I would work in films or become a heroine. I didn't know anyone in Bollywood, had no contacts but the only thing I knew was whatever I want to do can happen only because of my talent….I realized, if you invest in your talent, you will shine in life and that's what exactly what I did." Swara Bhaskar who has done numerous supporting roles rose to fame with her character in Tanu weds Manu and further garnered praise for her performance in Raanjhanaa & Prem Ratan Dhan Payo. The actor went on to be the lead in critically acclaimed films Nil Battey Sannata & Anarkali of Aarah where she essayed the role of a fiesty mother and a professional dancing girl respectively.
GSK CONSUMER HEALTHCARE VENTURES INTO PROTEIN SEGMENT WITH THE LAUNCH OF HORLICKS PROTEIN+
GSK Consumer Healthcare has extended the brand Horlicks, India's leading Health Food Drink (HFD) into an all new category of high protein drink for active adults with the launch of its new variant Horlicks Protein+. Horlicks Protein+ was conceived with a vision of catering to the growing nutritional requirements, specifically protein related needs, of modern day professionals with demanding schedules and little time on hand to address the issue of adequate protein intake required by the body. With their entry into a new category, GSK Consumer Healthcare also announced actor, R Madhavan as the brand ambassador for Horlicks Protein+. R Madhavan says, "I have always believed in keeping myself fit & proper protein intake is something that has helped me achieve that. How much protein you eat is important but I always emphasize on the quality of protein. Having the right protein, can help you live a healthier & a better lifestyle. I believe that Horlicks Protein+, with its triple blend of Whey, Casein & Soy, has just the right ingredients to give me energy and enable me to be a better version of myself, every day."
POLAROID EYEWEAR INTRODUCES ITS SPRING / SUMMER 2018 COLLECTION WITH ANUSHKA SHARMA
Polaroid Eyewear, inventor of the original polarized lenses and a brand that, for over 80 years, has been a symbol of pop culture for millions of people around the world, has launched its new Spring / Summer 2018 eyewear collection with brand ambassador Anushka Sharma. Putting the brand once again at the cutting edge of style, the new collection is an explosion of colors & shapes. Kyriakos Kofinas, Managing Director IMEA & APAC, "Polaroid latest collection with Anushka Sharma is all about connecting with young millennials who are looking for a fresh and uber chic look. With a young, hip & contemporary sense of style, Anushka Sharma perfectly embodies the pop & the innovative spirit that the brand celebrates." This new, thicker & stronger lens provides a further improved distortion – free visual experience and allows for a wider array of lens colors. Resonating with the brand's core elements, brand ambassador Anushka Sharma stated, "I am delighted to launch Polaroid's Spring / Summer 2018 collection. The new Pop inspired collection is stylish, cool & comfortable with a contemporary style. This is my 2nd year of association with Polaroid and it feels great to be a part of the brand which has a legacy of over 80 years."
ALIA BHATT'S COEXIST INITIATIVE
Last year, through her ecological & animal welfare initiative Coexist, Alia Bhatt worked towards changing attitudes and creating a better & safer environment for stray cats & dogs within our cities. The campaign also focused on the adoption of indies, with Coexist being an awareness partner for Asia's biggest adoption camp for strays held in Mumbai in Dec, 2017. Speaking about Coexist's current campaign Alia Bhatt said, "To sustain ourselves, we've built a world of steel & concrete, but the survival of one species should not come at the cost of another. As our cities grow, we need to focus on increasing green cover and preserving what we already have. Bringing nature back will not only be beneficial to our mental & physical health but it will also help protect our fauna. Through this campaign, we want people to find their green – it could be a residential garden, a public park or a forested area and we want them to play an integral role in protecting these green pockets." The campaign will also feature simple solutions which people can adopt as part of their daily routine and which will benefit the natural environment in the long run." Reducing, reusing & recycling can help save money, energy & natural resources", added Alia Bhatt. "Visit our blog & our facebook page to know how you can make your contribution towards a cleaner & greener planet."
IHANA DHILLON TO RAISES TEMPERATURE IN A NEW LOVE SONG THIS VALENTINE DAY!
Ihana Dhillon, who is geared up to make her Bollywood debut with revenge drama Hate Story 4, has already stunned the viewers with her looks in the trailer. Now the Punjabi beauty has raised the temperatures in a new love song from Hate Story 4. The pretty actress was seen donning a totally different avatar in the upcoming song "Tum Mere Ho". A few pictures from the song have surfaced online. The makers have decided to release the track soon because it's a romantic track. Talking about the song, Ihana Dhillon says, "I really like this song. I've listened to it & the lyrics are beautiful. I think the audiences will love it. It's a special track."Ask her about the compliments, and she quips, "I am really flattered. It feels nice to be appreciated & recognized. I am about to start a new journey and everybody has been so supportive. I feel blessed to have such people around me." Hate Story 4 will be released on 9th Mar, 2018.