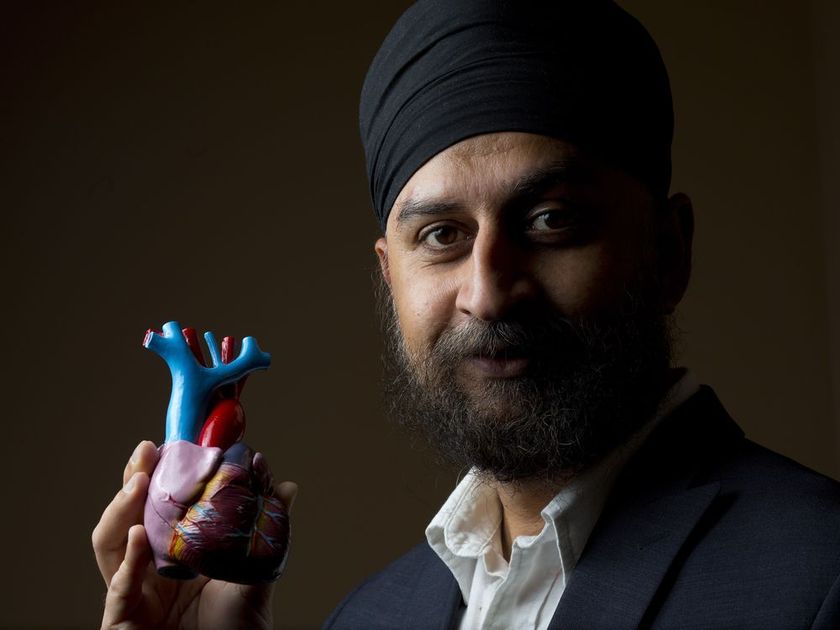 Dr. Anmol Kapoor who has entertainment & educated audiences by producing some noteworthy films like Patiala Dreamz (2014), Phullu (2017) and many more has recently received a prestigious award of Immigrant of Distinction from Immigrant Services Calgary in Canada.
Each year, the Herald honors 20 Calgarians making a difference in their community or their mark on a grander stage. Their achievements are significant but, often, are outside the public spotlight. This year Dr Anmol Kapoor has been honored with the efforts he is making to keep Canada a much healthier place.
A producer & a doctor, Dr. Anmol Kapoor has always produced films which have a social message backing to it. His film Palki which was shot in India and all crew including post production was done by best of Hollywood technicians, was sent to Cannes film festival. It starred Piyush Mishra, Ritika Anand, Rajesh Sharma, Vibha Chibber and special appearance by Dr. Kumar Vishvas and touches the issues of women empowerment & education. Similarly, Phullu which was released on 16th June 2017 also raised women health issues and it starred National Award winning Movie Filmistan's actor Sharib Hashmi in the main lead. It was critically acclaimed and we were the 1st one to touch the sanitary napkin issue through this movie.
Dr. Anmol Kapoor also partnered with International Platinum Selling Artist Raqhav and released a single with Abhishek Bachchan, Nelly and the video was shot in Africa, where they raised issues of lack of electricity in African continent and other countries. The video was very well received and "Until the Sun Comes Up" was a hit song which helped raise awareness about this important issue.
Expressing his emotions after receiving the award, Dr Anmol Kapoor averred, "When you get acknowledged as one of the immigrants of distinction that tells me that the path I'm working on is the right path and I should keep working in this direction. My work focuses on heart disease prevention, particularly amongst the South Asian community & women. It is quite difficult & challenging to raise awareness."
Dr. Anmol Kapoor further avers, "Doctors in clinical settings aren't used to looking at it from the patient's angle. We're always giving them advice & treatments but sometimes we fail to understand their background, their ethnicities & their risk factors. Some have more demands from a heart disease point of view and some have less. The challenge also is making minorities & immigrants aware of the resources available for them. They only come in contact with health – care professionals when the damage is done. I want to make them aware earlier, so we can prevent the disease & the damage."
Dr. Anmol Kapoor, originally from India, went to a medical school in Russia, then came to Canada for more schooling, 1st in Lethbridge, then Edmonton & Winnipeg. In the fall of 2010, he arrived in Calgary.
Dr. Anmol Kapoor helped establish a clinic in Marlborough, run by nurses, that deals with some 200 heart disease patients, thereby taking the strain off hospitals. He's also involved in developing an app that will allow patients to be triaged at home. It's a groundbreaking project, deploying artificial intelligence that will undergo a clinical trial.