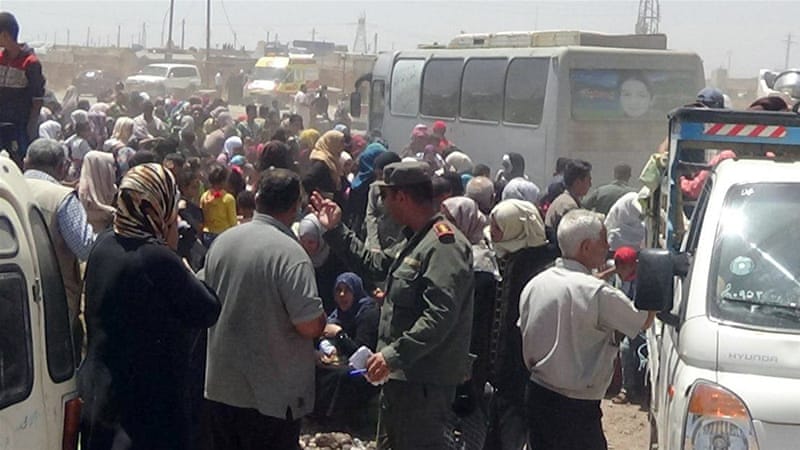 Syrian opposition figures have begun negotiations with Russian officers about an agreement to restore state sovereignty over rebel-held parts of the southern Deraa province, rebel negotiators said.
Insurgent negotiators and a spokesman said on Saturday a six-member civilian and military committee of the southern rebels held a preliminary meeting along the administrative borders of neighboring Sweida province.
The government's offensive this month in southwest Syria has taken much of the eastern part of Deraa province from rebels, backed by a bombardment that the United Nations says has pushed 160,000 people out of their homes.
"The committee held its first meeting with Russian officers who presented their demands," said Ibrahim Jabawi, a spokesman of the central operations room set up by the main Free Syrian Army groups in southern Syria.
A second round of talks is expected later on Saturday.
The deal being discussed does not include rebel territory in adjacent Quneitra province, bordering the Israeli-occupied Golan Heights, the spokesman said.
Jordan, which borders Deraa province, has been facilitating talks between rebel factions and Moscow over a deal that would end the violence in exchange for the return of state rule there.
Russian negotiators have demanded rebels accept terms like those agreed for eastern Ghouta, where insurgents either left for opposition territory in the northwest along with their families or accepted the return of state rule, Jabawi said.
The southwest rebels did not accept this, and were instead proposing the return of civilian state institutions in the opposition areas and the entry of Russian military police rather than Syrian government forces.
However, the army has already captured large parts of the eastern zone of rebel-held territory in Deraa province in less than two weeks of fighting, and several more towns still held by the insurgents have reportedly agreed to settle with Assad.
On Saturday, state television said the town of al-Ghariya al-Sharqiya had accepted a "reconciliation" agreement with the government, and the national flag had been raised there.
It said on Friday that four other towns nearby had agreed to surrender their arms and accept state rule. The army had gained control over the towns of al-Harak, Ibta and Rakham, it said, and a rebel said opposition lines in one area had collapsed.
UN condemnation
On Friday, Zeid Ra'ad al-Hussein, the UN's high Commissioner for human rights, said in a statement that there was a "grave risk that intensified fighting will see many civilians trapped", condemning "[how] civilians in Syria continue to be used as pawns by the various parties".
Launched on June 19, the Syrian government's military push is intended to recapture the southern provinces of Deraa, Quneitra and parts of Sweida, still mostly held by opposition fighters.
UN warns of 'catastrophe' as 160,000 flee southern Syria push
With backing by Russian air support, forces loyal to President Bashar al-Assad have retaken territory and continue to progress southwards where the last pockets of opposition remain.
Earlier on Friday, a temporary truce in Deraa between government forces and the rebel group Free Syrian Army (FSA), brokered by Russia and Jordan, ended at noon local time.
Later in the day, a Jordanian official told Reuters news agency that a new ceasefire had been agreed upon by the Syrian government and rebels, but did not offer further details.
However, a US Department of State official said Washington could neither confirm nor deny the truce report and described the situation in southern Syria as "grim", with Syrian government forces and Russia continuing to bomb the area.
Golan Heights
Also on Friday, UN Secretary-General Antonio Guterres issued a new call for "an immediate cessation" to military operations in southwest Syria.
Guterres was "deeply alarmed by the military offensive in southwestern Syria and its devastating toll on civilians," according to a statement from his spokesman Stephane Dujarric.
"The secretary-general recalls that the southwest area of Syria is part of a de-escalation agreement agreed between Jordan, Russia and the United States," the statement said.
Guterres "calls on all parties to respect their obligations under international humanitarian law and human rights law, protect civilians and facilitate safe, unimpeded and sustained humanitarian access".
Meanwhile, the UN Security Council on Friday unanimously renewed for six months its mission to observe the ceasefire in the Golan Heights, calling for armed groups to leave the area separating Syrian and Israeli forces.
UNDOF, which comprises nearly a thousand personnel, was created in 1974 after an agreement on the departure of Israeli and Syrian forces from Golan.
In 1981, Israel annexed part of Golan in a move unrecognized by the international community, while a smaller part of the area is under Syrian control.
"There should be no military forces in the area of separation other than those of UNDOF," reads the resolution drafted by the US and Russia.
The text condemns "the continued fighting in the area of separation" and calls on "all parties to the Syrian domestic conflict to cease military actions in the UNDOF area of operations".
It "stresses the obligation on both parties to scrupulously and fully respect the terms of the 1974 Disengagement of Forces Agreement".
"There should be no military activity of any kind in the area of separation," either by the Syrian military or opposition forces, it said.
Aljazeera