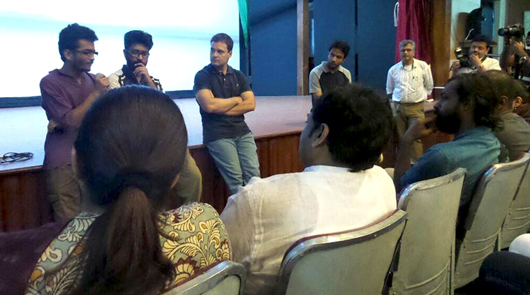 Pune: Rahul Gandhi's pep-talk to protesting students of the Film and Television Institute of India or FTII today segued into a sharp attack on Prime Minister Narendra Modi and his BJP.
"The nature of the discussion is – you agree with us then fine…if not, we will smash you. To shut people up they call you anti-national, anti-Hindu," he told the students, who have been on strike for nearly two months over the appointment of TV actor Gajendra Singh as their chairman.
In the open session that was televised, the Congress vice president said that the FTII protest was a part of the "real fight," which was for what the real idea of India is.
"Only the PM decides in the BJP, only one man has power. If the PM wants somebody, the BJP can't remove them," Mr Gandhi said.
Also referring to the BJP's ideological mentor RSS or Rashtriya Swayamsevak Sangh, he commented on what he called a "fundamental difference in your thinking and the RSS' thinking."
Dressed casually in a tee-shirt and jeans, the 44-year-old took questions and also asked many of them.
"This will make a really nice movie – how the entire might of the Indian government was trying to push 250 students aside," he remarked to a hall-full of film students.
The students have boycotted classes for weeks and refused to return unless the central government cancels the appointment of Gajendra Chauhan, who is seen as close to the ruling BJP. Several alumni and film personalities say Mr Chauhan's stature fall far short of the qualities needed for the top post.
"This is not just about FTII. It is happening in a lot of higher education and cultural institutions," one student told Mr Gandhi, who nodded in agreement.
"The real question is how strongly you are willing to fight this issue. I am ready to fight with you," replied the Congress leader.
The BJP has accused the Congress of trying to whip up politics over the film institute protests. "If students see Gajendra Chauhan as a politician, then is Rahul a filmmaker?" scoffed actor-politician Paresh Rawal.
(Agencies)