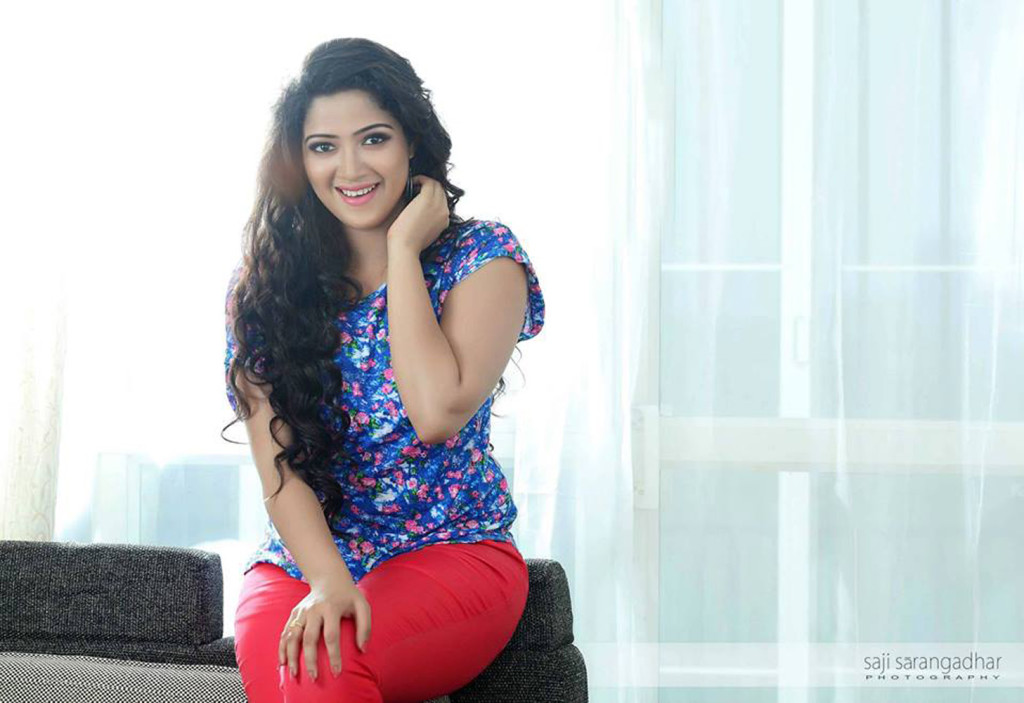 Abhirami makes a Grand comeback as a Teacher. Mollywood is now welcoming the actresses who are coming back after a break. Now it's Abhirami's turn. The gorgeous actress took a break, nearly a decade ago, from movies after marriage.
Abhirami ensured her comeback through the movie How Old Are You?. In the 2nd innings she did a vital role in the film Apothecary. Later, she regained her popularity by hosting a reality show named Made For Each Other aired on Mazhavil Manorama. The recent movie of her is Ithu Thanda Police starring Asif Ali.
Vikram All Set To Move On With His Life
Vikram, the prolific actor of the Southern Film Industry, has now decided to move on in the next phase of life inspite of still being a macho & a dashing hero in films, but the fact remains that in real life he is a father of grown up children and one of them is now ready for marriage. The wedding of Vikram's daughter Akshita with Manu Ranjit belonging to Ranganathan family of C K Bakery has been fixed on for 10th Jul, 2016. It will be a private ceremony to be attended by close family members & friends. The wedding will take place next year. The family members of Vikram are presently busy making arrangements for the betrothal. That apart Vikram's son Dhruv is on the verge of completing his teenage phase and he is also reportedly trying to make a big bang entry into the film industry as a hero.
Regina Cassandra Paired Up With Atharvaa
Regina Cassandra has been recently paired up with hero Atharvaa. In fact she is actually Selvarghavan's heroine. Earlier on Kalaiyarasan was supposed to be acting in the lead role in Gemini Ganesanum Surili Rajanum that will be produced by T. Siva of Amma Creations banner & directed by Odam Ilavarasu. But now Atharvaa has replaced Kaliyarasan in the lead role. The team was on the look out for the suitable heroine for this romantic comedy subject that has Soori in an important role. And now Regina Cassandra has been finalised as the female lead of this flick. D. Imman will do the musical score. The shooting can be expected to start soon in Madurai.
Nikki Galrani Looses Out On One Film But Bags Another
Nikki Galrani looses out on one film but bags another. In fact she was rightly
compensated for missing Kavalai. Vendam. Actually speaking Jiiva & Nikki Galrani should have been paired up for Kavalai Vendam directed by Deekay & Produced by Elred Kumar under his home banner R S Infotainment. But that could not happen due to varied reason and instead Kajal Aggarwal has replaced the Darling girl Nikki Galrani. But now Nikki Galrani has been signed up to play the heroine of Jiiva in another film titled as Kee. This film will be directed by Kaleesh, a former associate of Selvaraghavan. This film will be a comedy entertainer based on gadgets & technology. R J Balaji too, will be playing an important role in the film. An official announcement on the project is expecter soon.
Hollywood Superstars To Join Ajith In Thala 57
Some of the Hollywood Superstars are all set to join Ajith in his upcoming film Thala 57. Sathyajyothi Films & Siruthai Siva are now getting ready to begin the principal photography of the much hyped movie Thala 57 from 15th Jul, 2016 and now the team are in the process of getting all the cast & the crew members on board. It is also revealed that Anushka is likely to be the heroine and talks are also on with Sasikumar to play the antagonist. That apart Ajith is donning the role of an FBI Agent in the film and the entire story is set in the United States of America (USA) and also the other advanced countries. Ajith's fans are already taking to social media commenting that Ajith will fit the role perfectly with his magnetic screen presence & stylish acting.
Dhanush All Set To Remake The Tamil Version Of Oka Manasu
Dhanush is now all set to remake the Tamil version of Oka Manasu. On a day when Oka Manasu has hit the screens and opened to a lot of critical acclaim, here comes the news that versatile actor Dhanush has already decided to reprise Naga Shourya's role in its Tamil remake. In fact the deal it seems was finished days before the film's release. A soothing romantic drama, the film tells the love story of a political activist in trouble and a doctor who doesn't favour the political aims of her boy friend. Actually speaking it is the political angle that has mainly impressed Dhanush. And most Importantly, this element is also apt for the Tamil nativity. This film is being remade on a big scale in Kollywood.
Rojulu Marayi All Set To Hit The Celluloid Siver Screen On 1st Jul 2016
Rojulu Marayi is now all set to hit the celluloid silver Screen on 1st Jul, 2016.
Yes! If everything goes well Rojulu Marayi, the rom – com is now all set to hit the celluloid silver screens on 1st Jul, 2016. Besides it has already been certified with U/A. The film's story & screenplay is written by Maruthi and is directed by Murali Krishna Mudidani. It will also see the coming together of Sri Venkateswara Creations, Maruthi Talkies, & G Srinivasa Rao. The two lead pairs namely Chetan Maddineni, Parvatheesam, Kruthika & Tejaswi are impressive. Ali, Posani Krishna Murali, Raja Ravindra, Vasu Intoori, Jabardasth Appa Rao, Sashank et al are also part of the cast.
Nayaki Has Recently Been Censor By CBFC
Nayaki has recently been censor by Central Board of Film Certification (CBFC).
So Nayaki, starring Trisha in the lead role, is done by Raj Kandukuri, the film is a Telugu – Tamil bi – lingual directed by Govi. The movie will most probably hit the screens on 1st Jul, 2016. Since this one is a heroine – oriented film belonging to the commercial genre of horror -comedy, expectations are decent enough. Besides frankly speaking Trisha badly needs a hit. The audio released recently has been getting a very good response. And most Importantly, Trisha's rendition of "Bayam Bayam" has been a big hit. It has already got more than a lakh hits on social media. Sai Karthik has given a great Background Music after Raju Gari Gadhi. This film has been acquired for a fancy price in Tamil. It's not uncommon to see Tamil films getting a fancy price in Telugu. But here it has turned out to be the other way round. The 40 minutes of graphics also seems to be great.
Anushka's Sister Debuts In Siva Karthikeyan's Film
Anushka's sister debuts in Siva Karthikeyan's film. But the real point is, is Anushka's sister really debuting in the Tamil flick Remo? Yes, but 'Anushka's sister' is none other than Sivakarthikeyan. In this romantic comedy directed by Bhagyaraj Kannan, the well -known Kollywood actor will be seen in a female get – up. So, how is he 'Anushka's sister'? Well, at the title track launch of this much – awaited film, Sivakarthikeyan averred that he had asked his manager to tell whoever enquired about who 'she' is as Anushka's sister. "I was shooting for Remo in Vizag when many onlookers who gathered there at the shooting spot asked me as to what films I had done before. Some would ask me if I am a new actress. I didn't reveal to them as to who I am. Faced with the same questions, I asked my manager to tell them I am Anushka's sister as I am tall & fair." The actor said at the launch event in a lighter vein.
IDI All Set To Release On The Celluloid Silver Screen On 12th Aug 2016
IDI is now all set to release on the celluloid silver screen on 12th Aug, 2016.
IDI or Inspector Dawood Ibrahim will now have its release on 12th Aug, 2016. The movie will be distributed worldwide by Magic Lantern & Eros International. Sajid Yahiya has scripted & directed the movie. Jayasurya & Sshivada play the lead roles in the movie. Joju George & Sunil Sukhada play prominent roles in it. IDI or Inspector Dawood Ibrahim is an action & comic entertainer. Sajid Yahiya has also acted in a few movies including Bangalore Days. Music of the movie is by Rahul Raj. The movie is all about a person who dreams of becoming a police officer and becomes one after a lot of hard work.
Varma A Movie Based On The Kidnap
Menace
Varma is a movie based on the ever growing Kidnap menace. Earlier on there was a film named RGV in Kannada. Now it is Verma as the title. Girish Kamplapura takes up production house from this film known as Kamplapura Frames. With a few fresh talents Girish Kamplapura borrowed the subject written by Ravi Thammanna. It is a kidnap journey. After the engagement ceremony the bride is kidnapped. On the reasons & thrills thereafter you have to watch the film averred the director Kamplapura.
Golmal Brothers Went On The Floors On 28th Jun 2016
Golmal Brothers went on the floors on 28th Jun 2016. In Kannada the "Golmal" series was started by the director of nearly 100 films namely Om Saiprakash, Golmal Radhakrishna was the 1st one to hit the celluloid silver screen. The 2nd series has also done well in the 90's. And now comes Golmal Brothers which went on the floors on 28th Jun, 2016. It went on the floors on actor & Maja Talkies' popular personality Srujan Lokesh's birthday. Srujan, Rupesh Shetty, Bhanu, Chikkanna, Sadhu Kokila, Nikita, Chirasri, Sudhakar, Shobaraj, Ravishanker and others are in the cast. It is Sri Ranganathaswamy Creations. Pappanna, Ramesh & Ramu are the producers. Devarajkumar heads the megaphone. M S Srinath has written the story & the screenplay & also directs the film.