The Karnataka Pradesh Congress Committee on Friday March 30 filed a complaint with the Election Commissioner of India alleging that BJP national president Amit Shah had violated the model code of conduct during his visit to the residence of slain BJP worker Raju in Mysuru.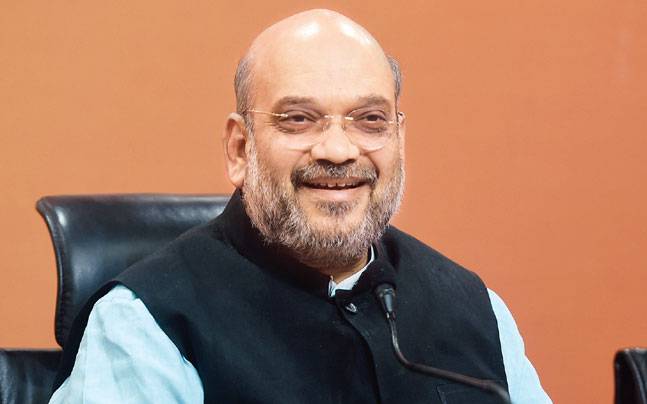 A delegation of KPCC leaders on Friday met the chief electoral officer of Karnataka Sanjeev Kumar and submitted him a copy of the complaint addressed to the EC.
Earlier in the day, Amit Shah along with other BJP leaders had visited Raju's family in Mysuru and paid condolence. Amit Shah reportedly handed over a cheque of Rs 5 lac to the family, to which the Congress objected. The complaint also names BJP president B S Yeddyurappa, union minister Ananth Kumar and Mysuru MP Pratap Simha, who had accompanied Amit Shah to Raju's residence.
"At the time of his (Amit Shah's) visit, he and the aforementioned leaders handed over a cheque of Rs 5,00,000 to the deceased's family which is a gross violation of the model code of conduct I(4) read with Section 171B of the Indian Penal Code, 1860," the complaint states.
The Congress pointed out that the timing of Amit Shah's gesture proved that it was meant to 'woo the voters'. "Amit Shah has visited the state and particularly Mysuru many times before but had never made an effort to visit the family. Thus it is safe to presume in the light of the ensuing elections, that the money was paid with an intent to woo the voters," the complaint stated.
The Congress also attached a newspaper advertisement of Amit Shah's visit to Raju's house, stating that 'it clearly shows that their intention was to gain sympathy and polarise votes'.
Stating that Amit Shah's act amounted to 'bribery', the KPCC urged the Election Commission to take action against the BJP leaders.
On March 28, the day the Assembly election dates were announced, the Congress had filed a complaint with the EC against Amit Shah for calling chief minister Siddaramaiah 'Ahindu' instead of pro-Ahinda.