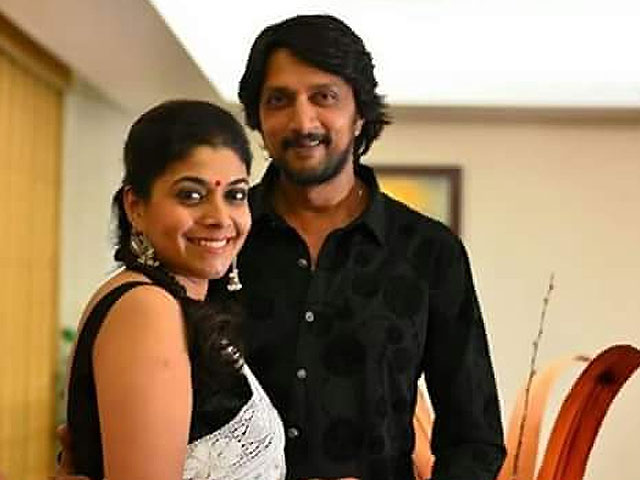 The family court divorce case of Kichcha Sudeep & Priya has been withdrawn. The difference of opinion between the 2 has been sorted out. Kichcha Sudeep's lawyer Babu submitted the signed papers of Sudeep & Priya to the Family Court. And the court has accepted it. In the year 2015 a divorce case was filed in family court. In 2001 they got married and were blessed with a girl child Sanvi. Crazy star V Ravichandran had done his on screen work for Kichcha Sudeep in real life too. As brother & father in Manikya & Hebbuli Kannada films V Ravichandran extended the right advice to Kichcha Sudeep in his personal life. The good advice from senior actor V Ravichandran was respected by Kichcha Sudeep. In the eyes of people Kichcha Sudeep has a solid position today and reversing his decision & living with his wife Priya & daughter Sanvi is welcomed by his fans.
Kumari Aishwarya To Share Screen Space With Priyanka
The cute & the sweet little daughter of star couple Upendra & Priyanka namely Kumari Aishwarya is all set to share the celluloid silve screen space with mother Priyanka in Howra Bridge under the direction of Mummy…Save Me super hit film director Lohith. This bilingual film is being made in Kannada & Tamil languages. Aishwarya Upendra got many offers her cute looks in the past. But the star couple did not agree for it. This film Howrah Bridge all set for shooting in West Bengal, has a few days of call sheet for Aishwarya Upendra and she will be with her mother Priyanka Upendra, so the nod was given for her debut on screen.
Puneeth Anjaniputra Is Back
The "Raajakumar" of Kannada cinema power star Puneeth Rajakumar's latest in the production stage Anjaniputhra in the direction of ace dance director & director A Harsha has completed a schedule in Scotland. Songs featuring Puneeth Rajakumar & Rashmika Mandanna were captured. A few days of shoot at Rajasthan was also held for this film. According to A Harsha 80% of shooting has been completed and in 25 days shoot the film moves to post production. It is a remake of Poojai Tamil film. Ramyakrishna is back to Kannada Cinema with a strong name after Baahubali. Sadhu Kokila, Chikkanna, Mukesh Rishi, Ravishanker and others are in the cast. Top actress Haripriya has stepped in for a song in this film with Puneeth Rajakumar, MN Kumar a big name in the industry in all 3 sectors of production, distribution & exhibition is producing this film. Ravi Basrur's music & Swamy's cinematography are part of the main technical team.
So Who Will Direct Mammootty!!!
A biopic on the legendary Naval chief of the erstwhile Zamorin of Calicut, Kunjali Marakkar, has been announced some years back. Mammootty has been decided to play Kunjali Marakkar and it was earlier heard that Amal Neerad will be the director. But in a recent interview, Amal Neerad has made it clear that he is not directing the movie. One of the prominent names rumored to be directing Kunjali Marakkar is ace cinematographer Santosh Sivan. He has directed Ananthabhadram & Urumi in Malayalam. However, there has been no official announcements on this news as yet. Writer T P Rajeevan, who wrote Paleri Manikyam is said to be busy penning the script.
Dileep Denied Bail
Arrested Malayalam hero Dileep has been denied bail by the Kerala High Court on 29th Aug, 20179. Dileep will continue to be in Aluva sub jail. Dileep was arrested in connection with the case in which a prominent Mollywood actress was molested. The prosecution alleged that Dileep is a King Liar (incidentally the title of one of his films) and has definite links with the key accused Pulsar Suni. The High Court had denied bail earlier too to the actor. The High Court judgment has reportedly mentioned that there are evidences against Dileep. The actor has been in jail for 50 days now.
Nivin Pauly Names His Baby Girl
Nivin Pauly & his wife Rinna welcomed their 2nd baby on 25th May this year. The proud father has now named his little angel, Rose Treesa Nivin Pauly. The photos from the baptism function have gone viral on social media. However, the baby's face is not revealed in the pics. Celebrities including Kunchacko Boban & Suraj Venjaramoodu were present at the ceremony. Nivin Pauly & Rinna married in 2010 & also have a son, Daveed Pauly who is 5 years old now. On the work front, Nivin is awaiting the release of Njandukalude Nattil Oridavela directed by Althaf.
Mohanlal's Odiyan's Release Date Locked!!!
Mohanlal's Odiyan has already created a lot of expectations with the motion poster that went viral last month.The shooting of the movie directed by V A Shrikumar Menon, has started rolling in Varanasi recently, as the title character Odiyan Manickan was in Banaras for 15 years before he returned to Thenkurissi, a village in Kerala. The Odiyan team has also locked the release date, as 30th Mar, 2018. As the film is touted to have brilliant action scenes as well as extensive special effects, the team has opted for a delay in the release date. In the movie, Mohanlal plays the last surviving member of a tribal community called Odiyan in Kerala. Mohanlal will be seen in the role of Manikyan, a man who is mastered in Odividya and will be featured in the age of 30 to 65 in multiple looks. As the character demands tremendous flexibility & agility, Mohanlal will be shedding close to 15 kilos, to attain the movie's 1st look avatar. Odiyan will have Manju Warrier in the female lead along with Prakash Raj & Sathyaraj in important roles. While art director Prasanth Madhav will also be recreating Thenkurissi village for the shooting, renowned fight master Peter Hein will be choreographing the action sequences. Previously, Peter Hein has choreographed action sequences for Mohanlal in the blockbuster film Pulimurugan and he has also worked in upcoming film Villain.
It's A Wrap Up For Punyalan Private Limited
As audiences are eagerly awaiting the sequel to Jayasurya – Ranjith Sankar's Punyalan Agarbathis titled Punyalan Private Limited, the director shared a happy news with the fans. Ranjith Sankar recently posted that the team has wrapped up the shoot of the film, and is expected to release on 17th Nov, 2017. "Every film is a result of team work..But this one was truly special. A superb team worked like magic to can probably my most demanding script !!! An experience I will cherish for the reinforcement that such results can be possible if a group of talented people come together passionately believing in it. Even the nature, the system & the fortune stands by you then!!! Excited to see this on screen. Hope it entertains you all!! On 17th Nov, 2017," wrote Ranjith Sankar. Punyalan Agarbathis, the 2013 release is a socio -political satire, about a Thrissur based young entrepreneur Joy Thakkolkaran, who tries hard to succeed in his business of incense sticks. Punyalan Private Limited will be a continuation of the 1st part and will start from where Punyalan Agarbathis ended. The movie's female lead will be played by Pretham fame Shruthi Ramachandran. The actress will be playing the character, wife of Joy Thakkolkkaran (Jayasurya). Surprisingly Nyla Usha, who played the female lead in the prequel, will not be part of the film this time. Shruthi will be playing a prominent role and will not reprise Nyla's role in the film. The new project will also be produced by Jayasurya & Ranjith Sankar under the banner of Dreams N Beyond.
Vinay Forrt's Next Movie Is Nonsense
Flitting from one project to the other, actor Vinay Forrt is all busy post the grand success of Premam. The versatile actor has signed yet another new project. Vinay took to his Facebook wall to announce his next titled Nonsense directed by debutante M C Jithin. The actor plays a prominent character in the movie which will start rolling on 1st Sept, 2017. He writes, "It is with great joy that I share this news of my very next project. Titled NONSENSE, this film marks the directorial debut of M C Jithin whom I believe to be a very talented director in the making. Under the production of our very own Johnny Sagarika, a brilliant entrepreneur & a fellow film enthusiast and to point out that we have an amazing team of young & passionate people working on & off screen. I play a prominent character in this film and the screenplay is what got me excited to be a part of it and even more exciting is that the shoot has already started. I have great expectations on this film and I hope I have all your love & support as you have in the past. Thank you."