Ajaz Khan Walked The Runway At India International Jewellery Week 2015 (IIJW) To Extended His Support To The "BETI" Movement.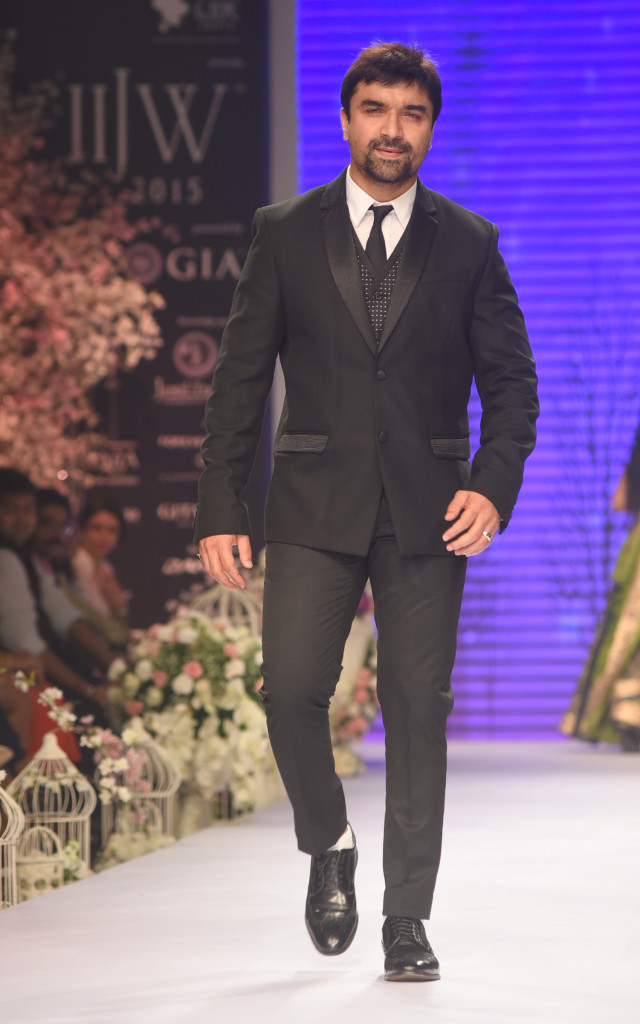 Bollywood celebrities have become the unspoken Gods of the country. The kind of devotion the public worships them with is something beyond the level of understanding. People religiously follow their favourite film stars; therefore, Bollywood celebs have now become one of the best mediums to connect with the masses. One of the best ways in which Bollywood is affecting their lives is by spreading awareness about some of the most crucial concerns of our society.
Ajaz Khan who gears up for his next release, LOVE DAY walked the ramp for leading Jewellers of The World- Gitanjali Group in association with designer Shaina NC for the "BETI" foundation. Looking dapper in a black suit, Ajaz was overwhelmed to have got a chance to be a part of the "BETI" movement.
Standing firm in support of the cause "BETI", Ajaz Khan averred, "Ever since we have realized our power of influence, we have been making continuous efforts in using our magnificence for a good cause. When a celebrity stands up for a cause, he does not actually stand alone! With him stand his millions of fans who blindly follow their favourite stars as the ultimate preachers"
Continuing further he averred, "Life without friends is like living in hell but when you have friends who are no less than devils can make your life a living hell. But then, that's what friends are for to make your life hell and then burn with you in the hell. This is what the upcoming film "LOVE DAY" is all about.
It is a journey of 3 friends where we bring out the true meaning of friendship. The story revolves around these three; where Monty (Ajaz khan) introduces Harry (Harsh Nagar) & Sandy (Sahil Anand) to all the wrong things right from childhood. Sandy & Harry often fall into trouble due to Monty's antics. Their bond of friendship is not approved by their families and even the situations such arise that it forces them to shift to Mumbai from Mussoorie in their childhood.
Shree Rajlaxmi Entertainment" presents "LOVE DAY". Produced by Baldev Singh Bedi under the banner Shree Rajlaxmi Entertainment. The film is written & directed by Harish Kotian & Sandeep Choudhary. The Star Cast includes Ajaz Khan, Sahil Anand, Harsh Nagar & Anant Mahadevan. The music is by Sumesh Himanshu, Raina Sawan, Sagar Sarkar & Vishnu Narayan. The album consists of singers like Mika Singh, Shaan, Mohit Chauhan, Bhumi Trivedi, Aneesh, & Shreya Shaleen and above all the media consultant is Picture N Kraft (Parul Chawla).