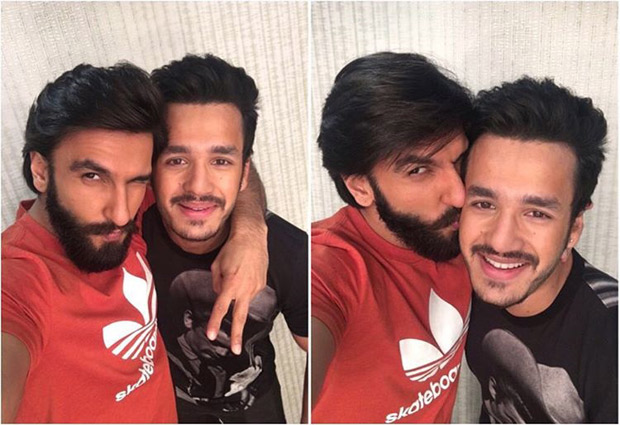 Akhil Akkineni's Homosexual Nightmare
Handsome Akhil Akkineni makes women go weak in their knees. The young & handsome actor is considered to be one of the most desirable celebrities in South India, though he is yet to make a mark in Tollywood. Generally, good – looking stars like him regularly get love proposals from female fans & high – profile women. But Akhil Akkineni confesses he was hit upon once by a gay person. Akhil Akkineni has revealed this to Rana Dugabatti in his talk show "No 1 Yaari". "Once I was travelling to Abu Dhabi & I dozed off. When I woke up, I saw a note from him. The note said I was looking hot. If I said yes to his proposal, the person would do anything for me. When I asked the flight attendant who has left the message, she informed me that a guy had hots for me," Akhil Akkineni stated laughing about the whole funny incident. So, now we know that Akhil Akkineni is a pin – up boy for homosexuals too. Meanwhile, Akhil Akkineni is now shooting for Vikram Kumar's Malli Kaluddam in Hyderabad. The film has Priyadarshan's daughter as heroine.
Allu Arjun's Desperate Attempt
There has been buzz about Allu Arjun trying to grab an opportunity to work under India's #1director S S Rajamouli. Allu Arjun and his camp are reportedly trying hard to make S S Rajamouli commit to do a movie with him. Meanwhile, Allu Arjun & S S Rajamouli came on one stage during a traffic awareness event conducted in Hyderabad. On this stage, Allu Arjun tried his best to impress S S Rajamouli by recalling an incident when S S Rajamouli was controlling the traffic on Hyderabad roads while he & his friends were partying on New Year's Eve. S S Rajamouli tried to be as emotionless as possible while Bunny is talking about him. However, S S Rajamouli appreciated for doing "I am That Change" short film and Allu Arjun used this opportunity to shower praises upon S S Rajamouli for making Baahubali and making all of us proud. Although Allu Arjun is more than willing to star in S S Rajamouli's film, the hotshot director doesn't seem interested at least for the moment.
Nikhil Not Too Keen
A K Entertainments has set the trend of making back – to – back films with 1 hero at a time. In the past, they made back – to – back films with Raj Tharun. Now, the production house has approached Nikhil to sign him as their next hero. Recently A K Entertainments had announced the Telugu remake of Kannada hit Kirrik Party with Nikhil. The film will soon go on to the floors and Nikhil has already started working on his new look. So, the production house is now in the process of getting Nikhil to sign a deal. However, talk is that Nikhil is not too keen on the idea as a deal would mean being tied down to one production house. In case, his film becomes a hit and he is offered a bigger pay check by another producer, he cannot break the deal & walk out. Also, he "will" have to do 3 films despite hits & flops. So, while Nikhil is still thinking, A K Entertainments is in the task of getting him to sign on the dotted line.
Taapsee Pannu Apologies
Taapsee Pannu, who has apologised for her comment on Southern Cinema's midriff craze, says the obsession for a female body exists everywhere. The actress, who made a strong statement about how a woman's "no means no" with the hard – hitting drama "Pink", was trolled after she featured in a comic video wherein she spoke about how in her debut Telugu movie Jhummandi Naadam (2010) director K. Raghavendra Rao had a coconut thrown at her navel to add "sensuality". It's a sequence oft repeated in the filmmaker's films, but there are usually flowers or fruits instead of a coconut. "There's an obsession for a female's body everywhere. Do I need to name some songs in Bollywood that have some weird obsessions? It's not just there (in the Southern Film Industry)," Taapsee Pannu told on the sidelines of the 18th edition of the International Indian Film Academy (IIFA) Weekend & Awards held here last week. "I was just sharing my experience because I have seen that in the South, and that glamour bit has not happened with me in Bollywood yet," added the actress, who has featured in films like Baby & Naam Shabana, apart from Pink, all of which saw her portray intense characters. Taapsee Pannu says that her comment in the video was "misconstrued" by the media which led to it being blown out of proportion. She apologised nevertheless because she wanted "peace".
Rajasekhar's Daughter Signs
Shivani, the beautiful daughter of Dr Rajasekhar & Jeevitha, is very serious about her acting career. Even before she signed a film, she has signed an agreement with a Celebrity Management agency to look after her career. Kwaan, a popular Talent agency that handles big actors in Bollywood, Kollywood & Tollywood, has signed her for their agency and it will bring offers to her. Shivani has done a beautiful photo shoot recently and GreatAndhra.com published them exclusively. Shivani who is a graduate speaks Telugu & Tamil languages fluently. She wants to do regular heroine roles with a glamorous touch. Rajasekhar promises that he won't get involved in her acting assignments and would give her full freedom.
NTR Proves His Worth
Jai Lava Kusa's business is almost closed in Andhra area for a stunning price. There were few doubts about Jai Lava Kusa's business to get affected due to competition during Dussera season. But NTR's superstardom is working wonders for the film. The film has reportedly made Rs. 36 crore from its theatrical business in Andhra area alone. Pre – release business of Jai Lava Kusa (JLK) in Telugu states will be around Rs. 70 crore as per the latest estimates. This is huge as it is clashing with Spyder & Paisa Vasool for Dussera. Buyers are betting big on NTR in spite of competition. They believe that Jai Lava Kusa (JLK) will withstand the competition and become a hit with the masses. Producer Nandamuri Kalyan Ram is so confident about the movie that he refused to offer any discounts on the asking price. He was willing to release the film on his own if buyers don't meet his expectations. Pre – release business of Jai Lava Kusa (JLK) can be attributed to NTR as director Bobby didn't add any value to the project. In fact his last film was a huge disaster.
Rana Daggubati Denies Rumours
In the Tollywood drug story, many rumours are floating around and one of the accused rather indirectly has been Rana Daggubati. While his father Suresh Daggupati has denied any of his sons having any links with drug – takers or they taking drugs even for fun, the rumours haven't died down as yet. But this is not the 1st time Rana Daggubati is in the thick of rumours. In the past, he was linked to many heroines. Some time back, he finally decided to answer and maintained that while some rumours were true, some had no base whatsoever. However, he gets serious when it comes to the recent Tollywood drug story or the 'Udta Tollywood' controversy. While Rana Daggubati's name does not figure in the list of people who received notices from Excise department, it is being said that Suresh Babu had used his influence in government to make sure his son's name is off the list. Now, there is another version that since Rana Daggubati enjoys parties and is into Bollywood circles, he is said to be into party drugs. It is just a presumption, insists Rana Daggubati . "I run 20 kilometers daily & work for hours to maintain my physique. If I take drugs, would it be possible to do all these," he stated.
Kajal Aggarwal Too Denies Rumours
Kajal Aggarwal has been in the news for varied reasons including her love life. Kajal Aggarwal has a steady boyfriend in Mumbai who is a businessman and is close to her family members. This news has been doing rounds for a long time. But Kajal Aggarwal has not talked about this yet. On the other hand, recently Telugu media has started writing about her close proximity with a young Telugu star who has been doing both Telugu & Tamil movies. Even though they have not acted together yet, the media reported that Kajal Aggarwal has developed a special bond with this young hero. The Chandamama star has now denied the reports & laughed off the rumours. Kajal Aggarwal clarifies that she is not in love with anyone nor is she dating any star at this moment. Kajal Aggarwal has Nene Raju Nene Mantri for release next month. She also has Mersal in Tamil.
Ravi Teja Stays Away
Ravi Teja's Raja The Great was actually planned for Sept, 2017 release, but producer Dil Raju decided to push it to Oct, 2017 as Sept, 2017 got too crowded. Raja The Great was targeting at 15th Sept, 2017 release to make the most of the vacuum before Dussera. With Jai Lava Kusa starring NTR in triple roles moving to 21st Sept, 2017, Raja The Great is now pushed to 12th Oct, 2017 by Dil Raju. Dussera fight is going to be between Mahesh Babu & Balakrishna Nandamuri heroes this year. Spyder is releasing on 27th Sept, 2017 & Balakrishna Nandamuri's Paisa Vasool will hit the screens on 29th Sept, 2017. Dil Raju who is a smart player decided to push his film out of the rush and releasing it before Diwali. Ravi Teja is playing a blind man in Raja The Great directed by Anil Ravipudi, who delivered back – to – back hits with Patas & Supreme. Though the protagonist is blind in Raja The Great, it is a full time entertainer sans melodrama.
Rakul Preet Singh Craves Challenges
Well, few films old commercial actresses usually want to continue doing song – & – dance roles for a very long time. But Rakul Preet Singh states that she has already become tired of such roles. In fact, in the past, she has maintained that she is ready to do skin show for her roles and thanks to such comments she is the 1st choice for glam doll roles. And luckily for her, her films clicked and she is a sought – after heroine. But she has been hinting that she wants to do roles that have some meat. However, she has to realize that Anushka is the 1st choice for female -oriented roles. And if Anushka is busy, then there are girls like Nitya Menon. Of late, Samantha Ruth prabhu is also being considered for "women characters". And Rakul Preet Singh is nowhere in the race for such roles. Also, Rakul Preet Singh has to realize that it is best to go with the trend rather than take risks at the peak of one's career. After all, in the commercial genre, she is the 1st choice.
Nani Roots To NTR & ANR
Natural Star Nani is in no mood to slow down. Most prolific actor at the moment in current Tollywood has dared to pick an evergreen film title of legendary NTR & ANR that is Krishnarjuna Yuddham. The announcement of Krishnarjuna Yuddham title under Merlapaka Gandhi's direction with young producers Sahu Garapati & Harish Peddi of Shine Screens banner created a big buzz in film circles. Apparently, star heroes like Balakrishna Nandamuri or Junior NTR from Nandamuri family & Nagarjuna or Naga Chaitanya from Akkineni family aren't wagering to choice on their respective ancestral titles. One needs instinctual impulse to grab such titles and Nani snatched all the attention with Krishnarjuna Yuddham, an exquisite show of his confidence levels. Reports suggest that regular shooting of this film will kick start from this month end itself.
Two Times Lucky Means A Film
Nivetha Thomas might have been asked to play sister to Pawan Kalyan, but she has proven to be a lucky heroine for hero Nani. In the past, Nani & Nivetha Thomas were seen in Gentleman that was a success. Later, they went on to act in Ninnu Kori. The film is now in theatres and is doing commercially well. So, given the sentiments in Tollywood, she gets another chance to do a film with Nani. The actor has just announced 2 films, one of which is Krisharjuna Yuddam which will see Nani playing a dual role. Since the film requires two heroines, one of them will be Nivetha Thomas. For now, Nani is busy completing Dil Raju's film being directed by Venu Sriram titled MCA. Once the film is done, Krishnarjuna Yuddam will go on the floors & Nani intends to hit a hat – trick with Nivetha thomas.
Pawan Kalyan Is #1
A hero might be a star or a super star. But it is his market that decides his being ahead of others. So when it comes to Tollywood, Pawan Kalyan seems to be the ace in the pack. A hero's capacity is determined by the business his film does before its release, while it's in the making. In Pawan Kalyan's case, his yet – to – be titled film has made nearly Rs 90 crore business in the Telugu states alone. Now, that is way beyond the amount made by Mahesh Babu – Murugadoss' Spyder or NTR's Jai Lava Kusa, in which NTR is playing a triple role. Despite all the hype, teasers & pre – look hype, their films haven't managed to do business on par with Pawan Kalyan's films. In Telugu, barring S S Rajamouli, no one is in a place to command a huge market value. So, Pawan Kalyan has proven that he is capable of managing good price despite working with directors who have no commendable track record. And when he pairs up with crazy director like Trivikram, the market expectations are bound to be sky – high. Goes without saying, this gets reflected in business and that's the reason why Pawan Kalyan is in #1 position.
Samantha Ruth Prabhu Gets Bold
Samantha Ruth Prabhu who is all set to tie the knots with Naga Chaitanya is turning bold. Most stars feel shy of replying answers related to sex but Samantha Ruth Prabhu gave an answer that became a topic. When asked what she likes the most food or sex, Samantha Ruth Prabhu replied that she prefers sex. She also said that she would starve any day. This is a truly bold statement from a Telugu actress. Selecting sex over food has gone viral. This small video clip from a lengthy interview she gave for a women's magazine is now trending on social media. This is not the 1st time that Samantha gave such a bold interview but her answer to this tricky & cheeky question tops it all. No wonder then that Samantha is the favourite of the youth.
Pooja Hegde To Continue Bikini Show
Pooja Hegde is in much demand in Tollywood as she has sizzled with her glamorous act in DJ Duvvada Jagannadham. The beauty had earlier stated that she would not think twice if she is asked to wear bikini in her future films. She is game even for a 2 piece bikini show in her upcoming films as well. In DJ Duvvada Jagannadham, she did a bikini show but it was blurred in the movie when the makers applied for a "UA" certificate. Censor Board these days is not allowing extreme close up of bikini shots of a heroine for "UA" or "U" Certification. Only in "A" certified movie such shots are allowed. On the other hand, Pooja Hegde states that wearing a bikini is not a big deal and she is game for it. Before she entered into film industry, she was a renowned model. The Kannada girl also dropped off her idea of completely shifting to Bollywood after the release of DJ Duvvada Jagannadham. Some time back, She didn't want to continue in Telugu films as she wanted to concentrate only on Hindi films, but she has changed her mind after Telugu producers have offered her huge remuneration. She has already signed Bellamkonda Sai Srinivas's movie for a whopping Rs 1.25 cr. She is in talks with Mahesh Babu – Vamsy Paidipally's movie as well.
Nag Chaitanya Scared
Naga Chaitanya is a bankable star, but he is not one who has had blockbusters in his career. But he does have his share of hits and he manages a hit at an average of 2 films. Raarandoi Veduka Choodam is the latest release of Chaitu and the film has done decent business as compared to his films in the past. The film was produced on Annapurna Banner and it will complete 50 days tomorrow. So, Nagarjuna had planned to put up a huge poster to mark the success of the film. Raarandoi Veduka Choodam is not a mega hit, but it is one of the biggest hits of Naga Chaintanya's career and there was every reason for celebration. However, after the scene created following the claims by DJ Duvvada Jagannadham 's team, Nagarjuna is said to be wary of holding a press meet & announcing the figure. In all, Raarandoi Veduka Choodam managed a market share of Rs 30 crores, which is pretty good for a Chaitu film. Though it is very little when compared to films like DJ Duvvada Jagannadham which managed to make Rs 20 crores share in Nizam alone. But DJ Duvvada Jagannadham 's team claimed that DJ Duvvada Jagannadham was the biggest hit following Baahubali and even went on to indirectly hint that the film of megastar and other top heroes was nowhere near their success. This has irked many in the industry and also mega fans. So, the latest is that Naga Chaitanya is not very comfortable disclosing the figures of Raarandoi Veduka Choodam. But again, that would mean denying Chaitu his share of fame.
Red Hot Regina Goes All Out
Regina Cassandra is looking sizzling hot in the posters & promos of Nakshatram. The talented actress has done a few glamorous roles before, but nothing as intense as this one. The posters & her solo stills from the movie are receiving wild reactions from fans. People say it is one of the steamiest acts on Telugu screen in recent times. Regina Cassandra has been struggling to find that big break for a long time. She is constantly switching between Tamil & Telugu industries, but sadly nothing seems to be working out for her. Even acclaimed films like Maa Nagaram didn't yield the desired results for her. Though she has a few Tamil projects on hands besides Nakshatram, it is a very important film for her to stay in the competition. Nakshatram needs to click for Regina Cassandra to grab a few more opportunities in Tollywood. She has given it all in terms of glam show and is hoping that Nakshatram turns her fortunes & make her a star.
Varun Tej Fan Of Sekhar Kammula
Varun Tej, who has teamed up with Sekhar Kammula in the forthcoming Telugu release Fidaa, says he is a fan of the filmmakers natural approach to filmmaking & realism he brings to his craft. In the film, slated for release on Fri, Varun plays an NRI doctor. On teaming up with Kammula for the 1st time, Varun Tej stated, "What makes Sekhar sir distinct from the filmmakers I have worked with so far is his natural approach to filmmaking." "I'm a huge fan of his style. He doesn't like to go overboard for the sake of satisfying a section of the audiences. He brings lot of realism to his work." Varun Tej also stated that the film questions the society's archaic notion about marriage. "The way Sekhar sir has treated the film's climax, which breaks the tradition of how marriage is viewed in our society, made me fall in love with the film. I could call it my "fidaa" moment of the film. I was moved by the climax and I'm sure audiences will love it too," he averred. Fidaa marks the Telugu debut of Malayalam actress Sai Pallavi & Varun is all praise for the newbie.