Mahesh Babu, the 'Prince'ly actor turned producer of Tollywood, even after having crossed 40 summers of his life, still looks as handsome as ever. Girls swoon over his good looking sexy demeanor. The "Hunky Heartthrob" of the female brigade is how he is often described as. Besides his dashing & debonair persona makes the fairer sex go weak in the knees every time they happen to see him in flesh & blood or even on the celluloid silver screen. Mahesh Babu was in in Le Meridian, Bangalore recently where he had arrived for the promotional activity of his Telugu – Tamil bilingual film namely Spyder along with herione Rakul Preet Singh & director A R Murgadoss.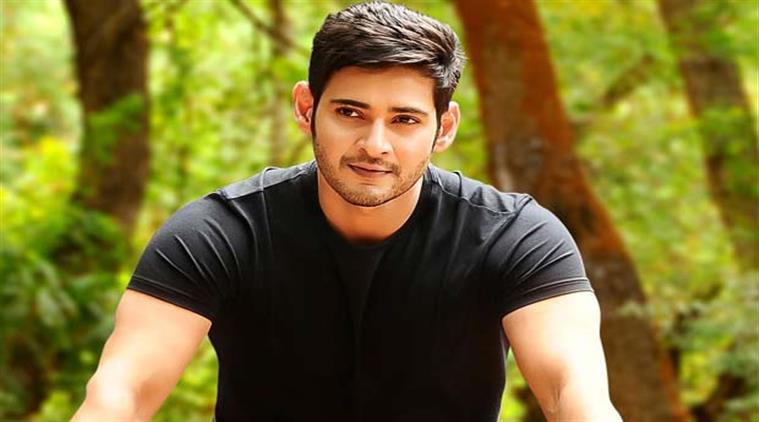 *First things first please describe your illustrious filmic journey from your debut film Raja Kumarudu to your latest release Spyder.
*Regarding this I still have a mixed feeling. On one hand it was fulfilling, satisfying albeit exciting, enriching, enthralling, enlightening, exhausting and to some extent even adventurous. And I was also happy, although reluctantly, doing a few Telugu films as a child artiste too. On the other hand it was also depressing, what with people around you trying to pull you down for no reasons whatsoever. In brief I would also add that like any other actor or for that matter a star even I too had my fair share of the ups & downs, the highs & lows including the trials & tribulations in my, as you said, illustrious filmic journey.
*Ok! So moving on, does being the son of a legendary & veteran Telugu actor Krishna proved to be a bane or a boon of your filmic career?
*I would certainly not like to put it that way. As being a star – actor's son only helped me as far as my debut film Raja Kumarudu was concerned, like as my launch pad it did help me. But then after that I was on my own. As like all my contemporary actors all over I also strongly believe that only talent can succeed. Like for me, I would also say that there was a huge pressure on me. My 1st debut film Raja Kumarudu definitely was a big hit. But it was because of my father's fans supporting it that I got this opening, but my 2nd, 3rd & 4th film just fell flat on its face and I had to once again prove myself with the other subsequent films of mine. So you see it all boils down to your talent.
*What are your expectations from your latest release Spyder and what is Spyder all about with respect to your role in it?
*This is the 1st time ever that I have worked simultaneously in a Telugu – Tamil bilingual namely Spyder. It has been excellently directed by A R Murgadoss. I wouldn't say that it's a typical James Bond kind of spy thriller. But, it has definitely got its elements. It is a typical A R Murugadoss kind of film, where the audiences would be sitting on the edge of their seat. In fact Spyder for me was the most thrilling, the most amazing, the most mind blowing, the most super spydi I mean the most super speedy & obviously the most difficult experience of my Telugu film career. And the most difficult part was shooting for the Tamil version and also shooting simultaneously for the Telugu version of Spyder. As this was the 1st ever time that I was shooting for a Tamil film and only I know what I went through to achieve that perfection & and that finesse that I have always succeeded in displaying so often in all my Telugu films. Incidentally speaking in Spyder I have enacted the role of an Intelligence Bureau officer. Spyder has been produced by Tagore Madhu & N V Prasad besides the film has been made on a lavish budget of approximately 120 crores. while Spyder is actually based on bio -terrorism and it also features actor – filmmaker S J Suryah as the antagonist.
Rakul Preet Singh plays the leading lady. That apart Spyder is a Harris Jayraj musical soiree. And it has been distributed especially in Karnataka by Goldie films. That apart Spyder also happens to be the 1st time ever collaboration of Super director A R Murugadoss & obviously Superstar Mahesh Babu.
*Like other South Indian actors Rajnikant, Kaml Haasan, Mamooty, Mohanlal, Venkatesh, Dhanush etc why are you so reluctant to step into the Bollywoodian arena?
*Here I would like to squash all the rumors once & for all that I have no intention whatsover to mark my entry in the Bollywoodian arena. I have enough of work in Telugu films to even last me for a life time. I will never ever do a Bollywood film, no matter how tempting the offer is.
*But you have given a very contradictory version regarding this particular aspect recently to the electronic media. How come?
*Yes Sir!!! I agree that I did say that I am indeed ready to star in a Bollywood film, but it all depends on the project & the director and when somebody approaches me with an exciting idea I may accept the offer. But on second thoughts I also wish to clarify that I gave that version to the electronic media on the spur of the moment to put an end to all the speculations right there & then and yes I also stand by my version given to the print media today. As now I really do not wish to get into the Bollywoodian rat race. I am considered as the Prince of Telugu films so why should I prefer be a beggar in Bollywood films.
*Next question. How come Prince Mahesh Babu was never a part of the rumor mills as far as any kind of controversies are concerned including the romantic ones?
*The answer to that is very simple. I have always believed in leading a hassle free & straight forward life. And the only time I fell in love with a girl (Read actress Namrata Shirodkar) I instantly got married and she will be my wife forever at least till death do us apart. (Laughs).
*How was the experience of working with your co – star Rakul Preet Singh & director A R Murgadoss?
*It has been a very good experience of working with Rakul Preet Singh. She has proved to be an amazing & a lovely person as a co – star. In fact in all the promotional activity all over we have been talking only about her and how good she is as an actress. Thanks Rakul for being my co – star. That apart I feel at a loss for words to describe the dedication & the perfection of A R Murgadoss Sir.
*It seems you are very much against the idea of remakes of the original language films?
*Yes it is very much true that I have never liked the idea of remaking a film. No sir I am definitely not into remakes. I never liked that idea and my dream was always that a Telugu film should be made in Telugu and then everybody should talk about it. S. S. Rajamouli achieved my dream, so I know that you can dream. That's how I am and now with Spyder, I am coming closer to my dream.
*Name 5 Best favorite films of your Telugu film career.
*The 5 most favorite films of my Telugu film career are Srimanthudu, Okkadu, Pokiri, Dookudu and now of course Spyder. But I also really enjoyed doing all my Telugu films.
*As a parting shot do you want to say a last few words for your global fans especially the Bangalorean ones?
*Yes of course I hereby take this opportunity to profusely thank all the organizations who have bestowed on me the National & the International awards galore. And last but not the least I wish to thank all my beloved global fans who have always encouraged me to give off my best and a special thanks to my Southern fans who have bestowed on me the title of "Prince". And I shall also remain forever indebted to all my Bengaluru fans who have always welcomed me with open arms and given me all their love whenever I have come here to promote my films. It has always given me a great pleasure to visit Bengaluru time & again to meet my lovely Bangalorean fans. Namaskara!!!!!