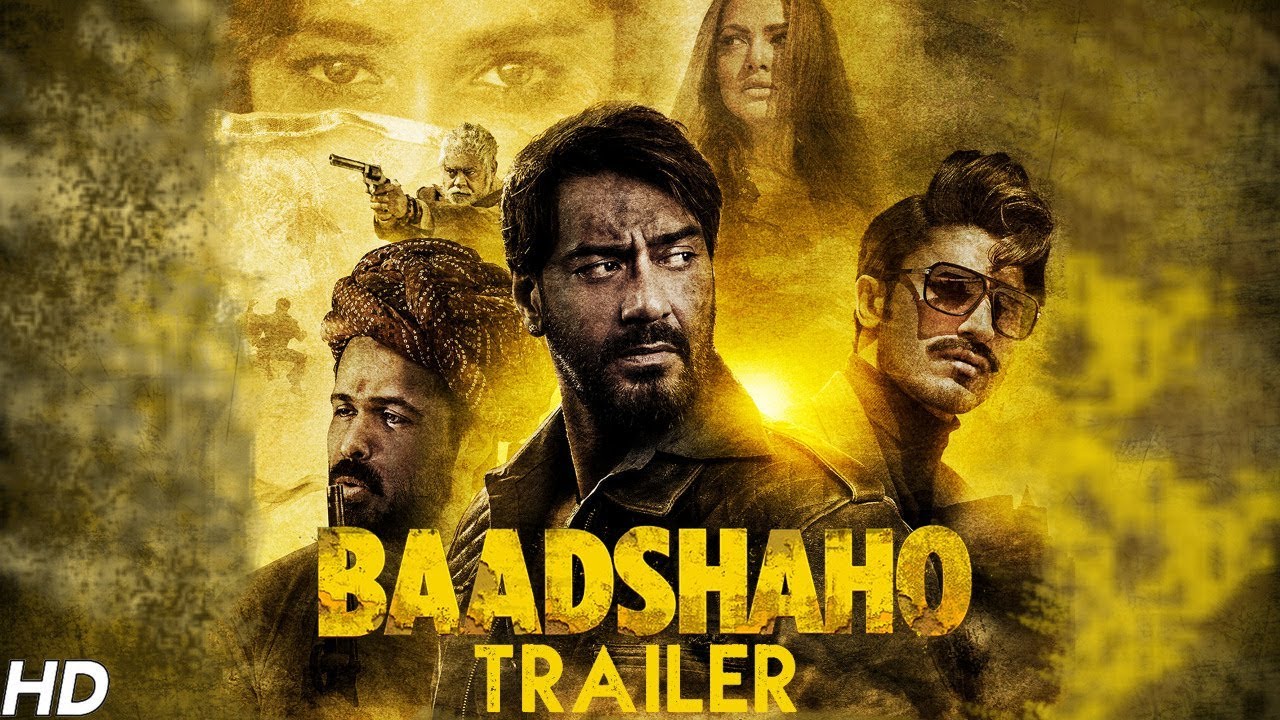 Producer: Bhushan – Krishan Kumar – Milan Lutharia
Director: Milan Lutharia
Star Cast: Ajay Devgn, Emraan Hashmi, Vidhyut Jamwal, Sharad Kel, Priyanshu Chatterji, Ileana D'Cruz, Esha Gupta, Sanjai Mishra & Denzil Smith
Music: Tanishk Bagchi, Ankit Tiwari & John Stewart Eduri
Usually, catastrophes and tragic incidents give rise to loads of films, be it World Wars, 1992 Mumbai riots, 2002 Gujarat riots, East & West Germany feud, 9/11 etc. But surprisingly, very few films have dealt with the Emergency, considered as a dark period in post Independence era. Before Indu Sarkar that released in July this year, the last film that touched upon this era released 12 years ago, Hazaaron Khwaishein Aaisi. Baadshaho isn't a political film but does throw light on the horrors of that era. But more or less, the film is an action adventure with inspiration from real life stories.
The scripted scenario of Baadshaho reveals that it is a story of a group of thugs trying to loot a truck full of princely royal treasure. The year is 1975. Emergency has been declared and the Government targets the royal families of Rajasthan, alleging that they have not declared their wealth after the privy purses were abolished in 1971. Gitanjali (Ileana D'Cruz), a royal princess, is arrested. Her palace gets looted and all the treasures are seized by the Government to be taken away to Delhi. Gitanjali wants to stop this legalized plunder of her wealth and she asks her lover Bhawani Singh (Ajay Devgn) for help. Bhawani Singh recruits a team of badasses just like himself, the flirtatious Daliya (Emraan Hashmi), the alcoholic but flawless locksmith Guruji (Sanjay Mishra) & the sexy loyalist of Gitanjali namely Sanjana (Esha Gupta). The mission is to stop & loot the truck carrying Gitanjali's treasures under the orders of Major Seher Singh (Vidyut Jammwal). They have 96 hours the distance is 600 kms of open desert. How the badasses manage to succeed in their mission forms the rest of the story.
Baadshaho begins on a great note. The opening party sequence might not seem that significant but its relevance is revealed in the later portion of the film. Hence, one shouldn't miss the opening at any cost. The badasses are introduced in style soon after the plot is established. The heist takes place only minutes before the intermission. But till then, the film manages to engage with its dialogues, drama & direction. 2 scenes really stand out at this point, the chase sequence between Dalia & Seher and how the badasses plan to steal the Gold from the truck. The latter sequence is something to watch out for and its unique execution will surely surprise you. The intermission point is a blast and the twist in the tale unveiled at this point takes the film to another level. Post interval too the madness continues. Dalia barging into the police station with the armored truck is bound to be loved. However, the film ends on a confusing & an abrupt note. The finale fight goes for a toss, there's too much of smoke in the visuals and it becomes difficult to comprehend what's exactly happening.
Songs don't have a role to play in the film. 2 songs out of 3 are relegated to background; "Mere Rashke Qamar" & "Hoshiyar Rehna", both are foot-tapping. "Piya More" is quite exciting & well shot. John Stewart Eduri's background score is a big highlight of the film. It adds to the excitement. Sunita Radia's cinematography is 1st rate. The barren Rajasthan land is well shot. Payal Saluja's costumes are noteworthy, especially the ones worn by Ileana D'Cruz. Shashank Tere & Saini S Johary's production design is authentic & quite meticulous. Aarif Sheikh's editing is passable while Ramazan Bulut, Javed & Aejaz's action is good.
Rajat Aroraa's story is interesting. Rajat Aroraa's screenplay is effective in the 1st half but stumbles heavily in the 2nd half. Rajat Aroraa's dialogues however are top class & maintain the entertainment quotient in the film. Once Upon A Time In Mumbaai, The Dirty Picture, Kick, Gabbar Is Back & now Baadshaho, Rajat truly takes films on a high with his one – liners! Milan Luthria's direction is simple and he manages to keep the proceedings free of complications. He understands that this is a massy flick and should have a pan – India appeal. In that regard, he scores. But just like the script, the direction too falters towards the end
Performance wise Ajay Devgn delivers a 1st rate performance. His character doesn't fear death and is ready to take up any challenge. Ajay plays the part very well & looks totally convincing. Emraan Hashmi is quite cool and it's a pleasure to see him playing such a massy, "chichora" role that got him recognition in Bollywood in the 1st place. But one wished his funny side was exhibited more in the 2nd half. Ileana D'Cruz looks every inch a Queen in distress. She carries herself very well & dominates a chunk of the 1st half with ease. Esha Gupta is confident but sadly, doesn't have much to do. Her character in fact isn't well established, who is she & where has she come from? Maybe, if her character was sexier or more glamorous, it would have been better. Vidyut Jammwal gives his best shot but gets overshadowed in the presence of so many performers. Sanjay Mishra arguably gives the best performance out of all the actors. The actor plays his part & mouths his dialogues with style & panache. Sunny Leone is as usual smoking hot. Priyanshu Chatterjee as Sanjeev plays yet another version of Sanjay Gandhi after Neil Nitin Mukesh in Indu Sarkar and just like the latter, he is wasted as well. Denzil Smith (Rudra Pratap Singh) & Sharad Kelkar (Durjan Singh) are decent.
Tail Piece: On the whole, Baadshaho is a nice package of great dialogues, amazing visuals, efficient direction, superlative performances, exciting action & tension filled drama. At the Box – Office tyurnstiles, the film is bound to grow over the weekend and has also benefited on weekdays due to the post – Eid celebrations. If you are a fan of thriller, action & masala movies, you shouldn't miss this one.