Anuradha Paudwal To Be Honored At The House Of Commons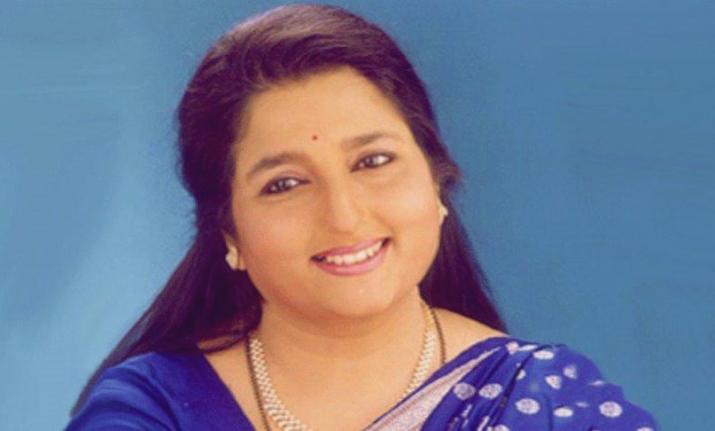 Mother Teresa Award-winner Padmashri Anuradha Paudwal, recently added another feather in her overcrowded cap as she was honored at UK Houses of Parliament for not just her outstanding contribution to music, but for her charitable initiatives as well. The function was held by Members of Parliament from the lndo-British All Party Parliamentary Group, Houses of Parliament. Also in attendance were Politicians & Journalists from Asian Radio, TV & print media, together with leading representatives of Indian Music Industry in UK. Anuradha Paudwal, who has to her credit, over 1500 songs in several Indian languages over a period of 4 & half decades is humility personified when asked about her feelings, "Awards & acknowledgments matter to an artist. It is the love of the people that goads us to grow at every stage. It is touching to know your efforts have reached the corners of the world"! Currently, besides her world tour, where she has traveled to UK & Australia thus far, and traveling to Sri Lanka & United States of America. Anuradha Paudwal is working on a major devotional project.
Shemaroo Entertainment Rebrands With A New Logo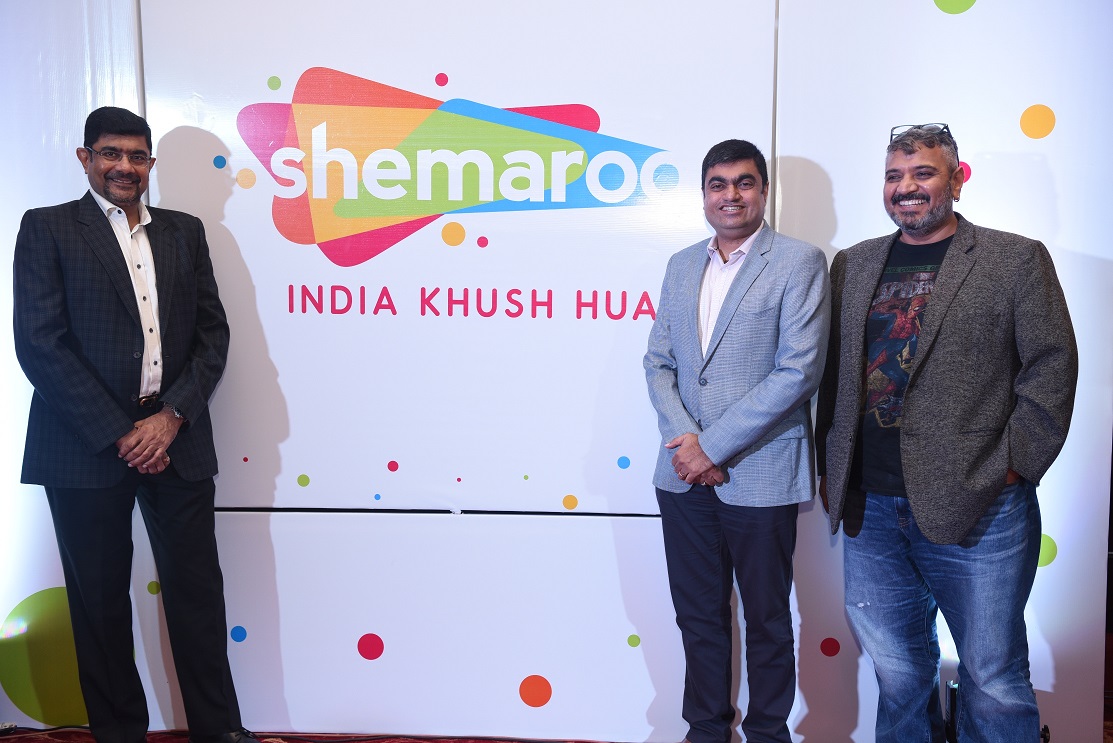 Shemaroo Entertainment has been a household name for more than 5 decades now. It was not just a medium through which movies reached Indian households… it was the very reason why countless Indian families enjoyed a lifetime of unforgettable moments together. Hiren Gada, CEO & Atul Maru Joint MD, Shemaroo Entertainment along with Kunal Jeswani, CEO – Ogilvy India showcased a new brand identity to the world. Shemaroo has always provided its viewers with refreshing & engaging content. But the needs of the fast-paced modern generation are different from what they used to be. The new logo combines the needs of a digitized age with the nation's culture of vivacity to give rise to a fresh brand identity.
Sunny Deol starrer Bhaiaji Superhit To Hit The Theaters On 19th Oct 2018!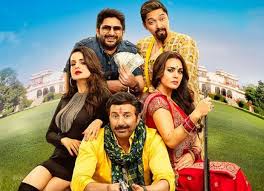 Bhaiaji Superhit also stars Preity G Zinta, Arshad Warsi, Shreyas Talpade & Ameesha Patel. Bhaiaji Superhit starring Sunny Deol, Preity G Zinta, Arshad Warsi, Shreyas Talpade, Ameesha Patel, Sanjay Mishra, Brijendra Kala, Jaydeep Alahwat, Mukul Dev, Pankaj Tripathi & Pankaj Jha will be releasing on 19th Oct 2018. The action comedy directed by Neeraj Pathak will see Sunny Deol playing a double role for the 1st time ever. Bhaiaji Superhit comes across as very funny, hilarious, colorful and larger than life yet an emotional film. It showcases the coming together of 2 vastly different worlds of Bollywood & UP's underworld. Presented by Hanwant Khatri & Lalit Kiri, produced by Chirag Mahendra Dhariwal & directed by Neeraj Pathak, Bhaiaji Superhitt will hit the theatres on 19th Oct, 2018.
The Makers Of 'Sonchiriya' Have Released The First Look Poster Of The Film!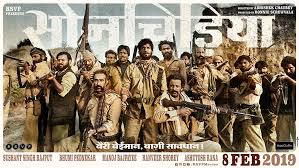 Sonchiriya produced by Ronnie Screwvala's RSVP in association with MacGuffin Pictures, Directed by Abhishek Chaubey starring Sushant Singh Rajput, Bhumi Pednekar, Manoj Bajpayee, Ranvir Shorey & Ashutosh Rana. The film is slated to release on 8th Feb, 2019.
Springfit Unveiled New Lookbook Catalogue With Glamorous Sophie Choudhry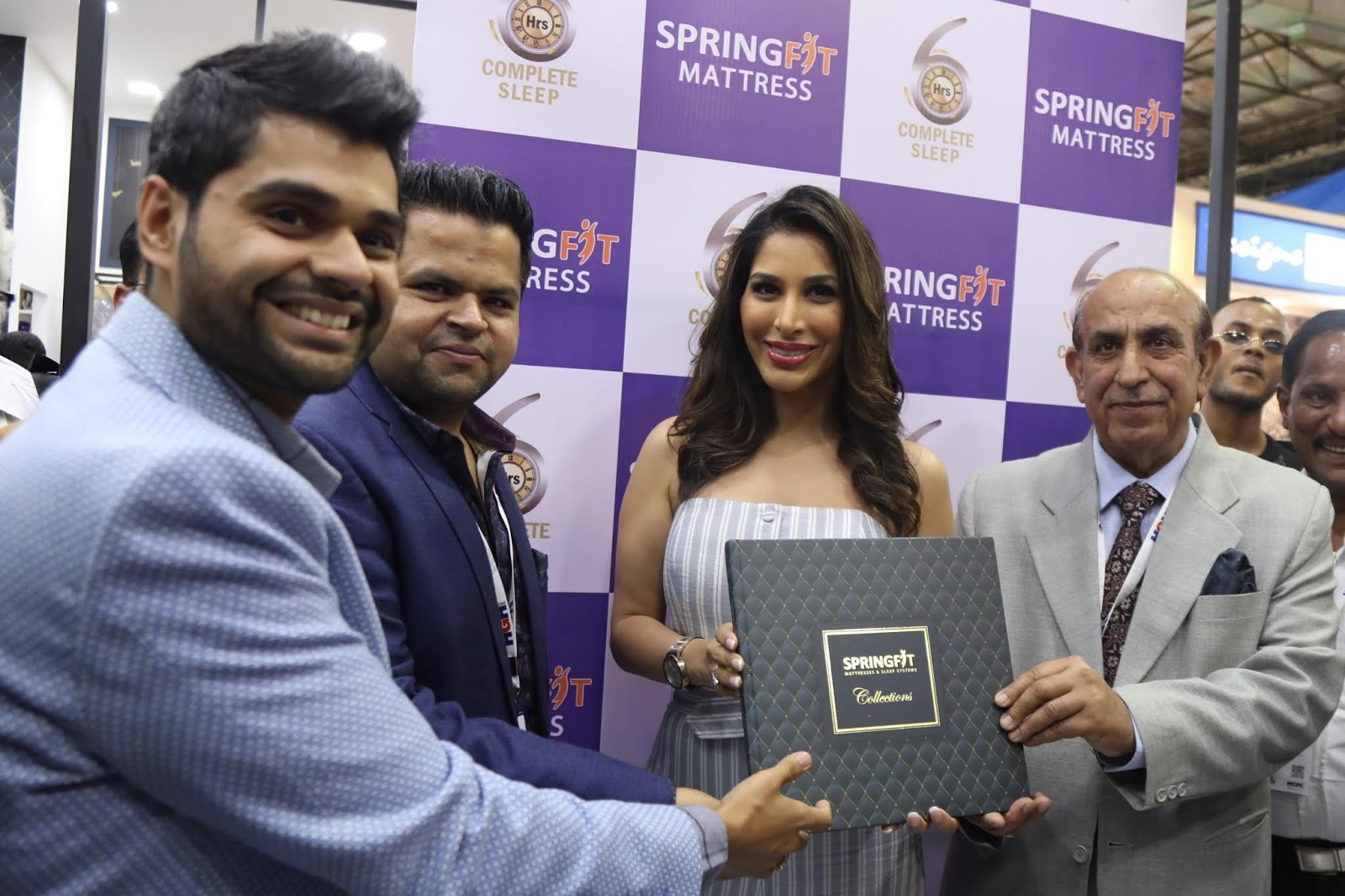 Sophie Chowdhry unveiled Springfit's 2018 mattress collection & lookbook, at the 7th annual edition of the HGH Trade Show in Mumbai. Springfit has associated with the all-rounder celebrity for the grand launch of its all-new lookbook & new mattress collection. Sophie has shared her personal experience using Springfit mattress with viewers visitors & media at the Springfit booth and discuss the benefits of quality sleep. She also talked about how 6 hours of complete sleep helps her stay fit, active & energetic, despite a hectic schedule that keeps her on her feet all day. Besides the exhibition at HGH India, Springfit is also educating consumers on sleep-related topics through social media posts, emails & online chat available through the website. Springfit mattresses are available in all sizes & thicknesses, while customizable mattresses are also available. According to S. K. Malhotra, Sales Director at Springfit, this is pure because of commitment to quality, affordability & prompt service.
Nandita Das To Speak At The Prestigious "Les Napoleons" In France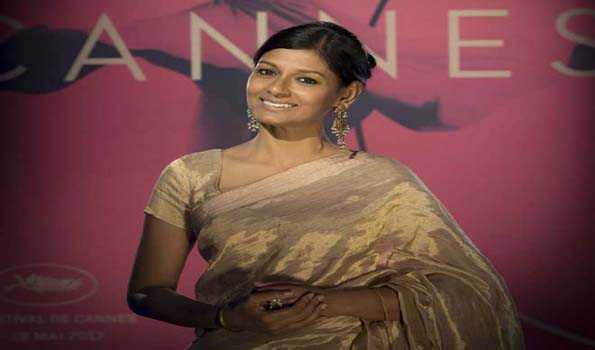 Nandita Das's film, Manto, is a liberal voice in these divided & turbulent times, hence it comes as no surprise that the filmmaker was invited recently to a special edition on "Truth" by ''Les Napoleons'' in Arles, France. An innovative communication network, "Les Napoleons" gathers players of the communications industries, culture, architecture and other fields to discuss & debate crucial issues. Given that Manto wrote about the truths that no one dared to talk about, the film continues to remain relevant to our times and who better than filmmaker Nandita Das to discuss the subject at such a prestigious platform to initiate a dialogue & participation on the importance & relevance of truth in art & cinema. The actor-director is participating in 2 sessions.
J P Dutta Signs A 3 Film Deal With Harshvardhan Rane!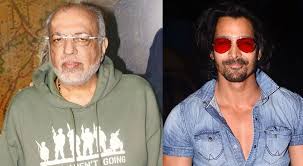 Harshvardhan Rane, who is eagerly anticipating the release of his forthcoming war drama, J P Dutta's Paltan, feels blessed to have got the opportunity to work with the veteran filmmaker. Having closely worked with all the actors on Paltan, the veteran filmmaker is highly impressed by their talent, hard work & dedication, especially Harshvardhan. Taking their association to the next level post Paltan, the handsome hunk & filmmaker will be joining hands for not one but 3 films. The veteran filmmaker has offered Harshvardhan a 3 film deal under his banner.
No Body-Double For Sonu Sood For 'Manikarnika'!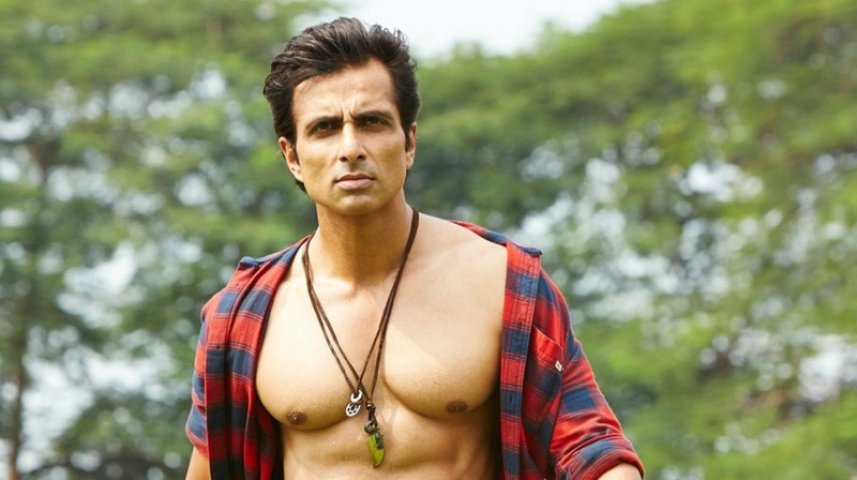 After playing a historical role in Ashutosh Gowariker's Jodhaa Akbar, Sonu is excited playing yet another one in highly-anticipated movie, Manikarnika, also featuring Kangana Ranaut. Being a historical drama, Sonu is quite excited to be part of it since it gives him the opportunity to do lot of action & sword-fighting sequences. Sonu is known for his chiseled physique and he is always in his best shape. The talented actor, who maintains a healthy & disciplined life, likes performing action scenes on his own. He has done the same for most of his films, including his Indo-Chinese production, Kung-Fu Yoga. Since the actor will be seen performing heavy-weight sword fights & hand-to-hand combat besides death-defying stunts, the makers suggested him to opt for a body double. Interestingly, Sonu has pulled off dangerous action stunts while shooting for the film in Mumbai & Hyderabad, much to the surprise of the makers & his co-stars.
Kubbra Sait To Play A Transgender In 'Sacred Games'!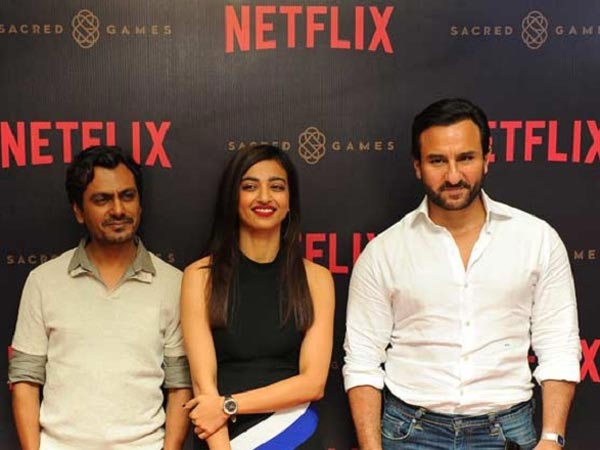 Kubbra Sait, who made her Bollywood debut with Salman Khan's Ready in 2011, followed by Jodi Breakers in 2012, & Sultan in 2016 amongst others, will next be seen in Sacred Games alongside Saif Ali Khan & Nawazuddin Siddiqui. The actor-anchor who has the penchant for portraying challenging characters will be seen playing a transgender in the highly anticipated web series, Sacred Games. Ever since the trailer of the web series has been unveiled, Kubbra has received praises galore for her character and her striking unique look, attempted by very few actresses before. Kubbra was highly appreciated for her performance in her last web series Going Viral with Kunal Roy Kapoor. Interestingly, since it was a challenging character, Kubbra had worked rigorously to make it look & sound relatable and also understood the gestures & mannerisms to pull it off with great conviction. The actress had to spend hours for the makeup session for what she believes is one of the toughest roles to execute. Kubbra's forthcoming projects include Zoya Akhtar's Gully Boy alongside Ranveer Singh & ALTBalaji's web series, A Family.