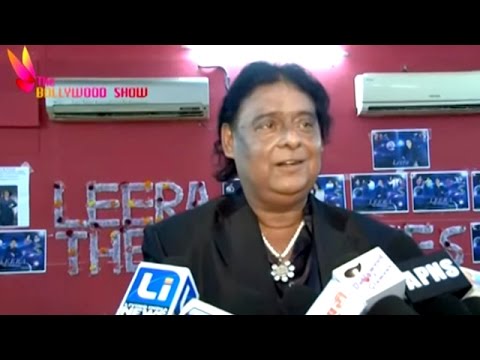 Leera The Soulmate Post Production Going On
The post production of Leera The Soulmate is currently going on. That apart the birthday debutant actress Leera Kaljai was celebrated by the unit on 7th Jun, 2016. Mehul Adwani is playing the lead actor. The vamp's role is done by Kriti. The music is composed by Fesal – Ali, singers are Javed Ali & Ritu Pathak & screenplay & lyrics by Usha.
Aakhir Kab Tak 1st Look Out
The 1st Look of P. N. J. Films Aakhir Kab Tak" is out now in mumbai. The credits of the film are written & produced by Nishikant Jha, directed by Mithilesh Avinash, cinematography by D. K. Sharma, choreography by Santosh Sharbdarshi, music by Jayant Aryan , lyrics by Roop. It stars Manisha Singh, Vinay Rana, Ram Sujan Singh, Vinod Mishra, Mehnaz Sharaff et al.
Inteha Ishq ki Musical Muhurat Held
The musical muhurat of Sager Film Creations Inteha Ishq ki ' was held with a title song recording at R K Movie Magic. The credits of the film are produced by Sumitabh Singh & Salu Khan, directed by Rakesh Tiwari & music by Rahul Mandal. It stars Harshit Mishra, Salu Khan, Sumitabh Singh, Shivkumar, Ahshan Khan et al.
Chaturnath Item Song Recorded
Music director Dibyajyoti has recorded an item song for Organ Entertainment's Chaturnath in the voices of Mamta Singh & Gufy. The entire shooting of the film is already complete. The credits of the film re produced & directed by Swadesh Mishra, lyrics by S. R. Bharti & cinematography by Pappu K Shetty. It stars Onkar Das Manikpuri, Nirasuraez, Arvind Agarwal, Rajesh Maurya, Desh Deepak, Akhilesh Gaur, Rahul Siryavanshi et al.
Female Express Arrival On Eid
Toobaa Production's maiden venture Female Express has been censored with an "A" certificate. The credits of the film are produced by Mirza Aslam, directed by Ram Gopal Vimal, story by Mirza Aslam, screenplay & dialogues by Ram – Aslam, lyrics by R. G. Vimal, music by K. P. Singh, choreography by Santosh Kumar Sarvdarhi & cinematography by Sarbesh Kumar. The film will be released in the month of Eid on 15th July, 2016. It stars, Rakhi Arora, Jay Dev, Jindar Singh, Parvati Naskar, Rajan Singh, Rupa Rana, Hemant Kumar Rawat & Charu Sharma.
Tanha announced
D. J. N film Pvt Ltd has announced music album Tanha. The credits of the video album are produced by Arshad Ali, directed by Boby Khan, music by Siddhant Madhav & lyrics by Moti Sultanpuri. Its cast and remaining crew will be finalised soon and the album will be this month in Mumbai.
Rough Book's New Poster Released
The new poster of Rough Book has been released. The film is directed by Ananth Mahadevan and is a hard look at the education system in India and is slated to be released on 24th June, 2016. The film features Tannishtha Chatterjee & Amaan Khan in lead roles with Joy Sengupta, Jayati Bhatia & Vinay Jain in supporting roles.​​
Based on the actual experiences of parents, teachers & students, the story is told through the eyes of a school teacher (played by Tannishtha Chatterjee).
Murder Madhuri Background Music In Progress
The background music score for A M O International Films Presentation Murder Madhuri, which was shot at Hyderabad & Mumbai, is currently in progress at V L Sound Studio & Nitin Hivarkar is scoring the music. The film inspired from real rape case is produced & directed by Ali Mohamed Oosman, story & screenplay by Yerramsetty Sai, lyrics by Shahid Hamdani, music by Arshad Ahmed, cinematography by Shanker Kantheti, editing by Vijay Pal & Nandamuri Hari, art by Krishna & action by Satish, creative head is Ayub Khan, co – producer is Rizwan Mohamed Oosman & executive producer is Rahi Sultanpuri. The film will be released on 22nd Jul, 2016 all over by E4U Enterprises. It stars Jiya Khan, Sonali Joshi, Raza Murad, Deepshikha, Kiran Kumar, Sharat Saxena, Amit, Vinay Verma, Sunita Rana et al.
Phir Ussi Mod Par To Go On The Floors Soon
Well – known film maker Lekh Tandon is all set to come back with a new film titled Phir Ussi Mod Par, which will go on the floors soon. It is being made under the banner of G M Entertainers. The other credits of the film are written by Lekh Tandon, dialogues by Muneera Surti, directed by Suresh Singh Bishnoi, lyrics by Irshad Kamil & music by Agnel – Faizan. It stars Parmeet Sethi, Kanwaljeet Singh, Govind Namdev, Himani Shivpuri, Rajeev Verma, Haider Ali, Kanika Bajpai, Kaif Khan, Milind Gunaji, Pavan Malhotra, Shiv Shakti Sachdev & Jividha Astha.
Shraap 70% Complete
With the completion of a month long shooting schedule, Neelam Sharma Entertainment's maiden venture Shraap is now 70% complete. The film was shot at picturesque locales of Tawang in Eastern India and 3 songs were also canned during this schedule. The credits of the film are produced by Neelam Sharma, co – produced by Sanjay Sharma, written & directed by Faisal Saif, lyrics by Atiya Sayyed, music by Shibani Kashyap & Altaf Sayyed, cinematography by Sharath Kumar G & editing by Ashutosh Anand Verma.
This horror-thriller film stars Rajpal Yadav, Kavita Radheshyam, Dev Sharma, Asif Basra, Anjan Srivastav, Amita Nangia, Nishant Pandey, Puneet Vashishth, Naseer Abdulla, Anupam Shyam, Aryan Vaid & debutant Mythriya Gowda.
Phir Aaya Satte Pe Satta Post Production Complete
The post production of R. N. Film & Film & Film Institute of Acting India's Phir Aaya Satte Pe Satta has been completed. The credits of the film are produced by Rajesh Mittal, Nirmala Paul, directed by Rajesh Mittal, music by Vakil Babu, singers are Asha Bhonsale, Udit Narayan & Nitin Mukesh, lyrics by Nawab Arzoo & Gulfam & cinematography by Ashok Chakravarti. It. Stars Kumar Rajesh, Sanaya Singh, Anirudh, Rana Jang Bahadur Singh & Omkardas Manikpuri.
Shahid Chandra Shekhar Azad Announced
R. N. Films Presents Shhid Chandra Shekhar Azad will be launched with 6 songs recording. The credits of the film are produced & directed by Rajesh Mittal, screenplay by Shailendra Singh Rajput, music by Dinesh Arjuna, lyrics by Nazar Jaunpuri & singers are Udit Narayan, Khushboo Jain, Salim Shaikh & Dinesh Arjuna. Cast and Credit will be finalised soon. The film's shooting commenced from 10th May at Uttar Pradesh, Lucknow, Varanasi, Kanpur, Jhansi & Allahabad.
Biopic On Freedom Fighter Christo Singh Launched
Eye Entertainment's Christo Singh, a real freedom fighter (whose actual name was Shri Krishna Singh but the Britishers gave him the name of Christo) was launched with the recording of 3 songs recently. The 3rd song was rendered by Antara Mitra at Krishna Recording Theatre on 15th May, 2016. It was penned by Harsh Thayi and set to tune by Ricky Mishra who is also the director of the film. Amit Singh, the grandson of Christo Singh is producing the film which is written by Varadaraj Swami. The earlier 2 songs were rendered by Usmaan Meer & Krishna Bevra at Enzy recording Studio. A
popular actor is being considered for the role of Christo Singh. The shooting will commence in Jharkhand locales, Bihar,
Rajasthan and partly in Mumbai too from Jun, 2016 onwards with a 60 day spell.
Sandeep Rajput's Shaina Launched
A. V. Entertainment & Studio's Shaina was launched On 16th May, 2016 at Hotel Vinayak Grand (Haridwar). The credits of the film are produced by Sandeep Rajput, directed By Sumeet Chowla, co – produced by Parul Rajput. 35 Day non – stop shooting will start from 25th May, 2016 at Haridwar, Dheradhun & Delhi. It stars Shruti Negi ,Vi Nayak Mishra, Lokesh Kumar,Manpreet Kaur, Abhisek Srivastva, Bhawana Singh, Amber Bedi, Sweta Singh with Master Ansh Rajput.
Delhi Mere Baap Ki Post Production Work Complete
The entire shooting, editing & dubbing of Shashi Raaj Films' Delhi Mere Baap Ki, presented by Mike Verma of Canan Movie Productions is now complete. The film was shot in a 35 – day shooting stint on actual locales of Delhi, Gurgaon, Chandigarh (IT Park), Jaipan Studios and in Mumbai locales. The credits of the film are produced & directed by Shashi Raaj from his own story – screenplay – dialogues by Balwinder Singh, action by Pali – Ravi, sound by Suresh & editing by Amit Rajput. The balance post-production work of final mixing of sound tracks & DI is being held currently at After Play and the 1st digital print of the film will come out during the 1st week of Jun, 2016. It stars Vikram Thakur, Gurutej Tejji, Komal Dhillon, Tina, Amrit Pal Kaur, Dinesh Hingoo & Shakti Kapoor.
Hottie Weds Naughty Is Complete
Vikas Prasad Films' Hottie Weds Naughty is now complete after a 35 – day shooting stint in Manali locales. The credits of the film are produced by Vikas Nayak & Chandreshwar Prasad, directed by Anand Raut, written by Sachindra Sharma, lyrics by Sayed Qadri, Sudhakar Sharma & Amitabh Ranjan, music by Raaj Aashoo, cinemtography by Naren Gedia, choreography by Sanjeev Sharma & Santosh & editing by Sunil Yadav. The final post production work is being held currently at Vikrant Studios. It stars Raakhi Sawant, Rajpal Yadav, Darshan Jariwala, Raju Kher, Firdaus Dadi, Sahil Kohli & Komal Jha.
Tehzeeb Jeene Ki Is Complete
The entire 40 days shooting stint of Shibrat Films' Tehzeeb Jeene Ki is now complete in Shimla & Lucknow locales. The credits of the film are produced by R. Singh, directed by Anand Raut, written by Manoj Santoshi, music by Lalit Pandit, cinematography by Naren Gedia, choreography by Sanjeev Kumar & Surjeet, action by Bunty & editing by Sanjay Sankla. The final post production work of the film is being held at Vikrant Studios. It stars Rajneesh Duggal, Rahul Dev, Mughdha Godse, Umang Jain, Rajkumar Kanojia, Anand Jog, Raj Singh et al.
Aahvaan 1st Look Out
Director & producer Amrut Raj Thakur's upcoming horror film Aahvaan's 1st Look is out now. The credits of the film are produced & directed by Amrut Raj Thakur, Vipulendra & Haloi, lyrics by Dipak Chandra & editing by Abhijeet Aacharya. It stars Dev, Muskaan Sinha, Jagruti Tiwari, Amit Ranjan, Naina Singh, Arya Chaturvedi, Dipak Singh, Danish, Krishna, Manisha, Ashok Anand & Amrut Raj Thakur.
Target Shooting Start In Delhi
Rainbow Film's Target's shooting has started in Delhi. The credits of the film are produced by Bashudev Patra, written & directed by Arjun Raaj, music by Shree Pritam & Jeet, Shan, Raj Hriju Roy, Raj Has, Shabab Azmi, cinematography by Javed Ahteshyam, action by Parvej Khan & dialogues by Rais Khan & Dr. Deepak Sneh. It stars Gurlin Chopra, Raj Chauhan, Archna Singh, Heramb Tripathi, Pankaj Singh Puniya, Jeet Rai Singh, Rohit Mehta, Sahbaz Baweza et al.
Suhanee Dahiya signed
Suhanee Dahiya has recently been signed for Hunt….The Shikaar, directed by Raj Sehgal and produced by Raj Thakur & Raj Sehgal in a special appearance.
Meri Pyaari Bindu Shoot Begins In The City Of Joy -Kolkata!
Meri Pyaari Bindu shoot begins in the City Of Joy – Kolkata!
The credits of the film are director by Akshay Roy, producer by Maneesh Sharma, music by Sachin – Jigar & lyrics by Kausar Munir.
V For Victor Successfully Finished
Sudip Pandey's V for Victor has been successfully finished. And Sudip Pandey is back in Mumbai after completing his 1st schedule of V for Victor. He explored all exotic locations of Malaysia closely & widely with the help of Dr Raman Kumar. He is preparing himself for the next schedule in Patiyala with Olympics boxing coach Dharmendra Yadav & Olympic champion Vikas Krishan. He is super excited about it as it's privilege to meet international boxers. The director is Sanjay Amar and music is composed by Sanjeev Darshan. Sudip Pandey, Pamela, Sanghmitra, Nasir Abdullah, Usha Bachani, Jaswinder Gardener, Mini Bansal, Shanti Bachhan et al are the main actors.
Musical Muhurat Of Teen Pakau In Macau Held
The musical muhurat of Goldem Grapes Motion Pictures' Teen Pakau In Macau' was held with recording at Krishna Studio, the song was crooned by Sam, composed by Vicky Agarwal & penned by Ozil Dalal. It has been produced by H. K. Peter, written & directed by Johny Singh Rana. Sultan BG & Dhiren Sitaula are co-producers. The other composers are Swapnil Kamble, Junaid Ali Shabag & Johny S. Rana & lyrics by Nikita Mehta, Khalid S. Noori & J. S. Rana. It stars, Parth Akrekar, Kohposh Sapru, Shyam K.C., Priyam Gogoi, Poulomi Das & Momita Jaisi.
Muhurat Of Luccha Held
Papa Motion Pictures are producing their maiden film Luccha. Recently the film's muhurat was held in Andheri suburbs. Producer Nisha Sharma is producing this Luccha. It stars debutant Rakesh Kumar & Gurleen Chopra. Luchha is directed by Vikass Kavthevakar. He did previously Tiger shroff's video album 'A tribute to Micheal Jackson. It is about sex education. Sanjay pathak is doing the music for Luccha. The film will be shot in Kathamandu, Nepal.
Tu Maa Banbhauri Tu Durge Shooting Started
The shooting of NB Entertainment's Tu Maa Banbhauri has started in Hariyana this week. The credits of the film are produced by Neha Bansal, directed by Gulshan Pandey, written by Nishikant Dixit, co – produced by Love Sharma, cinematography by Atul Mendhulkar & choreography by Pappu Pradhan. It Neha Bansal, Anil Dhawan, Avtar Gill, Gulshan Pandey, Dharmendra Singh, Kishan Bhan, Nishikant Dixit, Jasbir Jassi, Simran ture, Nitya Gera, Somya Kapil et al.
The Last Tale Of Kayenaat Post Production Started
The post production of RM Cine Entertainment's The Last Tale Of Kayenaat has started in Mumbai this week. The credits of the film are directed by Iqbal Baksh, produced by Rizwan Malim & Rajeev Gautam, written by Ramesh Mishra, music by Abid Jamal & Gufy, cinematography by Dinesh R Patel, action by Javed Shaikh, choreography by Dilip Mistry & art by Milind. It stars debutant Zeeshan Khan & Vani Vashishth as Kayenaat, Sharevar Damania, Aman Sandhu, Shweta Wahi, Kiran Mallah , Ramjan, Shiwam Sharma, Ram Dubey, Sikandar Khan, Rajeev Sharma.
Careless Song Recording Started
The song recording of Mad Media Pvt Ltd's Careless has started in Mumbai this week. The song was singing by famous singer Khushboo Jain. The credits of the film are produced Pankaj Kumaar, written & directed by Alokk Srivastava, line produced by Anil Srivastava, production head is Prerna, lyrics by Fanindra Rao & music by Baba Jagirdar. It stars Anil Srivastav, Prerna et al.
Khamiyaza – Journey Of A Common Man Background Music Commenced
Dharmendra Javda has commenced the background musical score for R. D. Bioscope's maiden venture Khamiyaza -Journey Of A Common Man. The 1st digital copy of the film, will be out on 30th May, 2016 and the film will be shown to the censors in Jun, 2016. The credits of the film are produced by Rajesh R. Tripathi & Aliya Singh, written & directed by Deekshit Kaul, cinematography Suryakant Tyagi, choreography by Santosh Palwankar, Sound by Hari Pathuri, action by Najjo Faisal, music by Sanjoy Bose, singers are Rahat Fateh Ali Khan, Shaan & Kunal Ganjawala & editing by Ajay Verma. The entire shooting of the film was held in Baroda locales for 40 days. It stars Piyali Munshi, debutant Heramb, Sunil Thapa, Ehsan Khan, Alok Chaturvedi, Shakur Rana, Shravani, Javed Haider and others.
Lakeer Song Recorded
Music director Babli Haque recorded the promotional song for producer Turaab Khan & Red Bay Productions Inc.'s Lakeer recently. It was penned by Upendra Kumar Upadhyay and rendered by Altamash. The film is an Indo – Canadian co – venture which will be directed by Canadian director Ken Stewart. Turaab Khan also plays the male lead along with NRI heroine Annie Basant. The cast & other credits of the film will be announced shortly. The promotional song of the film will be filmed in Canada locales shortly.
Mandana Karimi Shoots Item Song with Raj Purohit
Venkatesh Kumar & Sohail Khoja of Orwe Media Vision & Unique Communications roped in Mandana Karimi of Big Boss to do an item song for their English – Hindi film B Positive. Hero Raj Purohit had a great time shooting this song composed by Rafi. Adil Shaikh choreographed the song on a huge set made for this song. Venkatesh Kumar has written & directed the film.