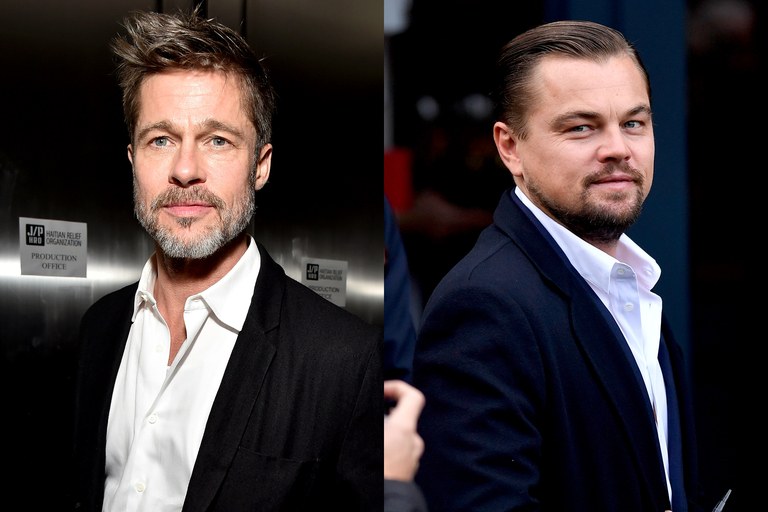 Hollywood actors namely Brad Pitt & Leonardo DiCaprio are now on board and joined the cast of director Quentin Tarantino's upcoming Manson movie. The above film's title has been revealed as Once Upon A Time In Hollywood and Quentin Torantino describes the project as "a story that takes place in Los Angeles in the year 1969, at the height of a hippy Hollywood. Leonardo DiCaprio will enact the character of Rick Dalton, a former star of a Western TV series, while Brad Pitt will portray the role of his longtime stunt double Cliff Booth.
Brant Daugherty Engaged
Brant Daugherty is not lying about the fact that he's getting hitched indeed!!! The Pretty Little Liars alum popped the question to his girlfriend, Kimberly Hidalgo, and she happily said yes. The excited couple announced the special news on the social media platform after the overseas proposal earlier in the month. The Fifty Shades Freed star and his off screen leading lady lady first popped up together on the social media platform in the month of Oct, 2016 and have been posing together ever since. The jet setting pair has even celebrated a variety of occasions together as a pair, including their first ever anniversary last Oct.
Derick Dillard Attacks
Derick Dillard is at it again. Just when you thought that the Duggar family's resident blowhard had learned his lesson about bullying the most vulnerable segments of our population, he goes and hits a new low. As you've no doubt heard by now, a shool shooting in Parkland, Florid had claimed seventeen lives last month. In the wake of the tragedy, several students have made it their mission to take on the NRA & the politicians that they feel are responsible for America's ludicrously permissive policies on assault weapons. Shockingly, these courageous teens have been met with a brutal backlash, with several reporting that they've received death threats from angry weapons fetishists. And then Jill Duggar's husband joined the effort to try & discredit the grieving teens, "This has gotten a little ridiculous; at least 2 networks are now using kids to push their liberal agendas," Derick Dilliard tweeted.
Ensa Cosby Passes Away
Bill Cosby's daughter Ensa Cosby recently passed away. She was 44. Later on The entire Cosby family had thanked many people for their prayers for their beloved & beautiful Ensa Cosby, who recently died after suffering from a renal disease. Ensa Cosby had expired on Fri 23rd Feb, 2018 in Massachusetts. Ensa Cosby had once worked alongside her father Bill Cosby in the past; she had appeared on "The Cosby Show" in the year 1989 as a girl at a party. The season 6th episode Ensa Cosby appeared in was entitled, "I'm 'In' with the 'In' Crowd." Ensa Cosby had been a big supporter of her dad over the years, standing up for him amidst all his legal battles. Ensa Cosby's death comes 2 decades after the death of her brother Ennis Cosby, who was killed in Los Angeles in the year 1997.
Heather Locklear Arrested
Heather Locklear was recently arrested following an alleged dispute at her home. Incidentally speaking Heather Locklear was booked on one count of felony domestic battery & three counts of battery for allegedly attacking the three responding Ventura County Sheriff's deputies, according to the police. In fact the Police was summoned to Heather Locklear's home in California recently, regarding a domestic incident between Heather Locklear & her boyfriend. Heather Locklear was taken into custody after the deputies found evidence to support the claim that Heather Locklear had indeed battered her boyfriend, causing him grave injury in the process.
Jennifer Lawrence Rubbishes The Rumors
Jennifer Lawrence was widely blamed recently by her fans for Chris Pratt's split from wife Anna Faris. But Jennifer Lawrence rubbishes the rumors that she was ever in a relationship with her Passengers co – star Chris Pratt. In a recent interview, Jennifer Lawrence also talked about the weirdest rumors that she had ever heard about herself. She also commented on the speculation about her love life. There were rumors in 2016 that Chris Pratt & Jennifer Lawrence had got into a relationship filming their sci – fi film Passengers.
Jill Duggar Slammed
Jill Duggar is in hot water yet again. Although at this point, she's probably used to the temperature, as it seems to be where she spends most of her time. As Derrick Dilliard was recently fired by TLC after harassing a fellow network star on Twitter. Derick Dilliard did not appear in Monday's Counting On Season Premiere, and many fans took note of the fact that Jill Duggar was also absent from the episode. So it appears that Jill Duggar is either sitting this one out, or she was axed alongside her husband. Either way, if she had hoped the scrutiny of her personal life would diminish now that she's stepped away from the spotlight, she's got another thing coming. The latest mini – scandal has to do with a comment that Jill had posted on her sister Joy – Anna's Instagram page.
Lewis Gilbert Passes Away
British producer and director Lewis Gilbert, best known for his films like Alfie & even the James Bond films like The Spy Who Loved Me & Moonraker, has recently passed away. He was 97. The news of his death was instantly shared by the James Bond franchise producers namely Michael G Wilson & Barabara Broccoli. A little flashback on Lewis Gilbert is that he had directed the 1967's James Bond movie namely You Only Live Twice starring Sean Connery, and again the film The Spy Who Loved Me in the year 1977 & Moonraker in the year 1979, both starring Roger Moore. Lewis Gilbert, who was born into the family of music hall performers, had begun his career as a child actor. In the year 1939, he had worked as an assistant on Alfred Hitchcock's Jamaica Inn. Lewis Gilbert was also known for directing Educating Rita & Alfie. For Alfie, Lewis Gilbert had received an Oscar nomination for "Best director". Alfie was also instrumental in actor Michael Caine's rise to fame. On Twitter, a number of celebrities, including directors Edgar Wright & Peyton Reed, paid their tributes to the Late Lewis Gilbert.
Stephen Fry Undergoes An Operation
Actor & comedian Stephen Fry has recently undergone an operation to treat prostrate cancer. Stephen Fry, who stepped down last month as BAFTA film awards presenter, shared details about his illness on Twitter. For the last 2 months he was in the throes of a rather unwelcome & unexpected adventure. In fact he has not even been able to talk about it till now. Incidentally speaking Stephen Fry describes cancer as an "aggressive little bugger" but he also believed that an early detection saved his life for good.
Kevin Smith Survives An Attack
Kevin Smith has recently revealed that he had almost died of a massive heart attack after being rushed to a hospital. Kevin Smith shared the news on Twitter from his hospital bed in California that after the 1st ever show recently. He indeed had a massive heart attack. In fact the doctor who had saved his life had told him told me he had 100% blockage of his LAD artery (aka "the Widow – Maker"). And if he hadn't cancelled the show to go to the hospital, he would've died that night. But for now, "I'm still above ground!" he tweeted. Kevin Smith said that he had even cancelled a stand up gig in Glendale, California, after falling ill.