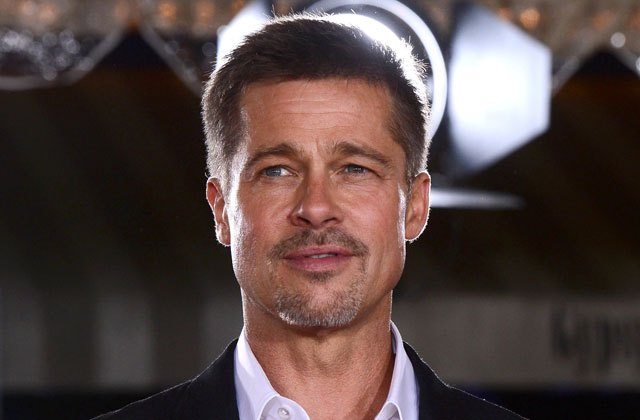 Hollywood Hunk Brad Pitt happens to be an actor & producer known as much for his versatility as he is for his handsome face. Golden Globe – winner Brad Pitt's most widely recognized role may be Tyler Durden in Fight Club (1999). However, his portrayals of Billy Beane in Moneyball (2011), and Rusty Ryan in the remake of Ocean's Eleven (2001) and its sequels, also loom large in his filmography. A little info about the hunky dude will not be out of place at this juncture. Brad Pitt was born as William Bradley Pitt on 18th Dec, 1963, in Shawnee, Oklahoma, and was raised in Springfield, Missouri. He is the son of Jane Etta, a school counselor, and William Alvin Pitt, a truck company manager. He has a younger brother, Douglas (Doug) Pitt, and a younger sister, Julie Neal Pitt. At Kickapoo High School, Brad Pitt was involved in sports, debating, student government & school musicals. He attended the University of Missouri, where he majored in journalism with a focus on advertising. He occasionally acted in fraternity shows. He left college 2 credits short of graduating to move to California. Before he became successful at acting, Brad Pitt had supported himself by driving strippers in limos, moving refrigerators & also dressing up as a giant chicken while working for "el Pollo Loco".
Brad Pitt's earliest credited roles were in the small screen arena. And the rest, as they say, is history. In this candid interview session Brad Pitt talks about his divorce with his better half Angelina Jolie, quitting drinking & thereby becoming a better man.
*So to begin with how did acting come out of you?
*Well, I think every people act out at some time or the other. In fact when I was a kid, I was certainly drawn to stories, beyond the stories that we were living & knew stories with different points of view. And I found those stories in film, especially. Different cultures & lives so foreign to mine? I think & that was one of the draws that propelled me into films. But of course I didn't know how to articulate stories. I'm certainly not a good orator, sitting here telling a story, but I felt that I could foster them in films. Comedian Jerry Lee Lewis, was certainly my idol, my inspiration.
*The best actors blur into their characters, but given how well the world knows you, it seems you have a much harder time blurring these days?
*I have so much attached to this facade.
*But then, in War Machine, you find the little gesture that makes the Glen McMahon character ours. Like the way he runs, which is hilarious.
*The run to me was important because it was about the delusion of your own grandeur, not knowing what you really look like. All pencil legs, you know. Not being able to connect reality to this facade of grandeur.
The other equally distinctive characteristic is Glen's McMahon's voice. Where did it come from? You know, it's a little bit of a cliché, but I just enjoyed it too much: There's, you know, of course, Patton in it. But I could not get Sterling Hayden out of my mind. I'm just fascinated with Sterling Hayden, off – camera, between films, and I couldn't escape that. There's even a little bit of Chris Farley in mannerisms. And then Kiefer Sutherland in Monsters vs. Aliens, you know, doing the cartoon voice. It just wouldn't go anywhere else; it kept coming back there.
*Have you ever felt the need to be more political?
*I can help in other ways. I can help by getting movies out with certain messages. I've got to be moved by something, I can't fake it. I grew up with that Ozarkian mistrust of politics to begin with, so I just do better building a house for someone in New Orleans or getting certain movies to the screen that might not get made otherwise.
*You're good at playing that kind of character, the one that doesn't have a truly accurate vision of himself.
*It makes me laugh. Any of my foibles are born from my own hubris. Always, always. Anytime. I famously step in shit, at least for me it seems pretty epic. I often wind up with a smelly foot in my mouth. I often say the wrong thing, often in the wrong place & time. Often! In my own private Idaho, it's funny as shit. I don't have that gift. I'm better speaking in some other art form. I'm trying to get better. I'm really trying to get better.
*You've played characters in pain. What is pain, emotional & physical?
*Yeah, I'm kind of done playing those. I think it was more pain tourism. It was still avoidance in some way. I've never heard anyone laugh bigger than an African mother who's lost 9 family members. What is that? I just got R & B for the 1st time. R & B comes from great pain, but it's a celebration. To me, it's embracing what's left. It's that African woman being able to laugh much more boisterously than I've ever been able to.
*Do you think if the past 6 months hadn't happened you'd be in this place eventually? That it would have caught up with you?
*I think it would have come knocking, no matter what. People call it a midlife crisis, but this isn't the same! No, this isn't that. I interpret a midlife crisis as a fear of growing old & fear of dying, you know, going out & buying a Lamborghini. Actually, they've been looking pretty good to me lately!
*There might be a few Lamborghinis in your future too!
*I do have a Ford GT. I do remember a few spots along the road where I've become absolutely tired of myself. And this is a big one. These moments have always been a huge generator for change. And I'm quite grateful for it. But for me, personally, I can't remember a day since I got out of college when I wasn't boozing or had a spliff, or something. And you realize that a lot of it is, um, cigarettes, you know, pacifiers. And I'm running from feelings. I'm really, really happy to be done with all of that. I mean I stopped everything except boozing when I started my family. But even this last year, you know, things I wasn't dealing with. I was boozing too much. It's just become a problem. And I'm really happy it's been half a year now, which is bittersweet, but I've got my feelings in my fingertips again. I think that's part of the human challenge: You either deny them all of your life or you answer them & evolve.
*Was it hard to stop smoking pot?
*No. Back in my stoner days, I wanted to smoke a joint with Jack & Snoop & Willie. You know, when you're a stoner, you get these really stupid ideas. Well, I don't want to indict the others, but I haven't made it to Willie yet.
*How about alcohol, you don't miss it?
*I mean, we have a winery. I enjoy wine very, very much, but I just ran it to the ground. I had to step away for a minute. And truthfully I could drink a Russian under the table with his own vodka. I was a professional. I was good.
*So how do you just drop it like that?
*Don't want to live that way anymore.
*What do you replace it with?
*Cranberry juice & fizzy water! I've got the cleanest urinary tract in all of LA, I guarantee you! But the terrible thing is I tend to run things into the ground. That's why I've got to make something so calamitous. I've got to run it off a cliff.
*All that bad stuff: Do you use it to tell your story?
*It just keeps knocking. I'm 53 and I'm just getting into it. These are things I thought I was managing very well. I remember literally having this thought a year, a year & a half ago; someone was going through some scandal. Something crossed my path that was a big scandal, and I went, "Thank God I'm never going to have to be a part of one of those again." I live my life, I have my family, I do my thing, I don't do anything illegal, I don't cross anyone's path. What's the David Foster Wallace quote? Truth will set you free, but not until it's done with you first.
*When you go dark, do you retreat, disconnect?
*I don't know how to answer that. I certainly shield. Shield, shield, shield. Mask, escape. Now I think: That's just me.
*if you had a slideshow of all your worst moments as a human, you wouldn't want anyone to see that slideshow. The way you've had to live for years, that slideshow has been public.
*But so little of it is accurate, and I avoid so much of it. I just let it go. It's always been a long run game for me. As far as out there, I hope my intentions & work will speak for themselves. But, yes, at the same time, it is a drag to have certain things drug out in public & misconstrued. I worry about it more for my kids, being subjected to it, and their friends getting ideas from it. And of course it's not done with any kind of delicacy or insight, it's done to sell. And so you know the most sensational sells, and that's what they'll be subjected to, and that pains me. I worry more in my current situation about the slideshow my kids have. I want to make sure it's well – balanced.
*How do you make sense of the past six months and keep going?
*Family first. People on their deathbeds don't talk about what they obtained or were awarded. They talk about their loved ones or their regrets, that seems to be the menu. I say that as someone who's let the work take me away. Kids are so delicate. They absorb everything. They need to have their hand held and things explained. They need to be listened to. When I get in that busy work mode, I'm just not hearing them out. I want to be better at that.
*Do you know, specifically, logistically when you have the kids?
*Yeah. We're working at that now. It must be much harder when visitation is uncertain,
It was all that for a while. I was really on my back and chained to a system when Child Services was called. And you know, after that, we've been able to work together to sort this out. We're both,me & Angelina doing our best. I heard one lawyer say, "No one wins in court, it's just a matter of who gets hurt worse." And it seems to be true, you spend a year just focused on building a case to prove your point and why you're right and why they're wrong, and it's just an investment in vitriolic hatred. I just refuse. And fortunately my partner in this agrees. It's just very, very jarring for the kids, to suddenly have their family ripped apart.
*How do you tell your kids?
*Well, there's a lot to tell them because there's understanding the future, there's understanding the immediate moment and why we're at this point, and then it brings up a lot of issues from the past that we haven't talked about. So our focus is that everyone comes out stronger & better people, there is no other outcome. I know I'm just in the middle of this thing now, not at the beginning or at the end, just smack – dab in the middle. And I don't want to dodge any of it."
*And the fact that you guys are pointing toward that, that clearly doesn't always happen. If you ended up in court, it would be a spectacular nightmare.
*Spectacular. I see it everywhere. Such animosity and bitterly dedicating years to destroying each of them and needs vindication by destruction, and just wasting years on that hatred. I don't want to live that way.
*What in the recent past has given you immense joy? Can you feel that right now?
*It's an elusive thing. It's been a more painful phase than normal, just certain things have come up, but I see joy out of the window, and I can see the silhouette of palms and an expression on one of my kids' faces, a parting smile, or finding some, you know, moment of bliss with the clay. You know, it's everywhere, it's got to be found. It's the laughter of the African mother in my experience, it's got to come from the blues, to get R & B. That'll be in my book.
*Are you going to write a book?
*No! I find writing too arduous.
*So is there an urge to try to…?
*The first urge is to cling on.
*Then?
*And then you've got a cliché: "If you love someone, set them free." Now I know what it means, by feeling it. It means to love without ownership. It means expecting nothing in return. But it sounds good written. It sounds good when Sting sings it. It doesn't mean fuck – all to me until, you know, until you can embody it. Until you live it. That's why I never understood growing up with Christianity, don't do this, don't do that, it's all about do's & don'ts, more don'ts than do's and I was like how the fuck do you know who you are and what works for you if you don't find out where the edge is, where's your line? You've got to step over it to know where it is.
*After all this, do you feel constrained as an actor in some ways?
*No, I don't really think of myself much as an actor anymore. It takes up so little of my year & my focus. Film feels like a cheap pass for me, as a way to get at those hard feelings. It doesn't work anymore, especially being a dad.
*On the pie chart, what is acting?
*Acting would be a very small slice.
*Do you see yourself as having been successful?
*I wish I could just change my name. Come out as a new person? Like P. Diddy. I can be Puffy now or, what is Snoop? Lion? I just felt like Brad was a misnomer, and now I just feel like fucking Brad.
*What other name would you have put on yourself?
*Nothing. When outside success comes, the thing I've enjoyed the most is when there's a personal discovery in it. But when I find it repetitious or painfully boring, it's absolute death to me.
*When is acting still exciting?
*I would say more in comedic stuff, where you're taking gambles. I can turn out the hits over & over and I am just, my favorite movie is the worst, performing film of anything I've done, The Assassination Of Jesse James. If I believe something is worthy, then I know it will be worthy in time to come. And there are times I get really cynical, you know. I spend a lot of time on design and even this sculpture folly I'm on, I have days when, it all ends up in the dirt anyways: What's the point? So I go through that cycle, too, you know? What's the point?
*So what's on the agenda later?
*I'm anxious to get to the studio. I think it was Picasso who talked about the moment of looking at the subject, and paint hitting canvas, and that is where art happens. For me I'm having a moment of getting to feel emotion at my fingertips. But to get that emotion to clay, I just haven't cracked the surface. And I don't know what's coming. Right now I know the manual labor is good for me, getting to know the expansiveness & limitations of the materials. I've got to start from the bottom, I've got to sweep my floor, I've got to wrap up my shit at night, you know?